With Aphromoo getting confirmed as the support for Dignitas, the rosters for the LCS are completely known. Well, that is except for confirmation of what Evil Geniuses are doing in the mid lane but even without an official announcement, all signs are pointing towards Jiizuke. With that in mind, it means that it is time to take a look at the "Way Too Early" 2021 LCS Power Rankings.
[Related: All 2021 LCS Rosters]
---
10. Dignitas
Before digging into Dignitas, they are one of the teams truly giving young talent a chance. They were able to get FakeGod and Soligo from 100 Thieves and Neo (formerly Asta) will have his shot as well. Keeping Dardoch and Aphromoo gives Dig a veteran presence. The problem is that this team will likely have issues outside of the game that could hinder their play.
This team will have to come together and need to have a desire to prove everyone wrong. This will be especially true for Dardoch, Neo and Aphromoo. If FakeGod and Soligo are able to improve and get comfortable then this team could be a fringe playoff team but that is likely their ceiling for now.
9. Golden Guardians
Another one of the teams going young, Golden Guardians, have a very interesting team. They are the first team to take players straight from college, to Scouting Grounds and then the LCS. These players are Niles and Iconic and both played together at Maryville University. Their synergy will be key as they get used to the LCS.
Ablazeolive will be a player to watch as well as he is finally getting his chance to play at the highest level after being stuck in Academy for so long. GG will have to lean on Stixxay, who was a bottom tier ADC last season, for leadership and they will hope he can come together with Newbie quickly. This is a team who could surprise and make the playoffs but their absolute highest placing in year one is around sixth. Considering all of the unknowns though, a bottom three placing is more likely.
8. Immortals
Immortals feel a lot like it did last year when they brought in Xmithie. Instead, they replaced him with another big jungle signing with an X name in Xerxe. He will have to be a rock for this team as he tries to get his career back on track after a down year in 2020. The hope for Immortals will be that he helps Insanity grow after he showed some promise last season. The bot lane of Raes and Destiny have a chance to be a solid duo as well considering they have played together before and found success. Also do not forget that Xerxe and Destiny played together on Origin last season and their synergy will likely come into play as well.
The biggest question mark for Immortals is Revenge. Not much is known about him and from his games in Academy in 2020, he never really stood out. Like the teams below Immortals, they have a chance to fight for a playoff spot but their potential is higher due to Xerxe and the bot lane. If those pieces come together and Insanity lives up to his name, this team could actually push for a top five or six seeding by the end of the season.
7.  CLG
Talk about a team that could place nearly anywhere. The additions of Finn, Broxah and Wildturtle definitely help the team in terms of base talent when compared to their 2020 squad. All of the players have had success in the past and they are likely the most experienced team in the LCS individually. That said, when looking at the team as a whole, CLG do not inspire much confidence. Their rankings in comparison to the rest of the LCS bring up a lot more questions than answer.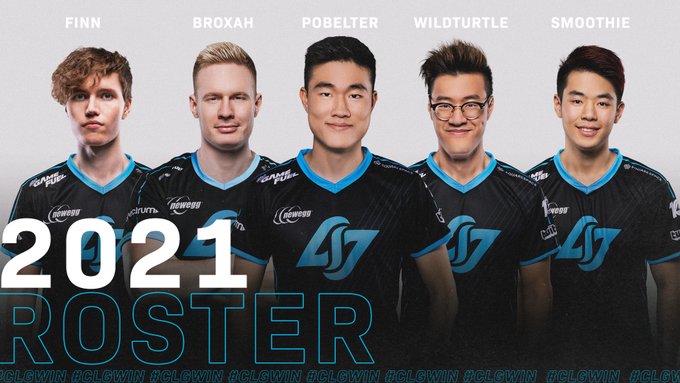 Will Finn show that with more resources he can be better than he was on Rogue? Will Broxah regain his former Worlds form? Can Pobelter perform better with a better team around him? Will Wildturtle and Smoothie be able to take advantage of the less experienced bot lanes littered throughout the LCS? All of these questions will need to be answered for this team to find any semblance of success. At a minimum, CLG should be fighting for a playoff spot. If everything comes together and these vets find their form, this team could compete at a high level.
6. Evil Geniuses
One has to commend Evil Geniuses for trying to make moves in back to back offseasons. They have consistently been named as players for big names like Perkz this year and Chovy in 2019. Sadly, they have struckout in both offseasons and are left with a team that is definitely not bad but likely won't be the team that gets the results they are hoping for.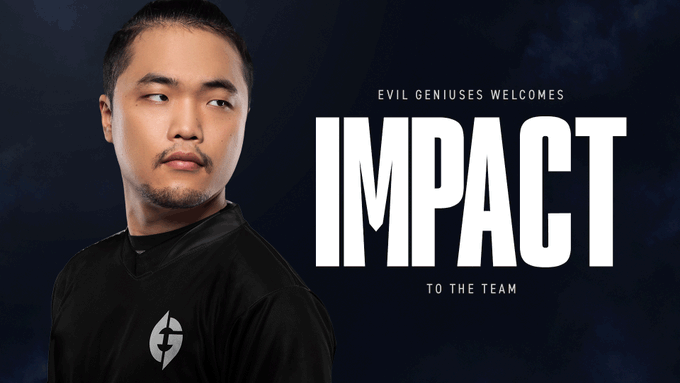 Impact will do his thing in the top lane and Svenskeren will likely still be a mid-tier jungler. EG will need to hope that Jiizuke has finally learned that he needs to play more around his team and not tilt too hard in the mid lane. Deftly will also finally be getting another chance and will be paired with IgNar who is a top tier support. The pieces are there for this team to find success, at least domestically, but a lot of things will have to go right for them to push for a top-three spot and a Worlds birth by the end of the season.
5. FlyQuest
There will be people who believe that this ranking is too high for this team but an equally valid argument could be made that FlyQuest could actually be fighting for a Worlds spot when looking at their potential. Licorice is one of the best players at his role and Johnsun was a major bright spot on a generally bad Dignitas team in 2020. Josedeodo is coming over with high expectations after dominating the LAT scene and showing up at Worlds. Then when adding in Palafox and Diamond, two players who have been extremely good in Academy, FlyQuest are looking strong.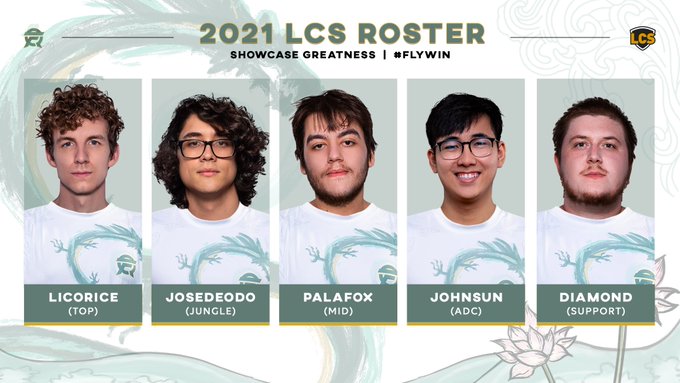 This team is very young though and performing in Academy or LAT does not necessarily mean that a player will find success in the LCS. Licorice will have to be the guy for this team both in terms of stability at his position and as a leader for the young guys. The potential for FlyQuest is extremely high and they have arguably the best young roster in NA. They will need to ride out any early slumps and trust in the decisions they made when putting this roster together. If they do that, FlyQuest should find success in 2021.
4. TSM
TSM are going to be another team that is hard to rank early on. This is because they have an entirely new roster and staff outside of Spica. With Bjergsen moving to head coach the team brought in PowerOfEvil, who should be one of the best at his position. The same can be said of Spica and SwordArt. As for Lost and Huni, there are a few worries. Lost has the potential to be FBI good, especially with a support like SwordArt, but it may take some time. Huni is an enigma and can either be one of the best top laners in the LCS or one of the worst.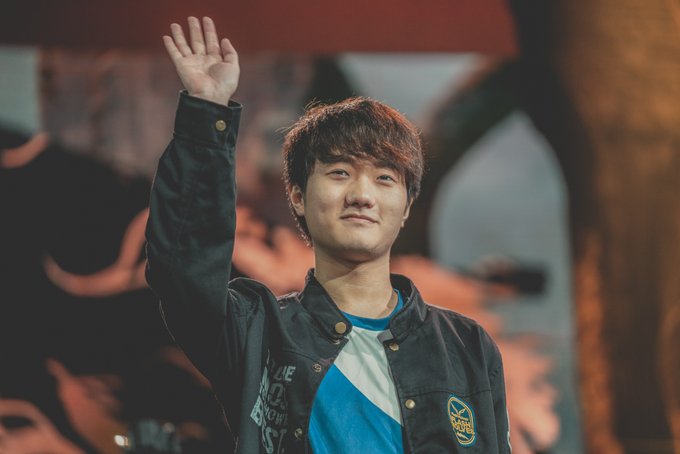 With this volatility, it is hard to put TSM much higher than this for now. The potential for this team is very high though as they could compete for a top-two spot. Bjerg will be key to this as he will need to get through any struggles with the poise that he has always shown. As long as TSM management and TSM fans are patient with the players and coaching staff, they could be very happy with their results come season's end.
3. 100 Thieves
Wow, this team asked to copy Golden Guardians 2020 homework and got an A+ instead of just an A. By combining Closer, Damonte, FBI and Huhi with Ssumday, this is a team that should be feared in a major way. Near the end of the 2020 Summer Split, Golden Guardians really came on. They surprised TSM in the playoffs and almost beat them a second time. Now with that experience and arguably the best top laner in the LCS, 100 Thieves should have very high expectations.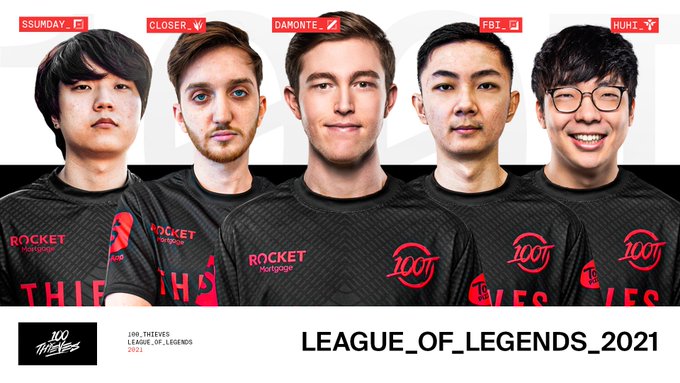 Even after all this praise, there are still some potential concerns. Closer was actually not all that influential come playoff time last season and will need to learn from that. Also, Huhi will need to prove that last Split was not a one-off performance. Lastly, Damonte is solid but he will still be considered a middle-tier mid laner. In a league with at least three very good mids, he will need to solidify that fourth spot for this team to succeed. These are relatively minor concerns for a team like this. The fighting at the top of the LCS is going to be tough but, expect 100 Thieves to be pushing for their first LCS title and second Worlds appearance in 2021.
2. Cloud9
This is more of a 1A ranking for Cloud9 than being a true second. By signing Perkz, Cloud9 have not only made themselves a serious contender for another LCS title, but they have put themselves squarely into the conversation as a team that could make waves at Worlds. By keeping everyone else on the team and promoting Fudge, Cloud9 are going to be scary good this season.
The only potential issues with this team are time-related. No matter how good Fudge is, he will probably need some time to adjust. All young players do. That said his adjustment could be going from a middle tier top laner to a top tier by the middle of the season. Also, Perkz will likely need a little time to adjust to all the new things in terms of his team and life. This will be basically his first time on a new team and his first time living in the United States. Lastly, the team as a whole will need time with Reapered out and Reignover taking over. Even with these changes and the time needed, Cloud9 are going to be an outstanding team and one that should expect to be competing for an LCS title at the end of the season.
1. Team Liquid
Team Liquid are the most solid team from top to bottom. Is there anything else that needs to be said? The additions of Alphari and Santorin can only be seen as upgrades over Impact and Broxah. While they may need some time to adjust similarly to Perkz, the fact that Santorin has already been in the LCS gives TL the slightest advantage over C9. This team will have top three players, at a minimum, at every single position. Although, even that might be a stretch as it could be argued very easily, that they are all the best or second at their position.
With a coaching staff still led by Jatt and even Tactical showing up as one of the best young talents NA has ever seen, TL are truly an incredible team. As with all teams that change at least 40% of their roster, there could be some synergy issues but outside of that, there are really no weak spots on this team. Their goal is not only to win another LCS title, but to finally breakdown the barrier and perform well at Worlds.
---
Stay Connected
You can 'Like' The Game Haus on Facebook and 'Follow' us on Twitter for more sports and esports articles from other great TGH writers along with Robert!
"From Our Haus to Yours"