On Feb. 3, the NFL Awards show presented the 2018 Hall of Fame class. Terrell Owens had finally been voted in during his third year of eligibility. Last week, Owens declared that he will not take part in the annual Hall of Fame enshrinement in Canton, Ohio. Most of the media is criticizing him for his decision not to attend. But at this point, Terrell Owens skipping the HOF induction is his right, and he can do so if he wants.
Owens is universally recognized as, at least, one of the five best receivers in the history of football. He is second in career receiving yards and third in career receiving touchdowns.
When a player of T.O.'s stature becomes eligible for the Pro Football Hall of Fame, he is normally voted in on the first ballot without question. However, the selection committee held Owens out not once, but twice.
Why was Owens not voted in first ballot?
Many of the voters argued that Owens was a locker room problem for every team he joined, specifically San Francisco, Philadelphia and Dallas. They originally decided that his off-the-field actions, which are not part of the Hall of Fame criteria, outweighed his tremendous play in between the white lines. The voting committee argued that they could use his activity in the locker room and off the field against him because it hurt the team on the field.
San Francisco drama
In San Francisco, Terrell Owens' first true "drama" occurred with head coach Steve Mariucci in the 2000 season. In a game against the Dallas Cowboys, T.O. had scored twice and sprinted to the midfield star both times. Mariucci chewed T.O. out in the locker room and suspended him for a game, something that effectively broke their relationship.
However, in 10 games after his suspension, Owens compiled over 1,100 yards for nine touchdowns and made first team All-Pro. The team only went 3-7, but that was not his fault, as they were already 1-3 before the incident.
Rift with McNabb
With the Eagles, Owens was fine until a rift started between him and quarterback Donovan McNabb after an incident during a Browns game. Owens told McNabb he had been open on a previous play, to which McNabb reportedly replied "Shut the **** up." Owens confronted him about it in the locker room after the game and they never repaired their relationship. Soon, most players chose sides, causing a split in the locker room throughout T.O.'s tenure in Philadelphia.
Regardless of who was primarily to blame, McNabb and Owens continued to connect on the field and dominate their opposition. In seven full games he played after the incident, before breaking his fibula, Owens collected 580 yards and six touchdowns. The Eagles went 6-1 in that span, and Owens once again made first team All-Pro.
The receiver even came back in that year's Super Bowl and played through his broken leg. Although Philadelphia lost by three to the Patriots, Owens had a great game, ending with nine catches for 122 yards.
Driveway press conference
The next offseason, Owens was about to enter the second year of his two-year deal and wanted a new contract, but the Eagles would not give him one. After Owens got into a shouting match with head coach Andy Reid, Reid suspended him from practice for a week.
Once Owens got home, he realized that hordes of media were following him. To make light of the situation, Owens decided to bring his equipment outside and conduct a press conference while working out.
As locker room issues progressed, the Eagles would eventually suspend T.O. for the entire season. But in the seven games he did play, Owens caught 47 balls for 763 yards and six touchdowns, and the team went 4-3. In the nine games without Owens, Philly went 2-7.
Owens deserved to make HOF on first ballot
Terrell Owens seemed to bring disruption wherever he went because he was brutally honest about everything. His grandmother had raised him to always tell the truth and express his feelings, so that is what he did. While Owens' upbringing does not completely excuse his actions, it does explain why he spoke and acted the way he did.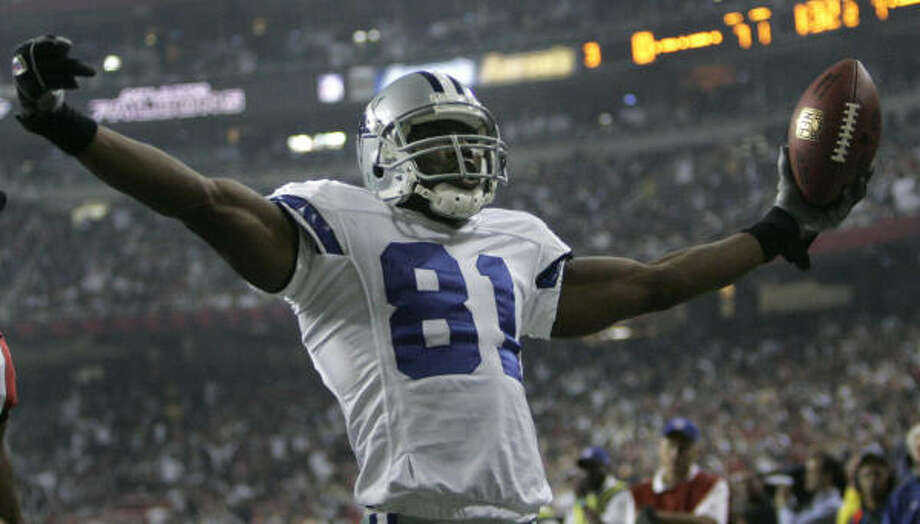 No matter what Owens did in the locker room or off the field, he played like a Hall of Famer. When he was wearing a helmet and pads, he was one of the greatest players to ever set foot in the NFL. The stats show that off-the-field issues did not affect Owens' production as a receiver or his teams' success. The committee should only have considered how he helped his team succeed on the football field. Instead, they held him out twice for reasons that had nothing to do with how he played.
A perfect example of the bias is this statement from Hall of Fame voter Gary Myers.
"If I knew he would not show up [to the induction], I would have voted for someone who would have."
Only on-field play should matter, not whether or not he shows up to the enshrinement ceremony. Again, Terrell Owens skipping HOF induction is his choice, and no one should blame him for the decision.
Hall of Fame quarterback Brett Favre said it perfectly: "Long overdue T.O. The numbers don't lie."
Featured image by Ron Cortes/File Photograph
You can like The Game Haus on Facebook and follow us on Twitter for more sports and esports articles from great TGH writers!
"From Our Haus to Yours"