The final North American regional championship has come to pass, and it seems that the annual Paul "Chua-bomb" has dropped. This phrase has become popular in the VGC community as a reference to well-known American player Paul Chua and his tendency to have amazing late-season results. This most recent development has earned Chua his eighth regional championship win overall, his first this season and his second consecutive win in Madison.
Results and Teams (Top 8)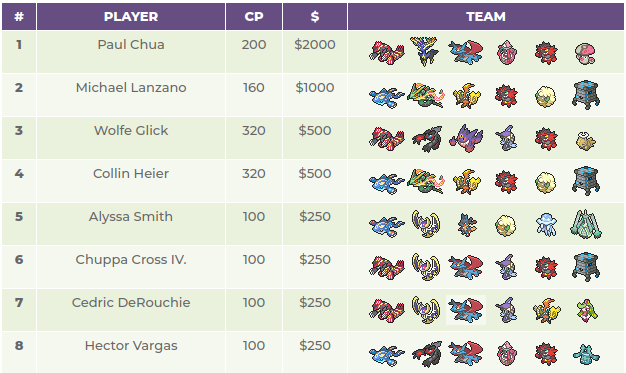 Veteran Players Return to The Big Stage
This regional top cut saw a blend of both new and old names in the VGC scene, including some that haven't appeared in a major tournament Top Cut in a while. Michael Lanzano, one of the great North American players from back in the day, made his mark in Madison with a second place finish. Lanzano's last regional championship win was back in 2014, and since then has only shown up here and there with impressive finishes at almost every event he attends.
He is a player known for making deep runs at major tournaments late in the season, so he'll be a name seemingly floating under the radar if he decides to compete in Columbus next month. Also, he's officially qualified for the 2019 World Championships so we'll definitely be seeing him in D.C.
Next is Collin Heir, a former semifinalist at the 2014 World Championships that, like Chua, won the regional championship in Madison back-to-back years (2014/15). Heier curiously has a similar team to Lanzano, but by the looks of it, their team selection was likely outsourced (a team both piloted quite well if that wasn't already clear). Heier is sitting comfortably with over 500 Championship Points now, so he's a shoe-in for Worlds as well. Yet another North American player to keep your eyes on going into the season's final tournaments.
Wolfe Glick's Attempt to Annoy… Fails?
Wolfe Glick might be a big fan of Shedinja. He's made this clear on his Twitter where he replied to a tweet trashing Shedinja from Jamie Boyt with this:
This is the worst take I've ever seen

— PG | Wolfey (@WolfeyGlick) May 26, 2019
It's no secret that many Pokemon VGC players loathe seeing Shedinja in team preview, and by using it in Madison, Glick wanted to capitalize on this hatred for the undead insect.
I wanted to use Shedinja because I wanted to make people mad but

Everyone kept just saying things like "really cool team man" and "GG"

What a waste of a weekend

— PG | Wolfey (@WolfeyGlick) June 2, 2019
Was it, though? He did get Top 4 at another major tournament and even got 2nd place at the MidSeason Showdown the day after. Well, even though his original goal wasn't satisfied, Glick jumped from ninth to seventh in the North America Championship rankings, putting him in a much better spot for locking up a Day Two invitation to the World Championship.
As for the rest of the VGC players out there, you guys know who to blame for adding more Shedinja to the online ladder.
Whimsicott Blows Away the Competition
Madison's Top Cut saw an unusually high spike in Whimsicott usage for the Ultra Series. Whimsicott has never been a bad Pokemon, and it usually pops up on teams here and there, but it's never topped the usage charts at all. With that being said, Whimsicott is and always will be one of the best supporter Pokemon in VGC due to its ability, Prankster, and its massive toolkit of support moves.
Whimsicott works really well on Rayquaza/Kyogre teams due to the archetype's capacity for high bursts of offense and need for the speed advantage (which Whimsicott can provide with Tailwind). Whimsicott is able to punish defensive plays with Encore and even stop opposing support moves with Taunt making the rest of a team's job much easier in dishing out damage.
This rise in Whimsicott usage doesn't seem to be predicated on any previous trends, but perhaps now that it has performed well at a high-level tournament along with its popularity among top players, perhaps Whimsicott's time to shine has come again. It won a World Championship back in 2017. Who's to say it can't win another one?
---
---
You can like The Game Haus on Facebook and follow us on Twitter for more sports and esports articles from other great TGH writers along with Eric! (@aricbartleti)
Images from Pokemon Ultra Sun and Ultra Moon, Pokken Tournament, Ken Sugimori and The Pokemon Company International