Here is a College Basketball Midweek Preview Week 13 of the best games of the week. This includes Big Ten matchups of Illinois at Purdue, Wisconsin at Michigan State and a Big East clash between Marquette at UConn.
(13) Illinois at (3) Purdue
Illinois
Illinois is in a great position to win the Big Ten regular season title and that can be enhanced with a win over Purdue. The play of Trent Frazier is very underrated on a national level being as consistent as anyone for this Illinois program. Kofi Cockburn is possibly in position to win National Player of the Year with his ability to dominate any game with his efficiency and physicality. Damonte Williams is the ultimate glue guy for Illinois with his consistency on defense and ability to rebound. The perimeter shooting of Jacob Grandison and and Alfonso Plummer takes this team to the next level. Illinois' ability to slowdown the Purdue offense will be the key in this game.
Purdue
Purdue is going to try to get back in position to win the Big Ten regular season title against Illinois. This primarily begins with their ability to slow down Kofi Cockburn with the pair of bigs in Zach Edey and Trevion Williams. Jaden Ivey is playing at an extremely high level and will be the key in setting the tone against Illinois. The perimeter shooting of Sasha Stefanovic and Isaiah Thompson is imperative to spread out defenses allowing the bigs and Ivey to operate easily. Purdue will need to get their offense going at a high level to beat Illinois.
Purdue will do enough to contain Kofi Cockburn throughout the game and their offensive firepower will get the job done against Illinois.
Matchup to Watch: Kofi Cockburn vs. Zach Edey
Prediction: Purdue – 76, Illinois – 70
(14) Wisconsin at (17) Michigan State
Wisconsin
Wisconsin will be looking to establish a bit more consistency with a great opportunity against Michigan State. Now, Johnny Davis is one of the best players in the country with his scoring and rebounding ability he'll need to be elite in this game. Also, Brad Davison has brought consistent scoring for Wisconsin and will need to in this matchup. Tyler Wahl is a foundational player for Wisconsin adding interior scoring and solid defense. The ability to create turnovers against Michigan State is key for them in this game.
Michigan State
Michigan State has had massive highs throughout this season, but disappointing games as well. Therefore, this is a vital game for Michigan State to get a home win against Wisconsin. This starts with the point guard play of Tyson Walker and A.J. Hoggard not being turnover prone and getting the offense going. The wings in Gabe Brown and Max Christie must be consistent for Michigan State on both ends. As well as, having Joey Hauser and Marcus Bingham add scoring inside.
Michigan State will bounce back with a quality win over Wisconsin being led by Gabe Brown's defense on Johnny Davis.
Matchup to Watch: Johnny Davis vs. Gabe Brown
Prediction: Michigan State – 72, Wisconsin – 66
(18) Marquette at (24) UConn
Marquette
Shaka Smart has done a tremendous job in year one at Marquette and will look to continue that against UConn. Marquette has had great success with Justin Lewis emerging as the likely Big East Player of the Year. Also, Darryl Morsell is one of the best perimeter defenders in the country and will need to do against RJ Cole. Tyler Kolek is one of the best point guards in the country with playing in ball screens and distributing to others. The interior defense against Adama Sanogo will be critical in this matchup needing Kur Kuath to step up.
UConn
UConn has a massive opportunity against Marquette to get a marquee win on their resume. The ability to have Adama Sanogo dominate the paint on both ends is very important. Also, the ability to slow down Justin Lewis with Tyrese Martin in that matchup. The additional, scoring of Tyler Polley and Isaiah Waley is important to have more offense for UConn. R.J. Cole's ability to run the offense and score at a high level is very important for UConn to have an opportunity to win this game.
Marquette is going to continue their hot streak and get a very good win on the road at UConn.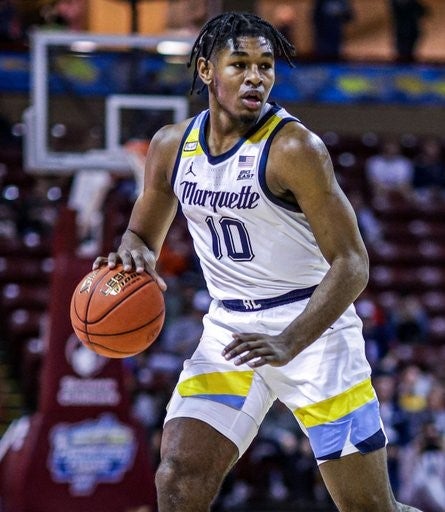 Prediction: Marquette – 66, UConn – 62
Matchup to Watch: Justin Lewis vs. Tyrese Martin
Images Courtesy of, 247 Sports, The Athletic
You can "Like" The Game Haus on Facebook and "Follow" us on Twitter for more sports and esports articles written by other great TGH writers along with James!
"From Our Haus to Yours"