Update: Rise of the Elements Available on PBE
Since the initial release of this article, TFT's Set 2 has hit PBE servers and is available to play. For a full English translation of everything included in Rise of the Elements, @Mortdog released a comprehensive blog post that details all of the champions and traits.
Additionally, since release, The Game Haus has created a new item cheat sheet for the updated items, as well as Champion, Class and Origin tier lists for Patch 9.22. These will all be updated daily as changes are made by developers.
---
---
It appears that certain TFT influencers across the scene have been given early access to different aspects of TFT's Set 2, which is set to be announced tomorrow in the developer's notes. Because news about this appears to be gradually coming out today, October 21, this article will be updated as more information becomes available.
Keep in mind that some of the posts below have been either translated by a third party or by the author and may not be exactly correct.
---
NEW CHAMPIONS in TFT coming soon with #RiseOfTheElements

NEW CHAMPS: Syndra & Vladimir

NEW CLASS: Mage

NEW ORIGIN: Oceanhttps://t.co/Mrzlgzr2ky pic.twitter.com/pZug76JlUj

— Sp4zie (@Sp4zie) October 21, 2019
---
TFT 2. Set #RiseoftheElements çok yakında geliyor!

Benden size ÖZEL Türkçe Önizleme!!

Bir tane de sürpriz Çöl – Efendi şampiyonu var elimde, kim olabilir acaba? 🧐

Bi 1k beğeninizi göreyim, onu da açarım😈 pic.twitter.com/9onxfPTCvB

— Dora Özsoy (@DoraOzsoy) October 21, 2019
Sure!

Annie : Summon Tibbers to deal area damage, Tibbers deals a lot of magic damage with his AA.

Zyra : Summon two untargetable Flame Spitters on the corners of the arena. Attacks closest enemies.

Desert : %50-90 Armor pen.
Master : More HP + Lasting units

— Dora Özsoy (@DoraOzsoy) October 21, 2019
Note: "Master" should actually be translated as "Summoner" here.
---
---
CONOCE EL NUEVO ORIGEN: INFERNO 🔥
También nuevos campeones de este Origen 🙃https://t.co/Ja32BSkLqw pic.twitter.com/uJsbdzQLUT

— Jacky / Worlds 2019 💥 (@CooLifeGame) October 21, 2019
Translated from the above video:
The damage of the abilities of Inferno burns the ground under the objective and inflicts a percentage of the damage of said ability before the mitigation as magic damage during 5 seconds. 3- 80%; 6-150%; 9-250%.
Diana 2 cost, Infernal Assassin,
Flamefall: Diana creates three orbs that rotate around her and explode when she hits an enemy, infiltrating 60/100/140 magic damage. In addition, Diana generates a shield that lasts 3 seconds and absorbs the next 150/250/350 of damage that she receives.
Kindred 3 cost, Shadow, Inferno, Ranger
Dance of arrows: Wolf rushes against the objective of kindred inflicting 150/325/500 of magical damage, while lamb moves away from the objective of a jump.
---
Forest: (3) At the beginning of the round, a random Forest champion clones themselves. (translation by u/BKSnitch)
New Trait: Alchemist (Always moving and ignore collision) from r/CompetitiveTFT
Braun: Glacial + Patron? (2/4/6) grants all Patrons ~150/250/350% Armor from r/CompetitiveTFT
---
Tundra Warwick: Cost: 1
Origin: Glacial
Class: Predator
Abilities: Infinite Coercion: Jump to the lowest health enemy, stun them, and inflict 150/225/300 damage.
Eternum Rek'Sai
Cost: 2
Origin: Steel
Class: Predator
Abilities: Furious Bite – Deals 200/550/900 damage to an enemy.
Kog'Maw Cost: 1
Origin: Poison
Class: Predator
Abilities: Living Artillery – After a short delay, a projectile lands on a random enemy, dealing 125/275/425 damage.
---
---
Família venho trazer novidades sobre a grande atualização do TFT!

A classe "Assassino" continua igual, mas olha como ficou o Zed, o Kha'Zix e a nova campeã Le Blanc.

Temos também a origem Deserto, Bosque e Elétrico.

Quem ta hypado? POG pic.twitter.com/kr6z9JGWeU

— Rafael Knittel (@Rakin) October 21, 2019
---
Translations of the above images can be seen below:
Void Massacre: Kha'zix takes stealth and attacks the enemy with the lowest health after 2 / 1.25 / .5s, causing critical strikes automatically and restoring 5/10/15 mana.
Live flash: Zed creates a clone identical to him behind his current target. This clone can also conjure up a flash, and inherit the items, attributes, and current life of Zed.
Ethereal chains: LeBlanc launches an ethereal current toward a random enemy, inflicting 200/450/700 damage and stunning them for 1.5s after a brief interval.
Der #RiseOfTheElements hat begonnen! Bald kommt ein neues SET in TFT!

Neue Champs: SINGED & TWITCH

Neue Klasse: ALCHEMIST

Neue Origin: GIFThttps://t.co/hvXzDoOrJy pic.twitter.com/GoIutFfRrh

— Maxim (@maximmarkow) October 21, 2019
Translations from the above images:
Poison champions add neurotoxin when they cause harm. this increases the mana cost of the target by 50%.
Poison trail: Singed leave poison behind, wherever he goes. If an enemy moves in, it is poisoned and suffers 400/800/1200 damage over 4 seconds.
Spray and pray: Twitch gains unlimited range for 9 seconds and + 100/125/150% attack damage. During this period, all his attacks fly the maximum distance and pierced each enemy in their trajectory. Hit effects are also drawn.
---
here's the official champion cards used in the reveal 🙂 pic.twitter.com/v40Srvf62R

— basti (@Basti_Senpai) October 21, 2019
---
Riot kochane Games dało mi przywilej pokazania 3 nowych championów, które wejdą w 2 Secie TFT #RiseOfTheElements Moje opinie na temat nowych championów u mnie na YT: https://t.co/t3Dbfn3tmG pic.twitter.com/AC5aPXSr5I

— Damian Ziaja (@Nervarieno) October 21, 2019
Below is a translation of the above images:
Renekton swings his blade, dealing 150/275/400 points. physical damage to nearby enemies and restoring 150/250/350 health on every hit.
Adrenaline rush: Dr. Mundo creates a toxic cloud around him for 8 seconds, which deals 40/110/160 + 1.25% of his maximum health to all nearby enemies every second and heals him by 100/150/200% of this value.
Inborn skill: Berserkers jump to the nearest enemy. The berserkers have the chance to patch up units in front of them and deal 100% frontal area damage to them. 3 40% chance 6 80% chance.
Umbral blades: Passive – every third hit of Nocturnes is strengthened and inflicts damage on all nearby enemies, and also restores his health in the amount of 75/100/125% of the inflicted damage.
---
Maokai: After being hit by enemy skill, Druid's next attack heals self 100/200/300.
---
Janna: Cast a wind blast that lasts 3 second, heal allies 30/40/80% max HP and stun nearby enemies for 1 second.
---
Ezreal: Frozen shot to lowest HP enemy and on-hit effect.
---
Jax: Dodge for 2 seconds, then strike nearby enemies for 150/250/350 and stun for 1.5 seconds.
---
NEW @TFT CHAMPS pic.twitter.com/D31SRGCN60

— David Caero (@dogdog) October 21, 2019
---
@RiotGamesFrance m'a donné la chance de vous reveal en direct quelques infos sur les nouveaux rôdeurs pour le Set 2 TFT.

– Nouvelle Ashe!
– Varus enfer vs Vayne lumière 😀 (bon ils ont pas trop changé xD)
– Nouveau rôdeur, qui vont jusqu'à 6 !!!!

Stylé! pic.twitter.com/CV6ciWHSWi

— Shaunz (@Shaunzpro) October 21, 2019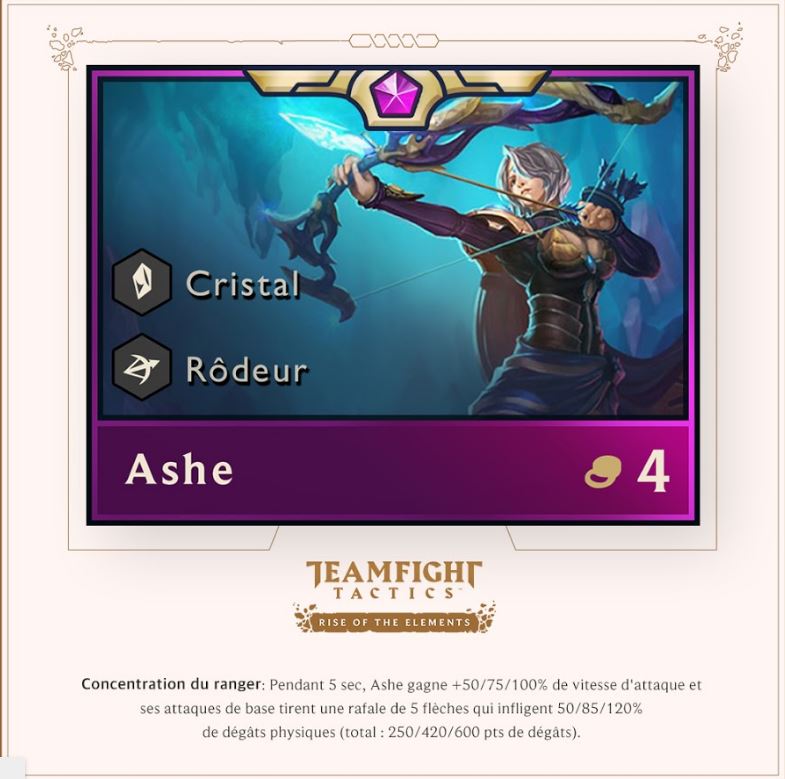 Ranger Concentration: For 5 sec, Ashe gains + 50/75/100% attack speed and her base attacks fire a 5-arrow burst that inflicts 50/85/120% physical damage (total: 250/420 / 600) pts of damage.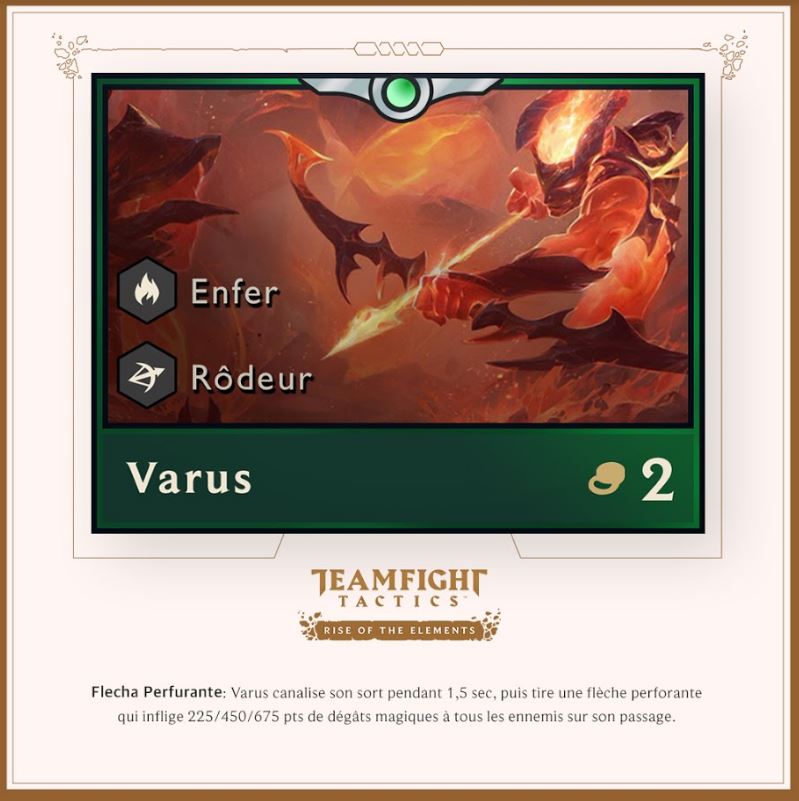 Piecing Arrow: Varus channels his spell for 1.5 sec, then draws a piercing arrow that deals 225/450/675 magic damage to all enemies in his path.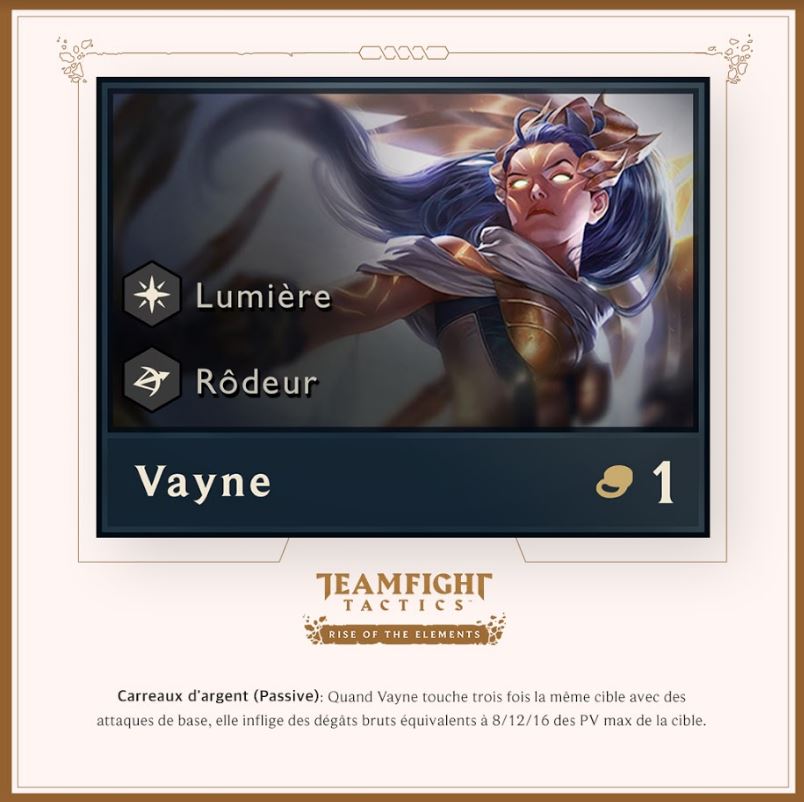 Silver Bolts (Passive): when Vayne hits the same target three times with basic attackes it inflicts damage equivalent to 8/12/16% of the target's HP.
---
Pra quem acompanhou o TFTalk já deve ter visto, mas postando pra galera que pediu as fotos das novidades! pic.twitter.com/SJVX1yia0p

— Whesley Holler (@WhesleyLeko) October 21, 2019
E a ultima foto aqui.

Hoje foi um excelente dia pra quem gosta de TFT ♥

Mal posso esperar pra ver essas mudanças amanhã no PBE! pic.twitter.com/rA9ry93lrx

— Whesley Holler (@WhesleyLeko) October 21, 2019
Malphite: Uncontrollable Force (R): Malphite advances toward a random enemy, dealing 125/200/275 damage and knocking all nearby enemies into the air, stunning them for 2 / 2.5 / 3s.
Mountain (2) At the start of combat, a random ally gains a 1500 stone shield.
Taliyah (w): Seismic Push: Taliyah causes the ground to rise under the enemy with the most Mana, inflicting 150/325/500 magic damage and throwing it toward her (if she is a ranged champion) or away from her. (if you are a melee champion).
Ornn (w): Electrifying Breath: Ornn unleashes lightning bolts on a cone in front of him, dealing 100/200/300 magic damage to all enemies hit and increasing the critical strike chance by 20% for 4s.
ELECTRIC: Electric champions shock nearby enemies when they deal or receive a critically hit (2) 60 damage (3) 200 damage (4) 500 damage.
---
新しくなるチームファイト・タクティクス『エレメントの目覚め 』ユニット達をちらっと紹介!

新たなオリジンとして『ウィンド』『デューン』『シャドウ』が追加
現状のブレードマスターは微妙な立ち位置なので使いやすくなっている事に期待ですね!#TFT#RiseOfTheElements#エレメントの目覚め pic.twitter.com/adDXsDSx2e

— syaruru (@syaruruuu) October 21, 2019
---
---
As a reminder, this piece will be continuously updated as more news surrounding TFT's Set 2 is released throughout today, October 21. Once news is officially confirmed tomorrow, stay tuned at The Game Haus for an official announcement.
---
Stay Connected
Follow me on Twitter: @GoopyKnoopy I would love to dialogue with you about anything I've written! 
You can also shoot me a line on Discord! (GoopyKnoopy#2205)
Featured Image Courtesy of @DoraOzsoy
Follow The Game Haus for more sports and esports coverage.
Twitter: TGH Esports
Facebook: The Game Haus
"From Our Haus to Yours"