In the last decade, running backs have become extremely undervalued. Teams have been content with playing a running back by committee approach, which in turn dropped the overall running back market. Now, most of the top running backs are also adept receivers out of the backfield. These double-threat players are changing the dynamic of NFL offenses and consequently bringing the running back market back up.
Le'Veon Bell, currently under a franchise-tag, is a huge reason for the running back market's revival. He turned down an offer from the Pittsburgh Steelers for 5 years and $60 million for two reasons. First, Bell believed that Pittsburgh was undershooting his value to the team. In addition, he wanted to help his peers by forcing the league to start paying running backs like other positions. Considering Bell's multitude of skills, including running, receiving and pass-blocking, he was right to hold off and wait to test the free agent market next year. He raised the bar for what star dual-threat running backs should make. And because the league is transitioning to a state where most of the top backs are dual-threat, he helped raise the running back market as a whole.
Just in the past week, two young backs have signed market changing deals. Saquon Barkley, a rookie for the New York Giants, signed for an average of just over $8 million a year, becoming the fourth highest paid player at his position. Then a few days later Todd Gurley, last year's Offensive Player of the Year, broke the market with a 4-year, $60-million extension (including $45 million in guarantees). This made Gurley the highest paid RB, nearly doubling the average salary of the next highest long-term contract.
Effect on the Running Back Market
So what do these deals mean to the rest of the league? There are a few young, dual-threat backs who are either looking for new contracts or will enter discussions soon. These players can now leverage their negotiations against Barkley's and Gurley's deals, betting on the fact other teams could offer them money. NFL organizations might start to give running backs extensions sooner. They would be taking a risk since RBs don't play as long as other positions, but teams won't want to risk having to bid against other teams on the open market.
Upcoming Free Agency
David Johnson and the aforementioned Bell will be free agents after this season. Bell will be an unrestricted free agent, and has expressed that he is likely to leave Pittsburgh. He will probably become the highest paid running back in the league, meaning he'll make more than Gurley's $15 million-per-season. Although Bell has had injury and suspension issues in the past, he seems to be past those. Also, of all the top backs, he is the only one still in his prime to have multiple great seasons.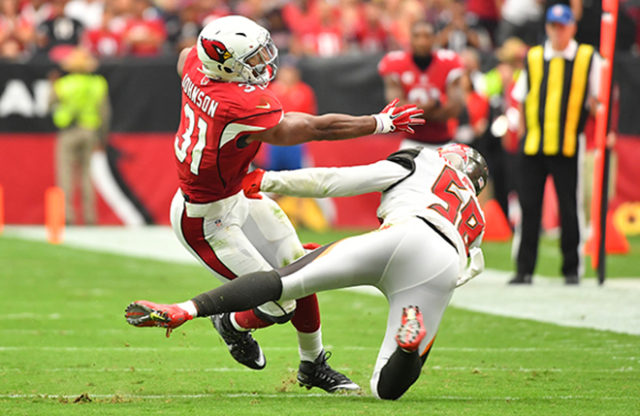 David Johnson, on the other hand, is in a different type of situation. DJ, who has only had one full great season, and had a wrist injury last year, is set to make only $1.9 million this season. By going to training camp, he showed confidence that the Cardinals will give him an extension soon. If the two sides reach an agreement, Johnson's deal will be similar to Todd Gurley's.
However, Arizona could decide to make him play out his contract to make sure he stays healthy. It could then franchise tag him for two seasons at which point Johnson would already be 29 years old, near the end of his expected prime. Because the franchise tag is based on the top five contracts at that position, David Johnson's salary would be about $2 – 3 million more than it would have been before the new deals. Bell's potentially large salary would bring that up even more. Of course, DJ probably would hold out at some point either this season or next to ensure that he gets a long-term contract. But if that doesn't happen, the revival of the running back market at least ensure an eight-figure franchise tag salary.
What it means for young RBs
The revival of the running back market is also great for young backs. This includes both those already in the league and those not yet drafted, in various parts of their football career.
Young players who have already proven their dual-threat skills like Alvin Kamara and Kareem Hunt are now on pace to get monster deals if they continue their all-around success. Other backs who are primarily only rushing threats, such as Ezekiel Elliott, could see this as an opportunity to evolve. These players could push their teams to involve them more in the passing game. Not only would they enhance their future contracts, but the offense would also add a new element and improve overall.
On the other hand, the apparent running back market resurgence could benefit players not yet in the league. Rookie running backs taken high in the NFL draft may start demanding contracts around what the Giants gave Saquon Barkley. Further down, all the way from pee-wee to high school football, people have a higher incentive to play running back. If running backs continue to get paid, kids who truly have the potential and desire to make it to the NFL now have no reason to avoid playing the position. Paying RBs now potentially means more talented and athletic backs joining the league in future years
.
Conclusion
In general, the running back market revival is a very good thing. Though it could mean a potential need for a rise in the salary cap and a lockout in the 2021 season, the benefits far outweigh that one downfall. Running backs are important pieces on offense and they should be paid according to their value. The new contracts are great for all RBs, whether in their prime, entering the league or still in 8th grade.
Featured image by USA Today
You can "Like" The Game Haus on Facebook and "Follow" us on Twitter for more sports and esports articles from other great TGH writers along with Pranay! 
"From Our Haus to Yours"