In 2012 there was an increase in FBS membership, with four teams making the jump up into premier college football. Another five have made the move in the three following seasons. With each team having at least one season in the books, here is a look at the state of their programs.
UMass Minutemen: The Minutemen were occasionally a playoff team at the FCS level, but have struggled to find any success in FBS. They played four seasons in the MAC, failing to win more than three games in any of them, before deciding to go independent in 2016. In addition to the on field success, UMass has issues with where they play their games. They've split home games between the on campus, but small and outdated Alumni Stadium and Gillette Stadium, almost two hours away. Gillette has helped lure bigger programs such as Vanderbilt, Colorado and Mississippi State to travel to Massachusetts, but attendance has really struggled. With poor success on the field, weak attendance and now no conference, UMass has certainly had a tough run in FBS, and the future doesn't look much brighter.
South Alabama Jaguars: The Jaguars founded their football program in 2009 and quickly moved up the ladder under long time Alabama High School coach Joey Jones. USA struggled in their first FBS season, going 1-11 in 2012, but won 17 games in the past three seasons, including a 2014 Camelia Bowl appearance. Playing in Land Peebles Stadium, also the site of the NCAA Shrine Bowl and the Godaddy Bowl, the Jaguars have decent fan support for a Sun Belt team, averaging around 16,000 per game. While South Alabama hasn't set the world on fire, they appear to be a consistent, stable presence in the Sun Belt moving forward.
Texas State Bobcats: As the fourth largest school in Texas, it was only natural that the Bobcats would make the jump eventually. They joined the fading WAC in 2012, and after it dropped football the following year, moved to the Sun Belt. Texas State peaked with a 7-5 record in 2014 under former Alabama and Texas A&M coach Dennis Franchione, but were set back when he resigned after a 3-9 record this past season. Now they look to rebuild under another fairly high profile coach in former North Carolina boss Everett Withers. While it might take some time, Texas St looks to have the support necessary to be a solid program at this level.
UTSA Roadrunners: Like Texas St, UTSA joined the WAC in 2012, but ended up in Conference USA a year later. They went big from the start, hiring a former National Champion winning head coach in Larry Coker, and playing in the Alamodome. Things looked good early, with winning records in 2012 and 2013, but UTSA fell to a combined 7-17 over the past two years leading to Coker's resignation. This past January, they brought in LSU assistant Frank Wilson, considered to be one of the best recruiters in the country. Much like Texas St, the Roadrunners might struggle this season, but have the pieces to build a very respectable program.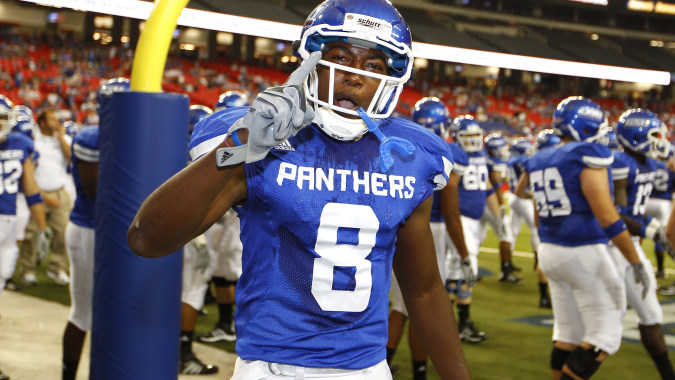 Georgia State Panthers: Much like UTSA, the Panthers are a new team in a hot recruiting bed, playing in a large dome. Things started off slow, with only one win over the first two seasons, but Georgia St was one of the best turnarounds in 2015, going 6-7 and earning a Cure Bowl appearance. The Panthers are also working to improve their facilities, opening a new practice facility, and also purchasing the land Turner Field sits on to build their own stadium when the Braves leave for Cobb County. Georgia State will look to build on this year's success for the future, and seems to be in a good position to do just that.
Old Dominion Monarchs: The third FBS program in Virginia, the Monarchs revived their program in 2009, and made the jump up in 2013, joining Conference USA. Under Bobby Wilder, Old Dominion has been fairly consistent, making the FCS playoffs their final two years at that level, and going 6-6 and 5-7 in Conference USA. The most impressive thing about ODU's jump, however, is the fan support. They have sold out every home since making the jump to FBS. Another consistent and well supported program, Old Dominion looks to have a good future ahead.
Georgia Southern Eagles: A year after their in state rivals moved up, GSU also joined the Sun Belt. The Eagles were a highly respected program at the FCS level, winning six National Championships and famously upsetting Florida 2013. They have picked up exactly where they left off, going undefeated in conference play their first year in the Sun Belt, and winning nine games and a Godaddy Bowl in 2015. The only issue the Eagles have had is retaining their coaches – both Jeff Monken and Willie Fritz have left for other jobs in the past three years – but they have dealt with it before and turned out alright. Georgia Southern should continue to be a force in the Sun Belt moving forward.
Appalachian State Mountaineers: Like Georgia Southern, the Mountaineers were a force at the FCS level, winning three straight National Championships from 2005 to 2007, and upsetting #5 Michigan in 2007. They appear to have a solid coach for the future in Scott Satterfield, a longtime assistant to Appalachian State legend Jerry Moore. Satterfield has led the Mountaineers to a combined 18-7 record since joining the Sun Belt, capped off by a victory over Ohio in this past Camelia Bowl. The Mountaineers have a very well run football program that should be very successful in the future.
Charlotte 49ers: The most recent program to make the jump, Charlotte founded its program in 2013 and joined Conference USA this past season. As expected, it was a rocky first season, finishing at 2-10. However, there are some positives moving forward. The 49ers drew fairly well, with at least 11,000 fans at every home game despite the dismal season. They also secured quite a few major donations, including $10 million from Carolina Panthers owner Jerry Richardson. While there is still a lot of work to be done, the 49ers definitely have some positives.