It's that time of the year again- time to select the MVP for this season of the Overwatch League. And this year, the choice could be harder than ever. Plenty of players have had a massive impact in 2021, lifting their teams to unparalleled heights. A countless number of stars have been born, and a countless number of veteran players have surpassed their old limits. Each of the 10 MVP candidates are more than deserving of their spot, and none would seem out of place as this year's MVP. However, that doesn't mean that there isn't any talent that seems to be strangely absent from this year's MVP discussion. In fact, there are many players deserving of MVP candidacy status who seem to have barely missed the list. But who are these players? And why have they failed to make the cut?
---
Koo "Fate" Pan-seung
If another player could receive an MVP nomination this year, it would have to be Fate. A staple of the League since its inaugural season, Fate has worn many jerseys, representing the Los Angeles Valiant, the Florida Mayhem and team South Korea before joining the Shanghai Dragons in 2020. Fate was a hugely impactful player on each and every one of these teams and allowed all of them to achieve lofty placements in multiple stages. But heading into Season 4, many fans had doubts that Fate would be able to stand out from the rest of the Shanghai Dragon's star-studded roster.
However, it didn't take long for these doubts to irreversibly fade away. Fate played incredibly well throughout the May Melee, and was the largest factor contributing to Shanghai's June Joust victory. His incredible Wrecking Ball play even spawned a new, dominant meta in the League that's likely to continue throughout the playoffs.
Fate is currently listed as the third-best player in the world, just behind two popular MVP nominees. Though it's a shame he didn't receive an MVP nomination this year, disappointed fans shouldn't give up hope just yet. If Fate keeps his current level of play up, he's nearly guaranteed to receive a nomination in 2022. After all, it would be remarkably strange if he didn't. After three years in the League, it seems to be his destiny- or maybe even his fate.
---
Jang "Decay" Gui-un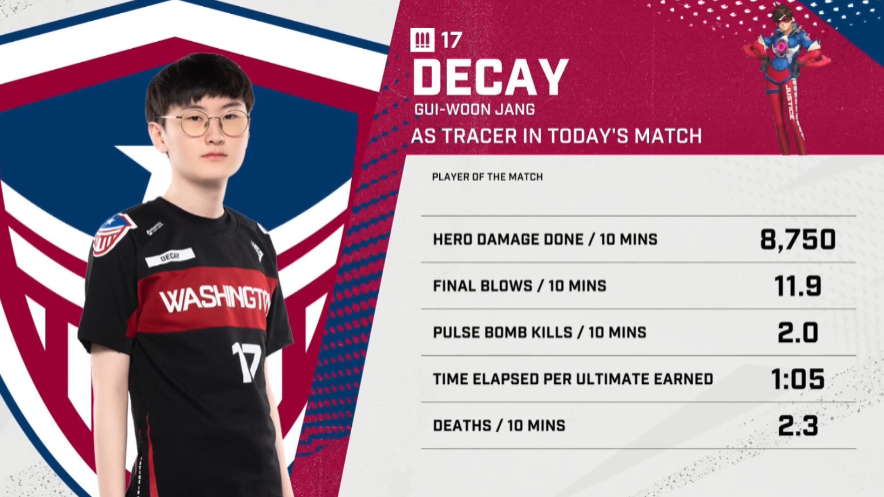 Within the Overwatch League, there are a few players famous for putting their entire team on their back. Kim "Fleta" Byung-sung. Huang "Leave" Xin. Oh "Pelican" Se-hyun. Players like this are common candidates for the title of MVP. However, there is an obvious exception to this rule. Jang "Decay" Gui-un is currently one of the best DPS players in the world. His dominant Tracer play is a defining factor of the Washington Justice's success, as he frequently clutches out seemingly unwinnable fights with the speedy hero. Barring the eye test, Decay's dominance is obvious when one looks at his place in the power rankings- he's currently the seventh-best Tracer in the world, right behind five current Overwatch League MVP nominees.
But why is Decay missing from the MVP discussion? Though Decay's stats and mechanics are incredible, there are a few obvious factors contributing to him lacking a candidacy. For one, there's his team. The Washington Justice have had an incredibly disappointing season so far, as they've managed to beat some of the League's best teams, but lose to some of the worst. Inconsistency issues have tarnished their brand- and Decay's image.
And then there's Decay himself. Uncooperative behavior spurred by intense burnout ended Decay's 2020 season early, an incident that damaged Decay's reputation. Though it's unclear whether or not Decay has improved his behavior, his reputation has likely lead to OWL staff and fans alike feeling hesitant to award him MVP status. But that isn't a factor that should worry Justice fans. After all, the Washington Justice have some of the highest potential in the League. If they can tap into it and stabilize in their postseason, it's entirely possible that Decay will have a shot at the title of Grand Finals MVP in September.
---
William "Crimzo" Hernandez
When compared to the other players on this list, William "Crimzo" Hernandez seems like an oddball pick for a player missing a well-deserved Overwatch League MVP nomination. But when one looks a little bit closer, Crimzo's inclusion on this list can't be more fitting. The Houston Outlaws have had a remarkable season so far. Despite never making it to Hawaii, they've proven themselves as one of the best teams in the West, more than capable of defeating dominant teams like the San Francisco Shock. Much of this success comes down to their ability to masterfully execute slow, methodical compositions- a boon made possible by Crimzo's obvious skill.
As the fourth-best Baptiste in the league, Crimzo is the crux of the Outlaws' slow and steady compositions. It's his job to keep his team afloat through waves upon waves of pushes and spam. And it's one he's done masterfully. With Crimzo at the helm, teamfights in which the Outlaws are totally run over are rare, as attackers must deal with wave after wave of oppressive amplification matrixes and immortality fields. But that doesn't mean that Crimzo is a slouch when it comes to damage- in fact, he's quite the opposite. Crimzo is a notoriously bloodthirsty support, and his playmaking potential frequently wins the Outlaws maps. In fact, it was arguably the biggest factor contributing to the Outlaws' recent 3-1 victory over the Florida Mayhem.
So why isn't Crimzo part of this year's Overwatch League MVP discussion? His exclusion from the MVP lineup likely has to do with the Outlaws' inability to win when it counts. Despite possessing obvious skill, the team frequently suffers unfortunate losses, and have missed tournament knockouts twice. If the Outlaws can break this habit, it's likely that Crimzo becomes a role star later on this year. But if they can't, a lack of valor will be the least of their worries. After all, titles and trophies mean very little if you can't punch your ticket to the playoffs- a realization very few OWL teams want to come to in the next few weeks.
---
Follow The Game Haus for more sports and esports coverage:
Twitter: TGH Esports
Facebook: The Game Haus