NFL Week 9 is over and every team has now gotten through at least half of its schedule. There were some great games and incredible finishes this week. Here are four major takeaways from Sunday's games.
Tight Race for NFC's Top Seed
Coming into Sunday afternoon's showdown between the Rams and the Saints, the storyline was whether the Rams could move to 9-0 and take a stranglehold on the number one seed. However, the Saints beat them in a shootout; now, each team has one loss and the Saints hold the tie-breaker.
The Rams, a team that just a few days ago many thought was nearly unbeatable, showed that they have a lot to work on defense. New Orleans showed they are for real, with MVP candidate quarterback Drew Brees leading the offense to a season-high 45 points and the defense coming up with key stops to win the game.
In addition, the Carolina Panthers sit just one game back in the loss column after winning five of their last six games. They play the Saints twice in the last three weeks, a stretch which will have serious implications on home-field advantage throughout the playoffs.
One week ago, the Rams looked like they would coast towards home field advantage in the NFC. But now, it seems like the race will go down to the wire.
Steelers Are Just Fine Without Le'Veon Bell (For Now)
Pittsburgh went into Baltimore to play a sliding Ravens team and came out with a key victory. They stayed atop the AFC North and now, at 5-2-1, have shown they can win games without Le'Veon Bell. The Steelers defense has turned it around as of late, not having allowed over 21 points since September.
In addition, the offense, which has the eighth highest average time of possession, is able to move the ball and stay on the field. While Antonio Brown and Juju Smith-Schuster are playing extremely well as expected, running back James Connor is not just a product of the system. He is a very good running back who is doing as well as possible filling Bell's shoes. Conner is second in the NFL in rushing yards and rushing touchdowns, both behind Todd Gurley.
Even when (if) Le'Veon Bell comes back, it will take him a few games to get accustomed to NFL football again. However, the Steelers are fine for now. While they certainly need Bell to make noise in the playoffs, Pittsburgh will continue to win regular season games and close in on a playoff berth.
Danielle Hunter in Mix for DPOY
The biggest names in the Defensive Player of the Year conversation have been Aaron Donald, J.J. Watt and Khalil Mack. But the whole time, Vikings defensive end Danielle Hunter has been making plays and holding down the fort while teammate Everson Griffen missed time. Now Griffen is back, but Hunter is still dominating.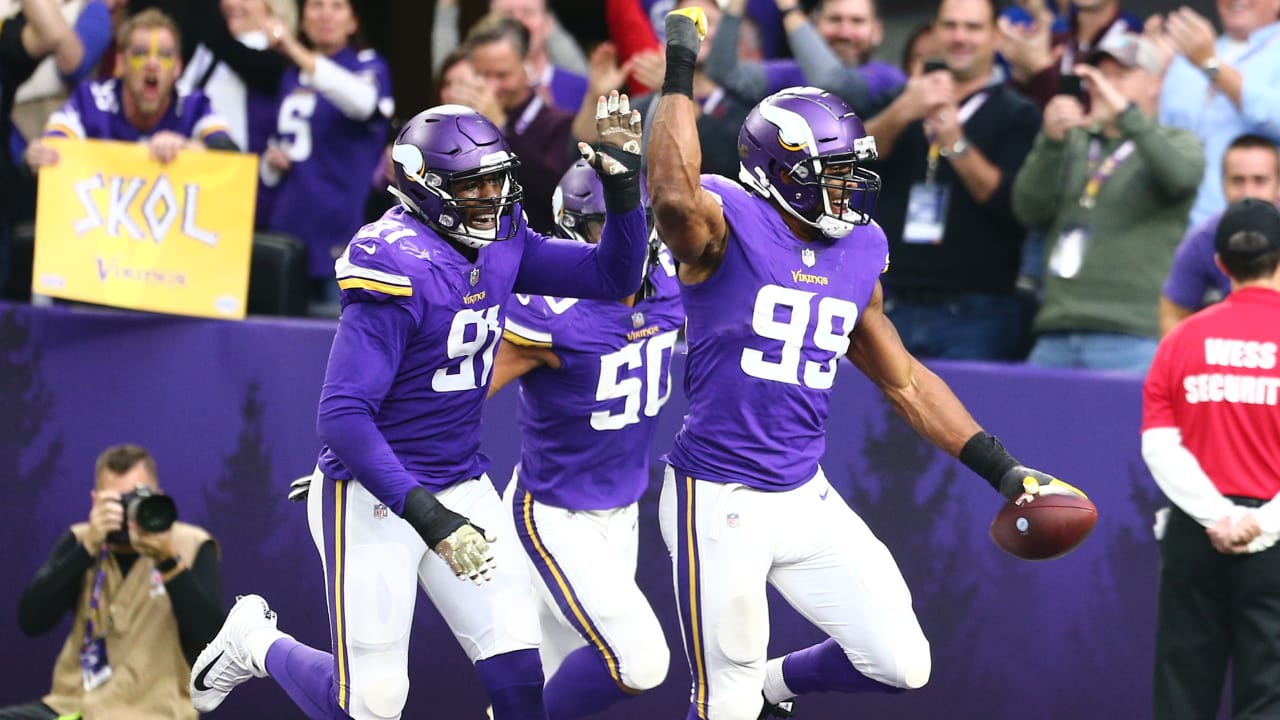 Sunday against the Lions, Hunter made a statement to the league and entered the thick of the DPOY race. He dominated with 3.5 sacks, three tackles for loss, and four quarterback hits. To top it off, Hunter closed the game out by picking up a fourth-quarter Lions fumble and returning it for a touchdown. Now, Hunter leads the NFL with 11.5 sacks on the season and is tied for the lead in tackles for loss with 13. He even leads all defensive linemen with 43 total tackles.
Many NFL fans don't know Danielle Hunter's name right now, but if he keeps going at this rate, they will.
Rodgers/Brady Supporting Casts
Sunday night had a showdown between two of this century's best quarterbacks. The Patriots-Packers showdown demonstrated the difference between Brady and Rodgers' supporting casts.
With the game tied at 17-17, Rodgers was driving his team down the field. Just as the Packers were driving towards the red zone and looking ready to take the lead, running back Aaron Jones took a handoff from Rodgers. He took it six yards for a solid gain – but fumbled. The Patriots recovered, Brady drove the team 76 yards for a score, and New England didn't look back.
While Brady's teammates came up huge and made plays throughout the game, one of Rodgers' teammates – for the second straight week – made a mistake in a key moment and essentially lost the game. This is a perfect representation of Brady and Rodgers' careers. Both players consistently play well and usually keep their teams in big games. Then in the fourth quarter, their surrounding players take completely different turns. Brady's teammates always come up with a huge play or defensive stop to win the game or allow Brady to bring them back; on the other hand, Rodgers does what he can to help his team win, but the Packers make a big mistake or allow the other team to drive down the field and win the game.
Featured image by AFP Photo
You can "Like" The Game Haus on Facebook and "Follow" us on Twitter for more sports and esports articles from other great TGH writers along with Pranay! 
"From Our Haus to Yours"