Ahead of the 2022 Formula One Canadian Grand Prix, the field of drivers hit the Circuit Gilles Villeneuve ahead of Saturday's qualifying session. The chaos of the long F1 season is in full effect with grid penalties coming into starting to occur and the championship picture setting into a pattern. With two practice sessions down, the field has begun to settle in Montreal ahead of tomorrow's qualifying session. This race could bring a lot of interesting moments ranging from crashes, retirements and even DRS drama. Here are some predictions of what could happen this weekend at the Canadian Grand Prix.
About the 2022 Formula One Canadian Grand Prix
The 4.361 km (2.71 miles) hybrid street circuit runs on land in the middle of the Saint Lawrence River and features two DRS zones. The 70-lap race will be live on ESPN at 2 p.m. on Sunday, June 19 and on F1TV.
There Will Be One Crash at The Wall of Champions
The final turn of the Circuit Gilles Villeneuve is known as the Wall of Champions. The nature of the turn provides drivers little room for error if they want to avoid crashing. The name comes from the infamous 1999 Canadian Grand Prix where four divers, including three world champions, crashed into the wall at that turn during the race.
This new generation of car has a high emphasis on downforce and ground effect, making the cars tighter. That combined with the Wall of Champions is a recipe for disaster for at least one driver. Given their track records, Williams' Nicholas Latifi or Haas' Mick Schumacher could easily end up in the wall.
Lewis Hamilton Finishes On The Podium
This may seem strange to some given Hamilton's performance and health issues as of late, but it is really quite simple. Since 2010, Lewis Hamilton has been on the podium for all but one Canadian Grand Prix he completed. That includes six wins, including the most recent race in 2019 due to a controversial ruling. Only one other driver can claim to dominate the Circuit Gilles Villeneuve like Hamilton, but he will come up in a later prediction.
While George Russell has outperformed Hamilton almost all season, this race provides the perfect opportunity for redemption. A motivated and determined Lewis Hamilton is one potentially the scariest driver on earth. With his history at this circuit, expecting anything else is a fool's errand. There will be at least one Mercedes on the podium though.
Sebastian Vettel Finishes Top Five
The hottest of all the predictions does have a level of credibility behind it. Throughout Sebastian Vettel's 14-year F1 Career, he has never finished outside the points in a Canadian Grand Prix. Furthermore, the only time he missed the top five was his debut Canadian Grand Prix in 2008. Those numbers exemplify Vettel's greatness at the Circuit Gilles Villeneuve. More than his track record will help him this weekend though.
While not officially announced by Ferrari, Italian Journalist Giuliano Duchessa reported that the repairs to Charles Leclerc's car will cause him to take a ten-position grid penalty for the race this upcoming weekend. That means even if Leclerc posts the fastest qualifying time, he will still start 11th. Given Vettel's recent string of performances, he is only a strong qualifying session away from potentially preventing Leclerc from passing him during the race. One less car means better odds for Vettel to keep his streak alive.
Red Bull Romp To A 1-2 Finish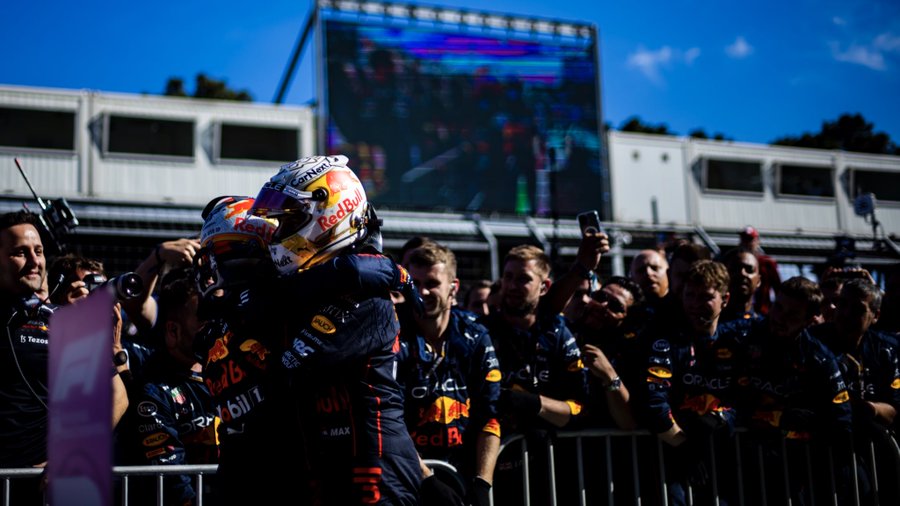 It is a Red Bull world and we are just living in it. Not only have Red Bull won the last five races, but also finished 1-2 in three of them including in Baku last week. Since the Australian Grand Prix, Max Verstappen has outscored Charles Leclerc by almost 80 points. Meanwhile, Red Bull as a whole has doubled Ferrari's point output in the same span of time.
Ferrari's reliability issues are a major factor as well. With Charles Leclerc having reportedly to suffer a grid penalty this weekend, that will mean Carlos Sainz will have to likely fight off both Red Bulls to prevent their rivals from claiming their sixth consecutive win. Given Sainz's recent track record and pace issues, that does not feel all too probable. If Red Bull pulls out to an early 1-2, their pace advantage will almost certainly create a massive gap between them and the rest of the field. In reality, the race could already be over before it begins. That is why the Red Bull are likely to finish 1-2 this weekend.
Need More?
What do you think? Tell Christian about your predictions on Twitter at @TheWiz_SPM.
Follow The Game Haus for more sports and esports coverage.
Twitter: TGH Sports
Facebook: The Game Haus
"From our Haus to Yours"