Last night, the defending champion Philadelphia Eagles kicked off week one of the 2018 NFL season against the Atlanta Falcons. Neither team's offense looked particularly strong, outside of Atlanta's Julio Jones who collected nearly 170 yards. The Eagles came out on top, and their defense looked ready to make another playoff run. Now that 2018's season opener is out of the way, it's time to look at Sunday (and Monday)'s upcoming slate.
Game to Watch: Houston Texans at NE Patriots
Last year the Houston Texans, when Deshaun Watson was healthy, were one of the most fun teams to watch. With Watson, JJ Watt, and Whitney Mercilus all back from injury, as well as Tyrann Mathieu and Aaron Colvin joining the secondary, Houston is a potential Super Bowl contender this season. This game will show them how they match up with the back to back AFC champion New England Patriots. Pats QB Tom Brady is now 41 years old and will show the NFL what he has left in the tank. New England has the greatest quarterback and coach in the league, but Houston has star power across its roster, making this game the best of the week one.
Prediction: Texans 34, Patriots 28
Upset of the Week: Pittsburgh Steelers at Cleveland Browns
As Le'Veon Bell's holdout continues, Pittsburgh is getting ready for their regular season opener. Though Bell is the most important player to this offense, they still have Big Ben, Antonio Brown and Juju Smith-Schuster. The Steelers are still a strong team, but the most intriguing aspect of this game is Cleveland's new-look offense. The Browns have so many receiving weapons, including former Pro-Bowlers Josh Gordon and Jarvis Landry and an efficient, if not spectacular QB in Tyrod Taylor. What people are not talking about is the Browns' talented, athletic defense which could create problems, especially if Pittsburgh's run game without Bell stagnates. Cleveland has a chance to prove to their home fans in their opener that they are truly a competitive team this season.
Prediction: Steelers 24, Browns 28
Buffalo Bills at Baltimore Ravens
The Bills made the playoffs last season as the six seed, but are not exactly contenders this season. They are in rebuilding mode, as shown by trading starting QB Tyrod Taylor and drafting rookie quarterback Josh Allen at number seven overall.  On the other hand, the Ravens have a top-tier defense ready to lead this team to the postseason. Unless LeSean McCoy runs for about 200 yards, which he won't, this game shouldn't be close.
Prediction: Bills 10, Ravens 24
Cincinnati Bengals at Indianapolis Colts
If the Bengals want to win this game, they will need their D-line, specifically Carlos Dunlap and Geno Atkins, to dominate Indy's gritty but unproven O-line. If they can get enough pressure on Andrew Luck in his first game since 2016, they force mistakes. On offense, AJ Green has to dominate and impact the game similarly to Julio in the Falcons' first game. At the end of the day, however, Andrew Luck will remind the NFL of his talent and beat an unspectacular Cincinnati team.
Prediction: Bengals 23, Colts 32
Tennessee Titans at Miami Dolphins
The biggest storyline of this game is the return of Miami QB Ryan Tannehill. This season, his final shot to prove his worth as a franchise quarterback starts off against a tough Titans secondary which features two young All-Pros in Malcolm Butler and Kevin Byard. Miami's biggest strength is also its young, talented secondary. With two defensive backfields that will jump on their opportunities, this game could be decided by the quarterback who makes the fewest mistakes.
Prediction: Titans 23, Dolphins 24
San Francisco 49ers at Minnesota Vikings
Every aspect of Minnesota's defense (D-line, Linebackers, secondary) is better than San Francisco's. Offensively, Minnesota's receivers are better, their running back is better, their tight end is better, and their quarterback is currently better. So, yes, after playing the Vikings, Jimmy Garoppolo will no longer be undefeated in the NFL.
Prediction: 49ers 21, Vikings 32
Tampa Bay Buccaneers at New Orleans Saints
Tampa Bay can make this competitive for about a half if Ryan Fitzpatrick can get Mike Evans the ball and if a Bucs D-line led by Gerald McCoy can produce some pressure on Drew Brees. But this Saints team is simply not losing in the Superdome to possibly the worst team in the NFC.
Prediction: Buccaneers 14, Saints 42
Jacksonville Jaguars at New York Giants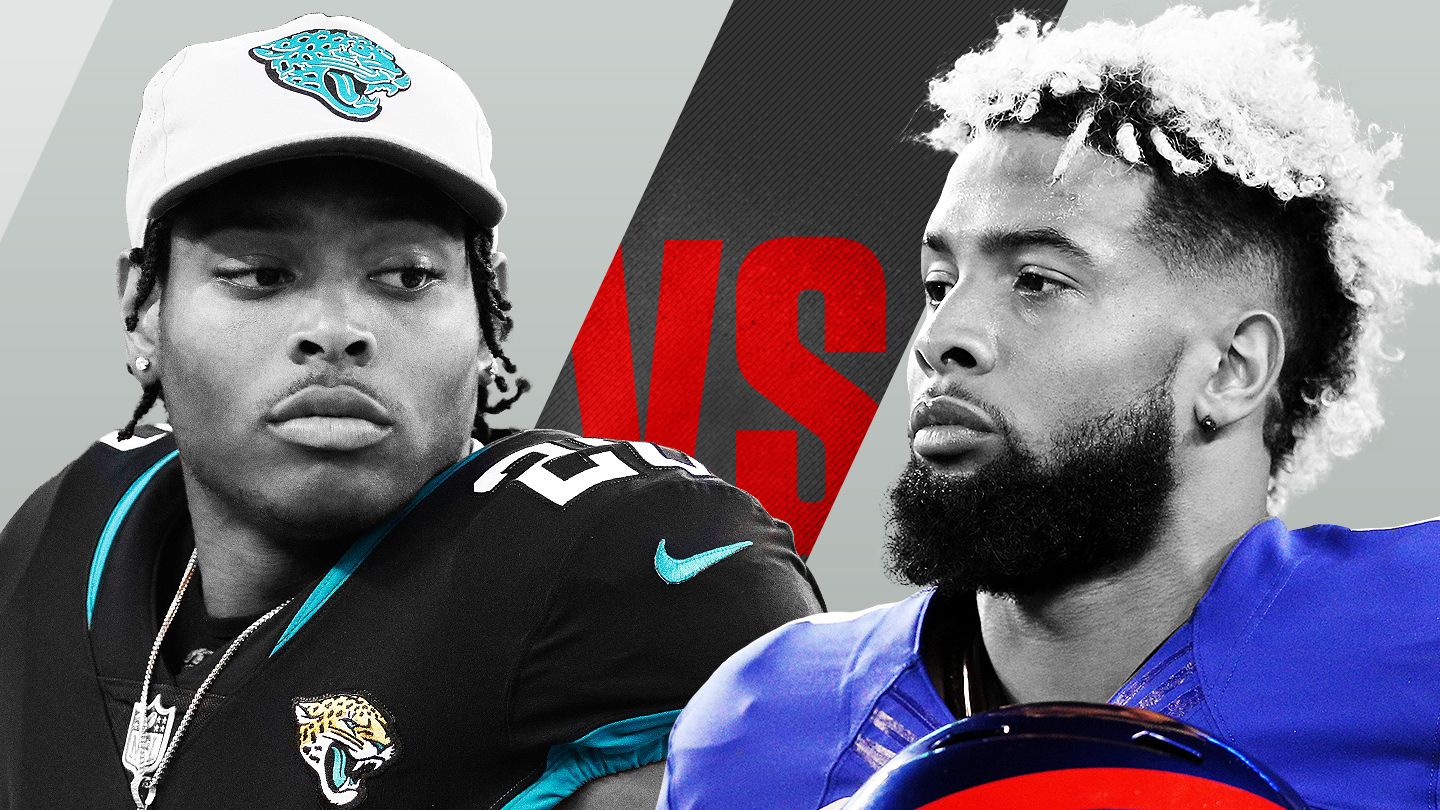 This game has the most entertaining individual matchup of the week, with Odell Beckham Jr. going up against Jalen Ramsey. OBJ said he won't get into verbal sparring, but when they line up against each other, there's no telling what can happen. Overall, it will be interesting to see how OBJ, rookie Saquon Barkley, and the rest of NYG's offense will do against the best defense in the NFL. This could be a tighter game than expected, but the Jags are going to win.
Prediction: Jaguars 27, Giants 19
Kansas City Chiefs at Los Angeles Chargers
Every year, people predict the Chargers to live up to their talent and make the playoffs, but every year injuries or unfortunate plays derail their season. Already this year, Hunter Henry and Jason Verrett have major injuries and Joey Bosa is out for this game. However, the team has the firepower on both offense and defense to make a real playoff run this season. On the other side, Patrick Mahomes, Kareem Hunt and Tyreek Hill lead a young, explosive Kansas City offense. However, the Chiefs defense lost major pieces over the offseason and won't be able to stop Philip Rivers' crew.
Prediction: Chiefs 22, Chargers 30
Dallas Cowboys at Carolina Panthers
This matchup could go either way. Cowboys All-Pro center Travis Frederick is out indefinitely, so their O-line won't be as sturdy as normal. Ezekiel Elliott is going to get his, but Dak needs to prove he is consistent and more like his rookie self than last year. For the Panthers, if Cam Newton plays his best game, he can torch the Cowboys D both with his arm and his legs. Cam is streaky enough to either win or lose the game by himself.
Prediction: Cowboys 28, Panthers 35
Seattle Seahawks at Denver Broncos
The first time these teams are playing since SB XLVIII, their rosters are completely different. Denver has gone from Peyton Manning to a bunch of ineffective starters to Case Keenum currently at quarterback. Seattle still has Russell Wilson, but Richard Sherman, Michael Bennett, Bruce Irvin and Cliff Avril, among others, are all gone. While Denver has a better roster, most noticeably a pass rush led by Von Miller and Bradley Chubb, Russell Wilson always gives his team a chance to win.
Prediction: Seahawks 29, Broncos 26
Chicago Bears at Green Bay Packers
Chicago's defense was already very good and improving, but the addition of Khalil Mack earlier this week makes them a legitimate top-five unit. Aaron Rodgers is a great quarterback, but the Bears defense will be coming for him. The Packers defense is upcoming but Jordan Howard will have his way. Throw in Allen Robinson and Trey Burton as receiving weapons, and Chicago can score some points. It is a pretty evenly matched game.
Prediction: Bears 27, Packers 24
New York Jets at Detroit Lions
Detroit is looking to compete for a playoff spot this year, and the Jets game is one they need to win in this loaded NFC. The Jets want to see what they have in Sam Darnold, who they recently named their day 1 starter. He's the first QB of this draft class we'll have a chance to see.
Prediction: Jets 16, Lions 27
Los Angeles Rams at Oakland Raiders
The Rams are clearly the better team in this matchup and will dominate from the start. Oakland has no one to slow down Sean McVay's offense led by Todd Gurley, who'll pick up where he left off last season. The Rams D-line of Aaron Donald and Ndamukong Suh is unstoppable, and their secondary can shut down Oakland's receivers. This game should be another blowout.
Prediction: Rams 38, Raiders 20
Featured image by USA Today
You can "Like" The Game Haus on Facebook and "Follow" us on Twitter for more sports and esports articles from other great TGH writers along with Pranay! 
"From Our Haus to Yours"