The FC Cincinnati USL franchise set a new league record with 20,497 in their 2nd home game against local rival Louisville City FC. This comes a week after having 14,658 for their inaugural game against the Charlotte independence. With an average of 17,577 FC Cincinnati has shown they are here to stay.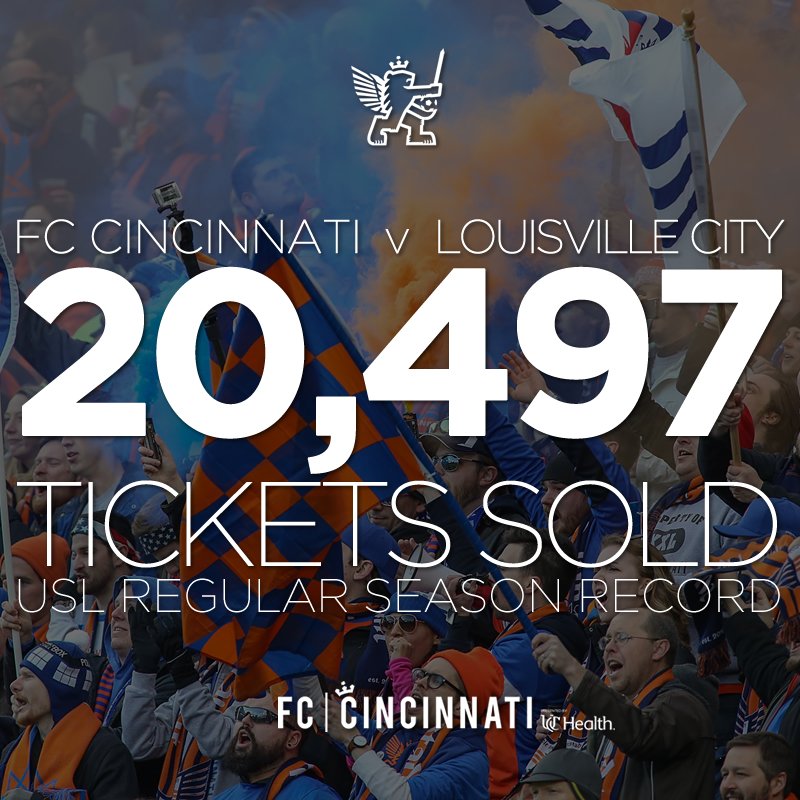 With three supporters groups who sit together in "The Bailey", the cheapest non student or youth ticket, in a general admission area, behind the goal FC Cincinnati attacks in the second half.  Also for away games there are viewing parties held in bars close to the stadium.  Over 4,000 season tickets sold guarantees FC Cincinnati an average attendance above what 16 USL teams did last season. The Eastern Conference attendance leader last season Louisville City FC who averaged 6,765 while the league leaders were Sacramento Republic FC with 11,323.
FC Cincinnati looks to be following path of Orlando City SC to the MLS with a large fan base and owners who are looking toward the future. MLS commissioner Don Gerber visited Sacramento last week looking into a possible expansion team and announced that the MLS is looking to expand to 28 teams around 2020. With 20 teams and 4 planned that leaves 4 spots open for many of the cities looking to make to cut. With the MLS official website commenting on the USL record attendance and the team's general manager being quoted in the article talking about expansion, it is no secret that FC Cincinnati is attempting to make to jump. It is worth noting that Orlando's largest average attendance as a USL team was 8,053.
Looking at some of the cities that are looking to get MLS teams including Detroit, Sacramento, San Diego, St. Louis, San Antonio and Austin, Cincinnati seems to be on the outside looking in.  Especially with Gerber meeting with government officials in St. Louis, who just lost their NFL franchise, and mentioning Detroit while in Sacramento.
Two big reasons for this are the close proximity between Cincinnati and Columbus where the Columbus Crew play and the lease agreement for Nippert Stadium, the home of the University of Cincinnati Bearcats football team. The lease agreement is for up to 15 years, with an automatic three-year renewal four times, which could handicap FC Cincinnati because the MLS puts a premium on soccer-specific stadiums and Nippert will always be a college football stadium no matter how many fans come to soccer games.
One large positive for FC Cincinnati to make the jump is the size of Nippert. With a capacity of 40,000, without any artificial reductions, would tie the Seattle Sounders for the second largest stadium in the MLS. This could help in the bidding process due to teams such as Orlando City SC and New York City FC both averaging over 30,000 fans in their temporary stadiums before moving to permanent soccer-specific stadium in the next few years. Also not building a new stadium will be easier to sell to the City of Cincinnati due to the large debt racked up for the Cincinnati Reds and Bengals stadiums.
Even with the excitement surrounding FC Cincinnati and the long term planning there is still a long way to go before 2020, but the fans have shown they are willing to show up and support the new team. But, will it be enough to get the MLS to bring them up to play with the best in America?