People who are fans of esports know who T1 is. Formerly branded as SK Telecom, T1 has been a staple in Korean esports for years. They are symbolic of Korea's international excellence in esports. T1 are three-time League of Legends World Champions and have the best League of Legend player ever on their roster in Faker. Their org also has possibly the best Super Smash Bros. player in the world in MkLeo. Even in Hearthstone, they have two of the best Hearthstone players in the world under contract. To round out their diverse esports portfolio they are also in battle royale games like Apex Legends and Fortnite. But their best battle royale genre team is their PUBG team. There is one problem though, they constantly choke.
The Birth and Rise of T1
T1 created their original roster in early 2018, but that roster did not last very long. Less than two months after creating their original roster, trainee JeffLocka replaced Raeng on the starting roster. Their first foray into PKL with their roster was not successful. They finished 17th overall and were not great. But that would all soon change. 
T1's 2019 was more auspicious though. It would be full of roster moves to the point where by May, four players had left the org, but a core four was formed. Adder and JeffLocka were all that remained from the original T1 Roster. The piece that had joined them were the mechanically gifted gunner Akad and shotcaller HelleN. With this new roster in place, T1 stormed through PKL Phase Three finishing second overall and qualifying for the 2019 PUBG Global Championships. Akad led all of the PKL in kills and damage, Adder and Hellen finished 10th and 15th in kills respectively, while JeffLocka finished fifth in all of PKL in assists. T1 looked like a strong contender for the upcoming PGC, but only time would tell.
The Great PGC Collapse
The 2019 PUBG Global Championship was T1's first international event, and those nerves showed early. The team squeaked through group stages by eight points to ensure their place in the semifinals. There in the semifinals, T1 looked to be in strong shape to make it to the Grand Finals after a 44 point first day of play. Their final day almost cost them a chance at the title though. T1 produced a meager 18 points and finished top eight only twice to squeak into the finals in 15th place. They were seven points ahead of 17th, the first team out of the Grand Finals.
In the Grand Finals T1 was off to a promising start. They scored nine points in the first game and led the event tied for fourth place overall. What followed in the last eleven maps was nothing short of disaster. The team scored only 39 more points across the last eleven maps, finished outside the top eight seven times and were team wiped first in four of the twelve matches. They looked confused and scatterbrained. Their rotations were not crisp and they commonly lost gunfights despite being touted as one of the most talented teams. This was only the beginning of a trend.
The Months Following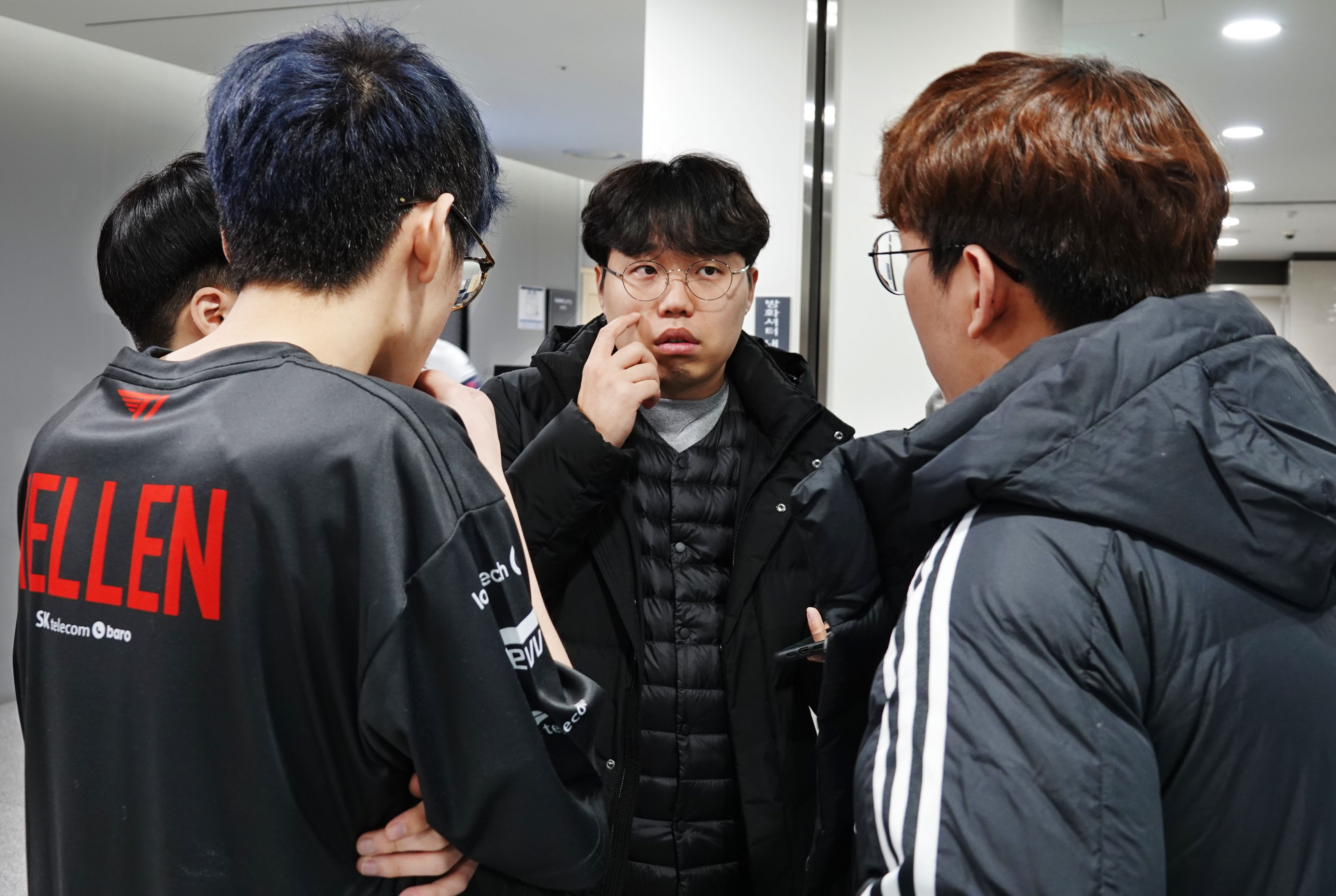 Over the months following PGC, T1 competed in Korean-centric tournaments while waiting for the next iteration of PKL to return. These tournaments followed similar trends to their PGC performance. They started well, but failed to close out matches and fell out of contention. The Seoul Cup saw them finish sixth after a commanding first day. The 2020 Intel Battlegrounds Smash Cup saw them flounder and finish 15th out of 16 possible teams. With the 2020 PGS: Berlin Qualifiers coming up, T1 decided to make a change.
Before the PGS: Berlin Qualifier T1 decided to bench HelleN in favor of new signee Rex. After two weeks of groups stages in the qualifiers T1 sat in third place with 166 points. Those points would be of the utmost importance as they carried over to the Grand Finals. This would be a distinct advantage to help T1 qualify for PGS Berlin. What came to follow was one of the biggest choke jobs possible in esports. T1 managed to finish the twelve map finals with 32 points. Yes, across 12 matches they managed to finish with less than half the points they managed during a single week of group stages. They finished half of their matches outside the top twelve in a group of sixteen teams. In the end, T1 finished fifth overall, ten points out of qualifying for PGS: Berlin, and blew a 31 point lead they had over the eventual third-place finishing team. T1 fans were distraught. They questioned how T1 had managed to choke again?
What is Wrong With T1?
Looking at T1's tendencies, they appear to be the Korean PUBG equivalent of North America's Evil Geniuses in Rainbow Six Siege. EG had a chance to win multiple championships, but they ended up blowing their lead in spectacular fashion to lose in the finals. Something is not right with T1, and it is hard to place. They have extremely good gun skills but tend to inexplicably lose fights. They tend to be put in poor places and make horrible decisions which lead to early deaths.
What does an expert think about this? Enter Clinton 'Paperthin' Bader, an esteemed American PUBG caster based out of Korea. Paperthin has covered Korean PUBG since T1 entered the scene so he more so than most casters could give a full picture. There was one simple question:
T1 is considered one of the better orgs in Korean PUBG yet they have a trend of underperforming. What do you think their problem is and how could they potentially solve it?
Paperthin's response lead to one simple fact, T1's lack of a strong in-game leader
"I think there is an enormous amount of talent on T1, but they haven't found the right in-game leader to consistently bring them to victory. It seems like when they start strong, they consistently back off the strategies and ideas that made them strong. What I think they need is to work on maintaining their aggressive, but disciplined play as a tournament goes forward. They shouldn't be afraid to put themselves in good positions for team fights, as they can consistently win those. " – Clinton 'Paperthin' Bader
In almost any game there is someone smart and knowledgeable in charge of leading the team to victory. Zeus shotcalled for NaVi's CS:GO team for the majority of his career. Canadian in Rainbow Six Siege has two world championships off the back of his shotcalling. T1 though has yet to find that one voice. Over the past year, T1 has had three shotcallers and not one has seemingly held the duties for that long. With the teams most recent slip-ups it is likely T1 may have another move up their sleeve. If they can find that shotcaller like Paperthin says, then they may finally reach their potential. What he describes can easily be solved by the right voice in the team. Someone who knows the game, the rotations, what to do, and what will likely happen. That person should be able to steady his teammates and make them confident in their plays. If Paperthin is right, which he likely is, T1 is one move away from having another top team in their already amazing org.
Thanks to Paperthin for helping with this article. Anyone who is a fan of PUBG should follow Paperthin for his streams, broadcasts, and content:
Paperthin's Socials:
Twitter: https://twitter.com/paperthinhere
Twitch: twitch.tv/paperthinhere
---
Need More?
What do you think is the problem? Tell me on Twitter at @TheWiz_SPM
Featured image courtesy of Iven Global
Follow The Game Haus for more sports and esports coverage.
Twitter: TGH Esports
Facebook: The Game Haus
"From our Haus to Yours"