The North American PUBG scene is in a potentially rocky state according to sources familiar with the situation & The Game Haus.
In March of 2021, Soniqs became the first North American team to win a global PUBG event when they won PGI.S. In that same tournament, Zenith finished second and Shoot To Kill finished 11. For the first time ever, North America was the center of PUBG. Less than a year later, after a disappointing showing by the scene as a whole at PGC, there are rumblings of a potential organization exodus.
Report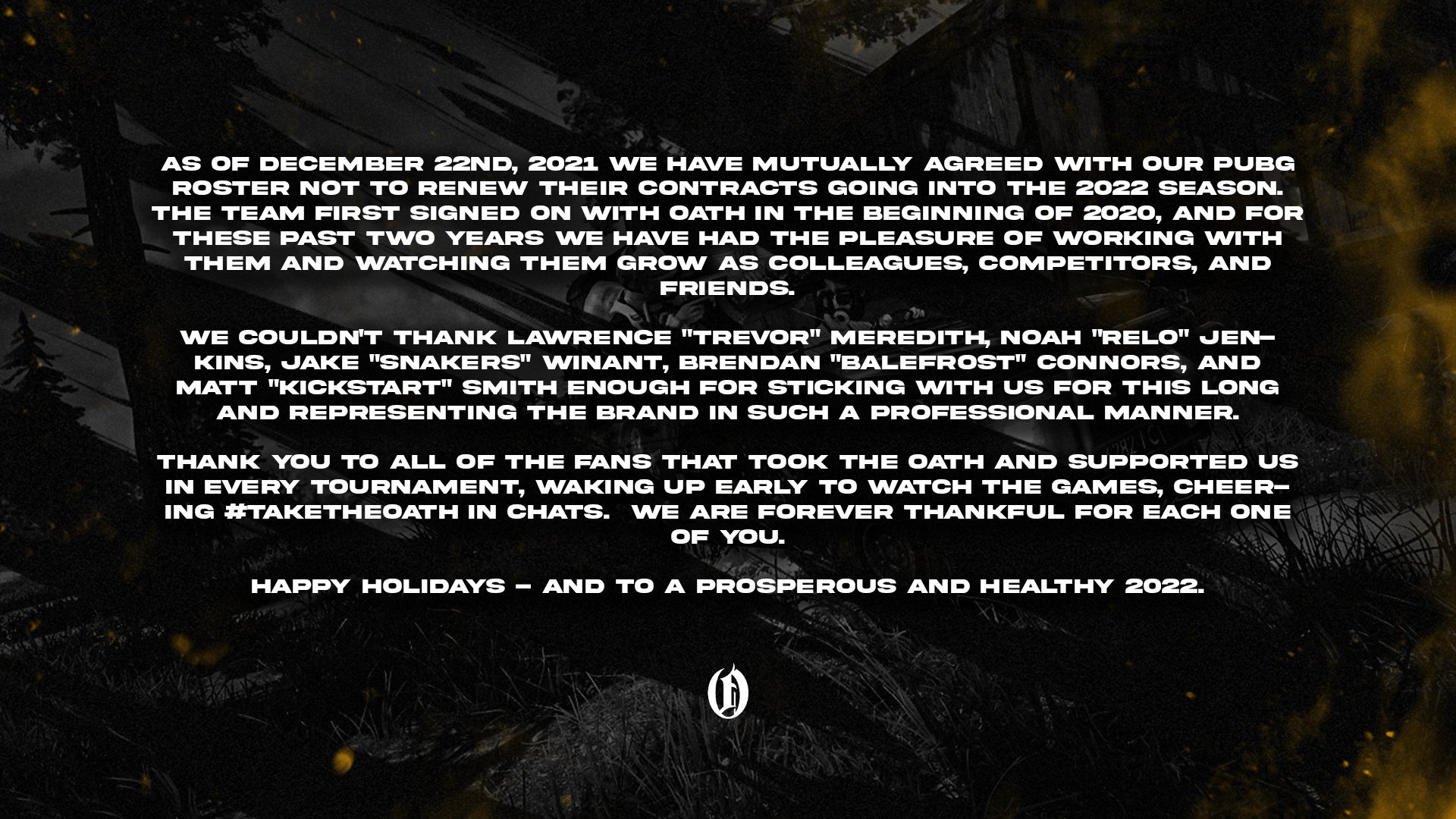 According to multiple sources, multiple orgs may be exiting the NA PUBG scene. This has had a trickle-down effect on player movement. Before the rumblings around this potential exodus came to TGH's attention, Oath Gaming dropped their PUBG roster following a disappointing PGC performance. That same roster won ESL Masters Phase 2 and PCS5 NA heading into PGC, which made their departure somewhat surprising. It seems that their departure may have only been a precursor though.
Multiple sources have indicated that Dignitas and Spacestation Gaming may be on the way to dropping their rosters in the near future. Additionally, they indicated that rumblings exist about TSM FTX dropping their roster which just finished fourth place at PGC. Those same sources questioned the legitimacy of that rumor though, given the team's recent results.
Additionally, a few sources indicated that the unknown status of the premier organizations has affected player movement in the scene. Earlier in the offseason, there was momentum around Guadalajara Gascans IGL Adam "Adam" Didiano joining Dignitas to replace Joe "HoneyBadger" Haylock. According to sources and recent scrim results, that potential transfer appears unlikely as he is still scrimming with the Gascans. The other moves that are affected are unclear at this moment.
Context
Today we are announcing the departure of the #eUPUBG roster. We're extremely thankful to our team for the hard work they put in this season.

We are hoping to make a return to the PUBG ecosystem soon and we are excited to learn more about what's in store for the scene in 2022. pic.twitter.com/zoQQULXiCd

— eUnited (@eUnited) December 3, 2021
If Dignitas, SSG and TSM all depart that will be a massive blow for PUBG. After failing to make PGC, EUnited dropped their PUBG roster. After a successful 2021 domestically, Oath dropped their roster after a poor PGC performance. While Dignitas and SSG had inconsistent years in 2021, they were still both top five teams in North America. TSM meanwhile was the highest-placing org at PGC and a fan favorite. These major orgs leaving would send the message the PUBG as an esport venture is not viable in NA. That message is less than ideal.
That message may already be circulating though. The rumored Dodge roster was recently announced as a free agent team. That now raises the question of that organization's status in the scene. If smaller organizations are not willing to invest in North America, the region may become dead and the players could leave for other games.  In the end, the hope is that these orgs remain in the scene. The potential of that is up in the air though.
---
Need More?
What do you think? Tell Christian about what you think is happening on Twitter at @TheWiz_SPM.
Follow The Game Haus for more sports and esports coverage.
Twitter: TGH Esports
Facebook: The Game Haus
"From our Haus to Yours"