After a year of crazy games across the world, the 2022 PUBG Global Championship is here! Thirty-two teams from across the world have assembled in Dubai to fight for the title of PUBG Global Champion. With the event just under a week away, it is time to preview the event, its teams and the players in it. The opening group stage play will be streaming live on YouTube and on Twitch at 9 AM EST, Monday, March 31st. The first region getting broken down is EMEA, arguably the most fascinating region at the tournament.
Twisted Minds (formerly Northern Lights)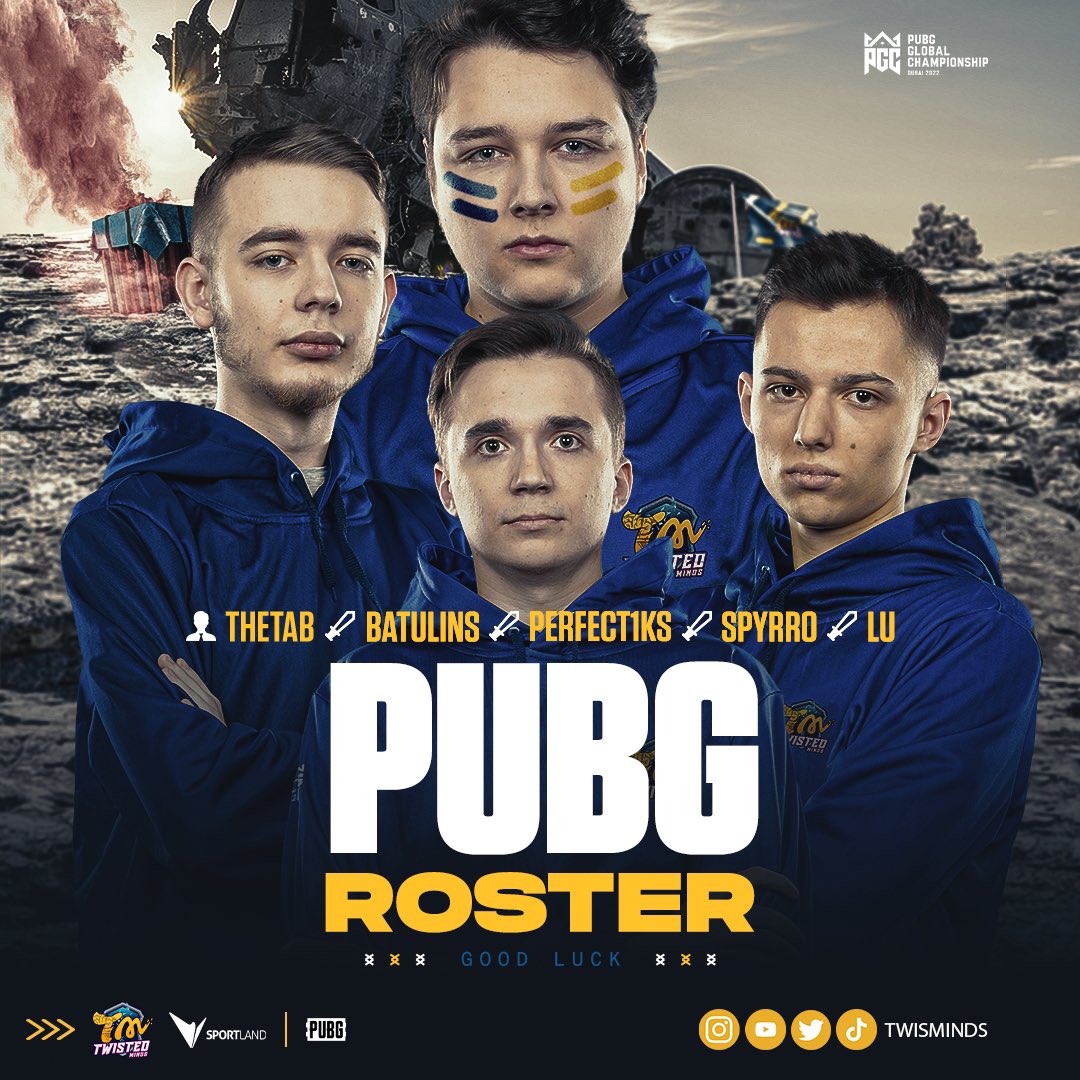 Roster: BatulinS, Lu, Perfect1ks, Spyrro
MVP: BatulinS
Drop Spots: School (Erangel), Power Grid (Miramar)
No matter what organization they played under over the last three years, this Twisted Minds core is considered one of, if not the, best team in the world. They won four PCS events, two G-Loot seasons, one ESL Masters, finished top three in three additional PCS events and at PGC 2021. This team has won everything that matters except a PGC Crown.
This Twisted Minds roster, formerly known as Northern Lights or Virtus.Pro, are the most dangerous team EMEA has to offer. BatulinS is a strategically brilliant IGL that is capable of top fragging for the team in entire tournaments. He is backed up by trio of players possessing immense carry potential.
Their currently uncontested drop spots in the first group draw will help them make it through to the next stage. After that, things will get interesting.
Question Mark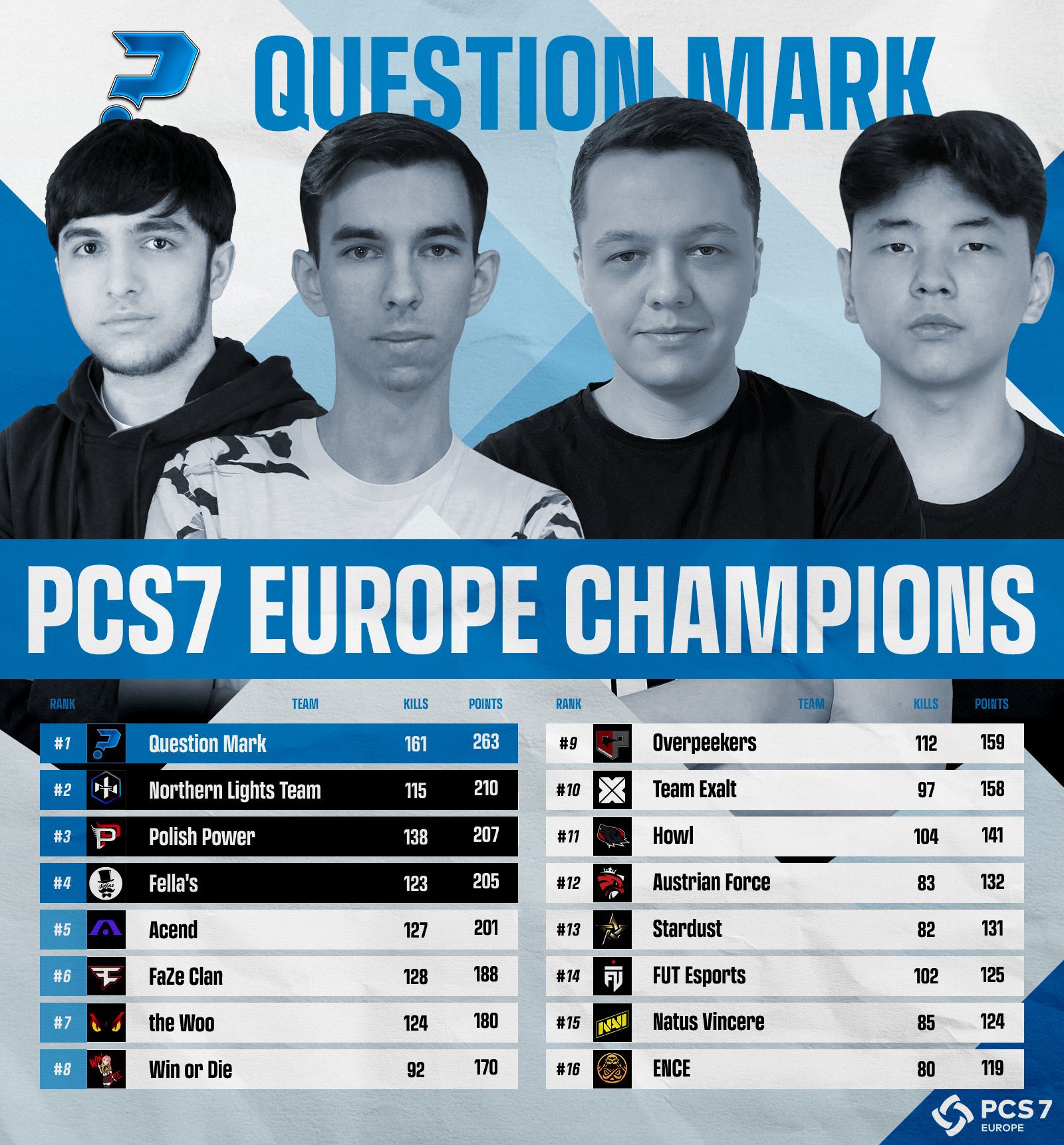 Roster: ADOUZ1E, DaNte, f1lfirst, HoBBitEz
Team MVP: ADOUZ1E
Drop Spots: Primorsk (Erangel), La Cobreria (Miramar)
Last year, Question Mark came into the final event of the year needing a dominant performance to make PGC. In the end, they qualified thanks to a strong third-place finish. This year, they entered PCS 7 in the same situation. Instead of third place, however, they decided to go on and win the entire event to claim their PGC spot. Heading into the event, QM are riding a wave of momentum.
This is not the same QM roster as last year, though. While ADOUZ1E still helms the team and Dante remains on the roster, their roster changes helped propel them to this position. Fate left the team and Faultlessly moved into a substitute player-coach role. In their place came HoBBitEz and f1lfirst, with the latter providing immense impact during their PCS 7 run. In that event, he had the third most kills and the second-highest damage of any player. That, alongside ascendant performances from ADOUDZ1E and Dante, helped carry this roster to this position. If he keeps up this string of strong performances through PGC, the eighteen-year-old talent may become the next CIS star player.
While they remain uncontested on Miramar in the first group draw, they are in a three-way battle for Primorsk on Erangel. Given that Wildcard and Peteichor Road are also fighting for that spot, it may be smart to go somewhere else. If not, the fight is on and the popcorn will be ready.
Entropiq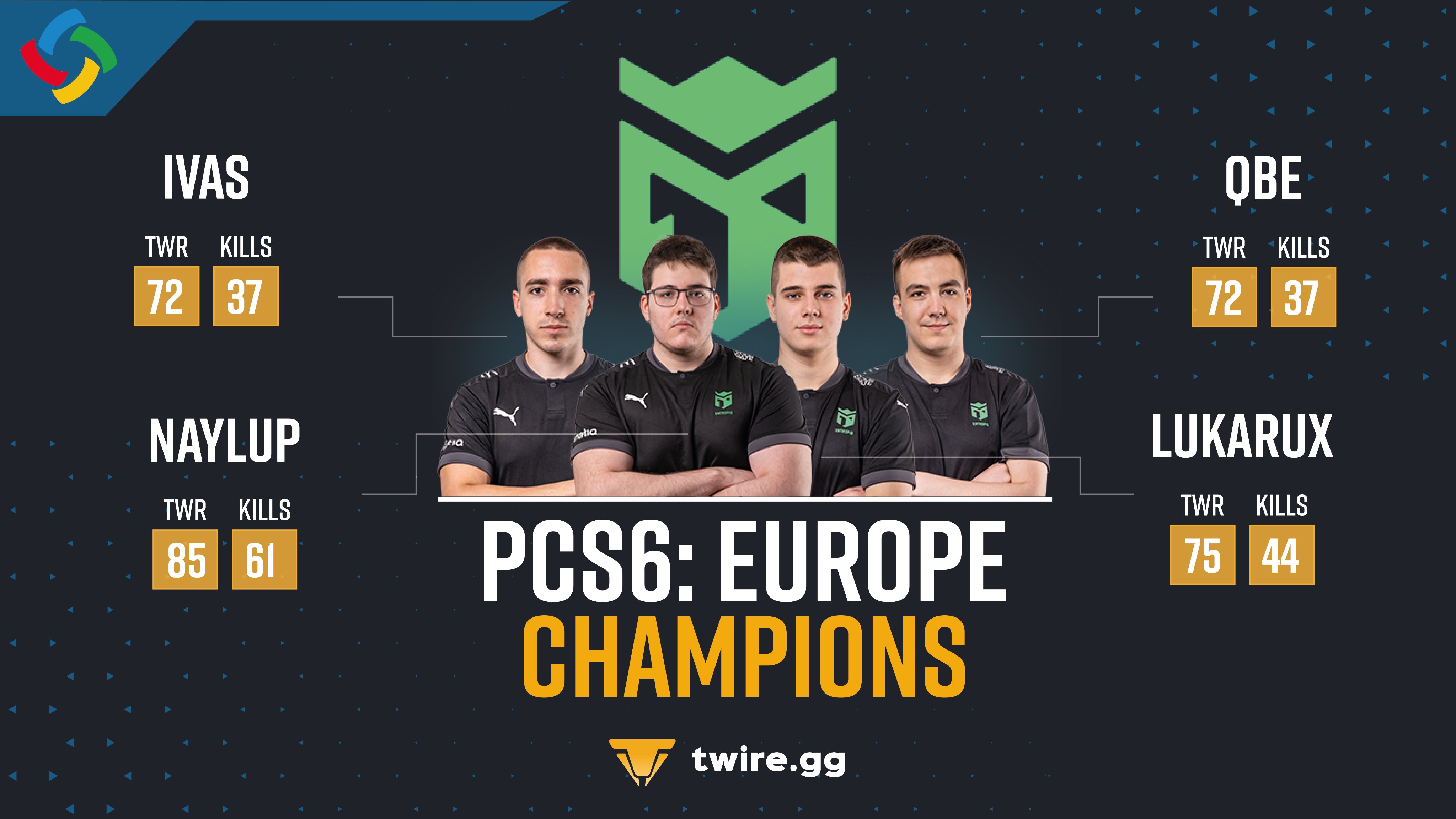 Roster: Naylup, Qbe, ivas, Lukarux, ZEKO (sub)
MVP: Naylup
Drop Spots: Mylta Power (Erangel), Los Leones (Miramar)
After missing out on PGC 2021 because of Question Mark's miracle run, Entropiq returned with vengeance on the mind for 2022. The team won a tightly contested PCS 6 title over the Twisted Minds roster and claimed a top five finish during G-Loot Season 6. Those two performances were more than enough to secure their spot at PGC 2022 comfortably.
This team begins and ends with the Naylup, the Serbian Smasher. He is the spearhead of this team and the key to their succuess. His dominance during PCS 6 can not be understated. He finished the tournament with almost 3000 more damage than the next closest player while topping the kill leaderboard. It was nothing short of pure dominance. Qbe and Lukarux give this team strong second and third options, with ivas taking the fourth week in most instances. If Naylup is firing at PGC, this roster is immensely dangerous.
Mylta Power is theirs for the taking in their opening group, but they will be contested by NewHappy in Los Leones on Miramar. Los Leones should be big enough for them to share though. Hopefully, there is a gentleman's agreement of a line in the sand for when they loot.
FaZe Clan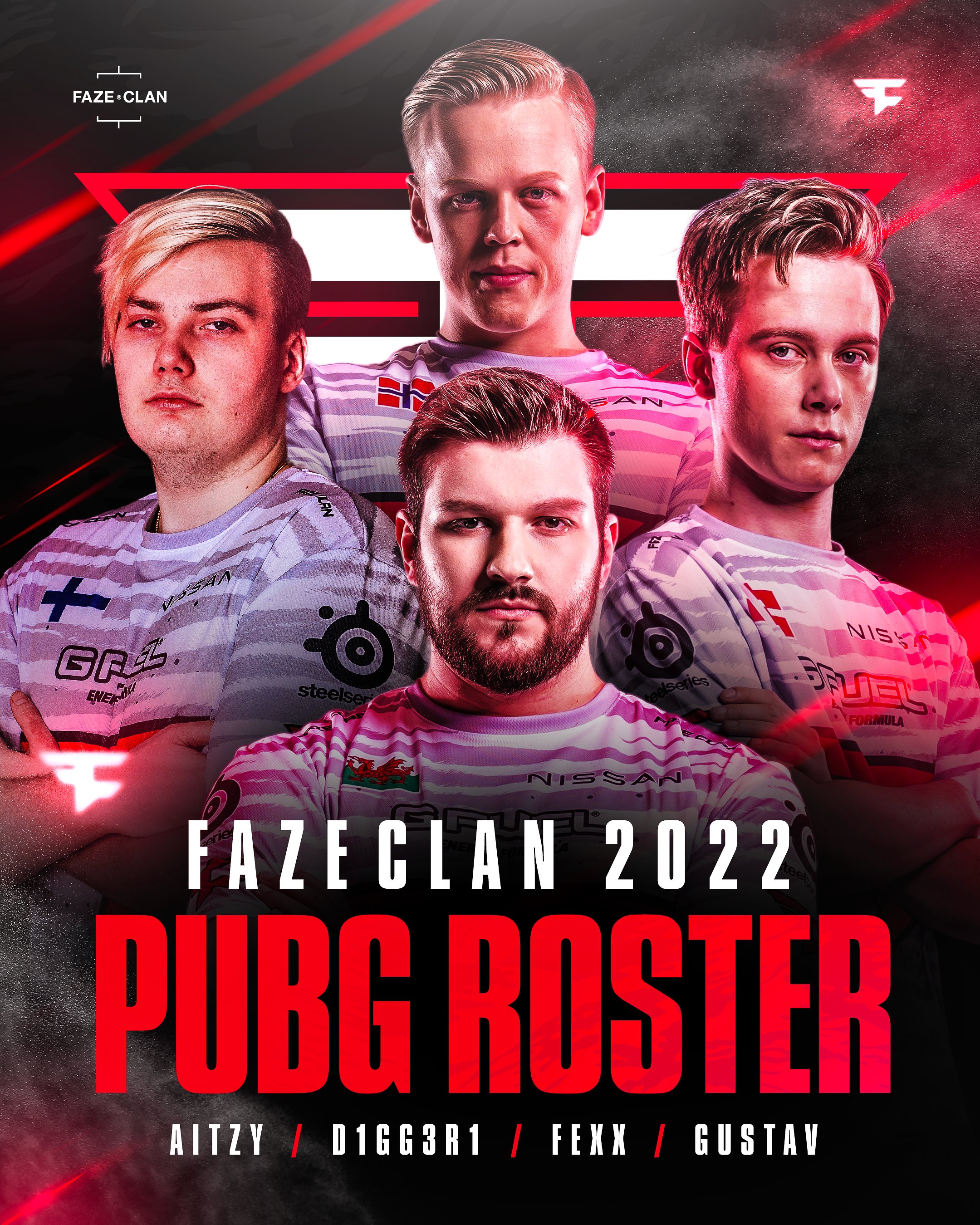 Roster: Gustav, Fexx, Aitzy, D1gg3r1, Keano (sub)
MVP: Gustav
Drop Spots: Mylta (Erangel), El Poko (Miramar)
Is it really a global PUBG LAN without FaZe there? After FuzzFace, a PUBG icon and face of FaZe retired from pro play, a new face was needed to wear the red and black. That new face would be former ENCE great D1gg3r1. Despite replacing a key piece, FaZe spent the entire year finishing either third of sixth. With PGC on the horizon, the team will look to turn those finished into firsts.
The star of this team is easily Gustav. Over the past three years, the Danish fragger has evolved into the rock of Faze's roster. He consistently is the team's top statistical performer. After him, is a throng of European talent. Fexx and D1gg3r1 started on different teams, but have become two talented secondary fraggers on this roster. Then, rounding out the roster is Mr. FaZe himself Aitzy. The Norwegian Nightmare joined FaZe at the end of 2018, making him the longest-tenured player on an organization at the tournament.
After years of trying, will FaZe finally claim that global title? They may, but the first group will be a fight. While they remain somewhat uncontested on Erangel, FaZe and Gen.G have a mutual love for El Pozo. If the two teams fight over the location, that will be two classic organizations doing battle. It should be fun.
Polish Power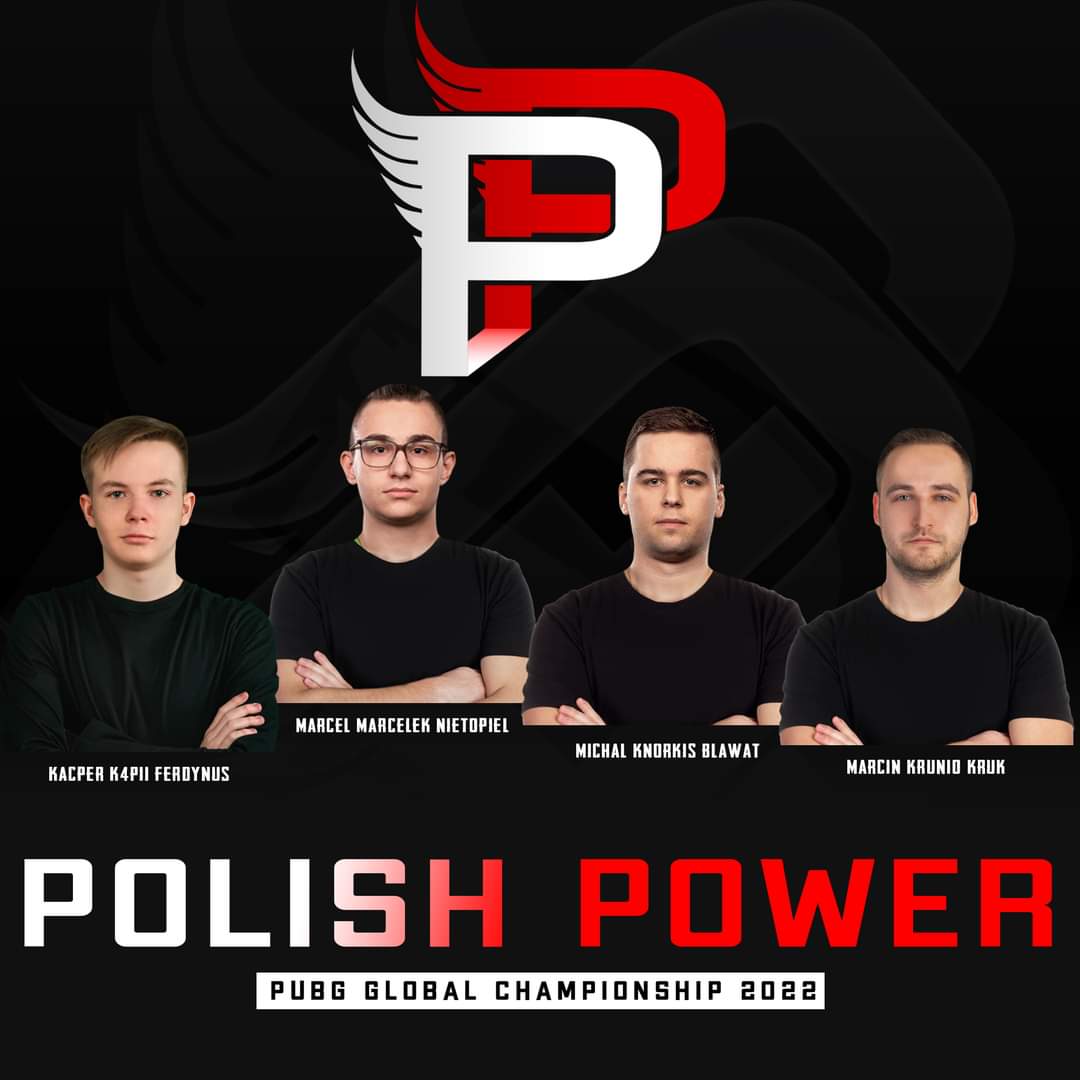 Roster: Marcelek, Krunio, KnorkiS, K4pii, J4M (sub)
MVP:
Drop Spots: North Georgopol (Erangel), San Martin (Miramar)
Of all the European teams at PGC, Polish Power is undoubtedly the best story. This collection of Polish players came together in 2021 playing in mostly tier-two European events. In 2022, the team to the next step and entered tier-one tournaments against top teams. Against those top teams, they surprised the world. Two top-five finishes in G-Loot Season 5 and 6, as well as a 3rd place finish at PCS 7, landed them their spot in Dubai.
The team is spearheaded by their captain Marcelek, who finished PCS 7 10th in damage and 11th in kills. Alongside him, Krunio and K4pii take tandem secondary fragger duties. They almost to take turns being second on the scoreboard at the end of every tournament. Rounding out the roster is KnorkiS, the team's steady hand and 4th player. 
How will this squad fare under the brightest lights they've ever been under at PGC 2022? We'll see soon enough. They will instantly be under pressure though thanks to Tyloo's shared love for North Georgopol. Potential early game clashes should not be ruled out if teams come to blows.
Natus Vincere
Roster: Xmpl, alya, ubah, Mellman
MVP: Xmpl
Drop Spots: Farm (Erangel), Minas Generales (Miramar)
In 2021, Natus Vincere were the worst of Europe's best. They consistently finished fourth through sixth in every major event, culminating in a strong sixth-place finish at PGC 2021. While many teams would've stayed out and rode out their roster, NaVi did not. Instead, the organization brought in ubah, one of the best European players ever to play PUBG. While there were questions about his fit, all he needed to do was act as the third option to a team that already housed two new-wave Russian stars. While the team failed to meet their standards from 2021 in their bookend events of 2022, their middle of 2022 was immense. That run is what helped them reach Dubai in search of the PGC title.
When operating at their best, NaVi are one of the most dangerous teams in the world. Mellman leads the time like a general sending three Rambos on a killing spree. Xmpl and Alya are two immensely talented, but somewhat inconsistent, fraggers who are the crux that this team relies on. If both are not functioning to their ceiling, this team goes nowhere. Alongside them, Ubah serves as an experienced, steadying force this team can rely on. This tournament will either end in pain or happiness from NaVi, but it is impossible to predict. Which NaVi we see to open the tournament will tell us much about where this ride is headed.
Another thing to keep an eye on is where they drop. On Erangel, both Danawa and Cerberus like to drop Farm as well. With an open northern side of the map, it may be a smart move to flex there. Whereas on Miramar, Minas Generales is a point of contention with the Freecs. While that is a battle that can be won, it is not an advisable one.
Overpeekers (formerly Team Liquid)
Roster: clib, vard, mxey, jeemzz
MVP: clib
Drop Spots: Pochinki (Erangel), Pecado (Miramar)
Overpeekers presents fans with one of the most iconic western PUBG rosters of the last three years. The former Team Liquid core was an ever-present force on the domestic and global stage during their time together. After a disappointing string of performances to close out 2022, Team Liquid announced their exit from PUBG. Now ahead of PGC, the players announced that this would be their final tournament as a team. With the end of an era approaching, what is there to watch for in their last dance?
Overpeekers, at their core, are a team that can play around all four players. While clib and jeemzz tend to pop off the most, mxey and vard are no strangers to the spotlight either. As long as the team doesn't drop bodies heading into the mid and late game, they are a threat to win any game.
Will they match their eighth place finish, or head into their new future wishing for a second chance at the last dance? Potentially deciding not to contest Pochinki and Pecado may be beneficial, but that decision is not clear at this time. Drop spots will be something to watch for this team during PGC 2022.
BBL Esports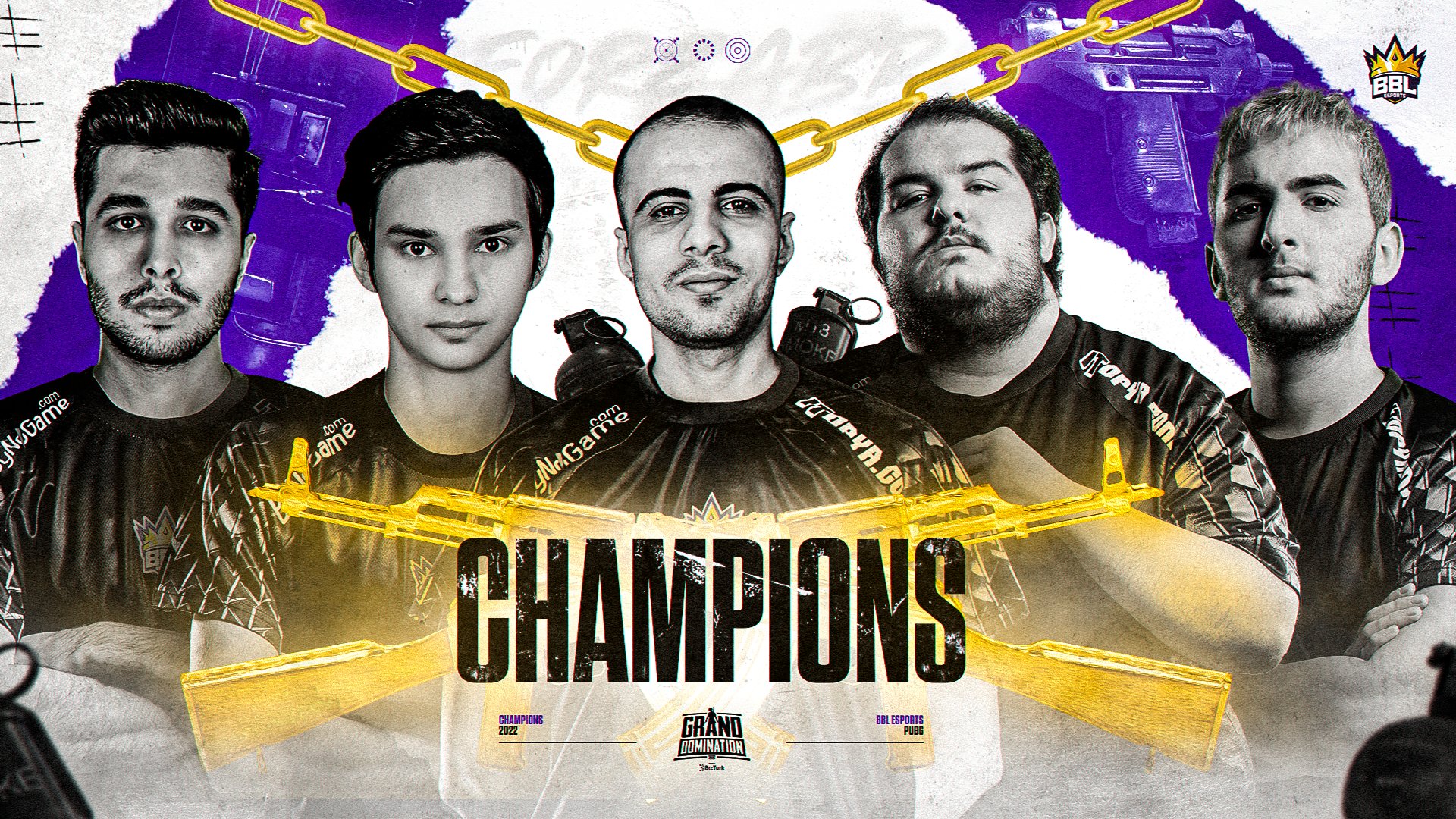 Roster: Codemarco, Smash, Thenderlost, Quetpa
MVP: Codemarco
Drop Spots: Gatka (Erangel), Chumacera-ish (Miramar)
If all EMEA teams at PGC, BBL Esports is truly Schrodinger's PUBG team. No matter what interaction this team has existed in, they either pound or get pounded. The amount of games they finish in tenth to sixteenth versus top five feels almost identical. Their 2022 was a tale of two halves as well. In the first half of 2021, BBL claimed a third-place finish in G-Loot Season 5 and a 4th place finish in PCS 6. In the second half, however, those turned into 13th and a failure to qualify in their respective tournaments. That strong first half carried the Turkish team to this point however, now it is time so see where they stand going into PGC.
At its core, this team is focused on Codemarco and Smash. These two Turkish Terrifiers have been the dominant final bosses of the Turkish scene for the last three years. They are statistically dominant players who can carry their teams. That immense carry potential comes with an immense desire to int and die in unfortunate situations. Those two are paired with Quetpa and Thenderlost, two new members to the roster in 2022. While they are talented, they are re asked to do significantly less than the two stars. Given their tendencies to exit early, they will need to step up on the global stage to support a deep BBL run. That is if they don't die fighting over compounds first.
The dying of compounds is very much on the cards in this tournament. Gen.G will likely contest them for Gatka, whereas they drop in the void between 17Gaming and Daytrade Gaming in Miramar. They've accepted mutual destruction before; who is to say they won't do it again?
---
Need More?
What do you think? Tell Christian on Twitter at @TheWiz_SPM.
Follow The Game Haus for more sports and esports coverage.
Twitter: TGH Esports
Facebook: The Game Haus
"From our Haus to Yours"