The 2021 PUBG Global Championship is set to return in almost two weeks and the PUBG world is beyond excited. Thirty-two teams from around the world will compete in an almost entirely LAN event over a month to determine who will be World Champion. Over the next two weeks leading up to the event's start on November 18, more preview articles will be published surrounding the other regions and other PGC-related things. First up, the region of the reigning world champions, the Americas.
---
Soniqs
MVP: TGLTN
Player To Watch: hwinn
The reigning PGI.S champions are back on the global stage with the goal of proving to everyone they are the best team in the world. After not winning ESL Masters Phase Two and PCS5, their standing took a slight hit in the scene. That hit is likely artificial as best when all is said and done. They still won PCS4 though. This team not only has one of the best players in the world, but they have some of the best talent top to bottom. 
The focal point of the team is TGLTN. Even calling him the focal point is a disservice to the rest of the team, but he is just that good. In every event he plays in he is almost always at the top of the field in terms of kills and damage. In fact, he is the only player in the history of Weekly Fantasy PUBG to reach a player value of $50,000, that is how good he is. What is around TGLTN is even wilder though. Shrimzy, M1me and hwinn are all insane players as well. While Shrimzy is the more noticeable player of the three, both on and off the server, hwinn is arguably the most important. During the second week of PCS5 when he had to step away for a personal matter, the team looked weaker and more vulnerable. In fact, that one week is what eventually cost them their PCS5 title. With him back, everything may turn up neon blue for the second year in a row.
Oath Gaming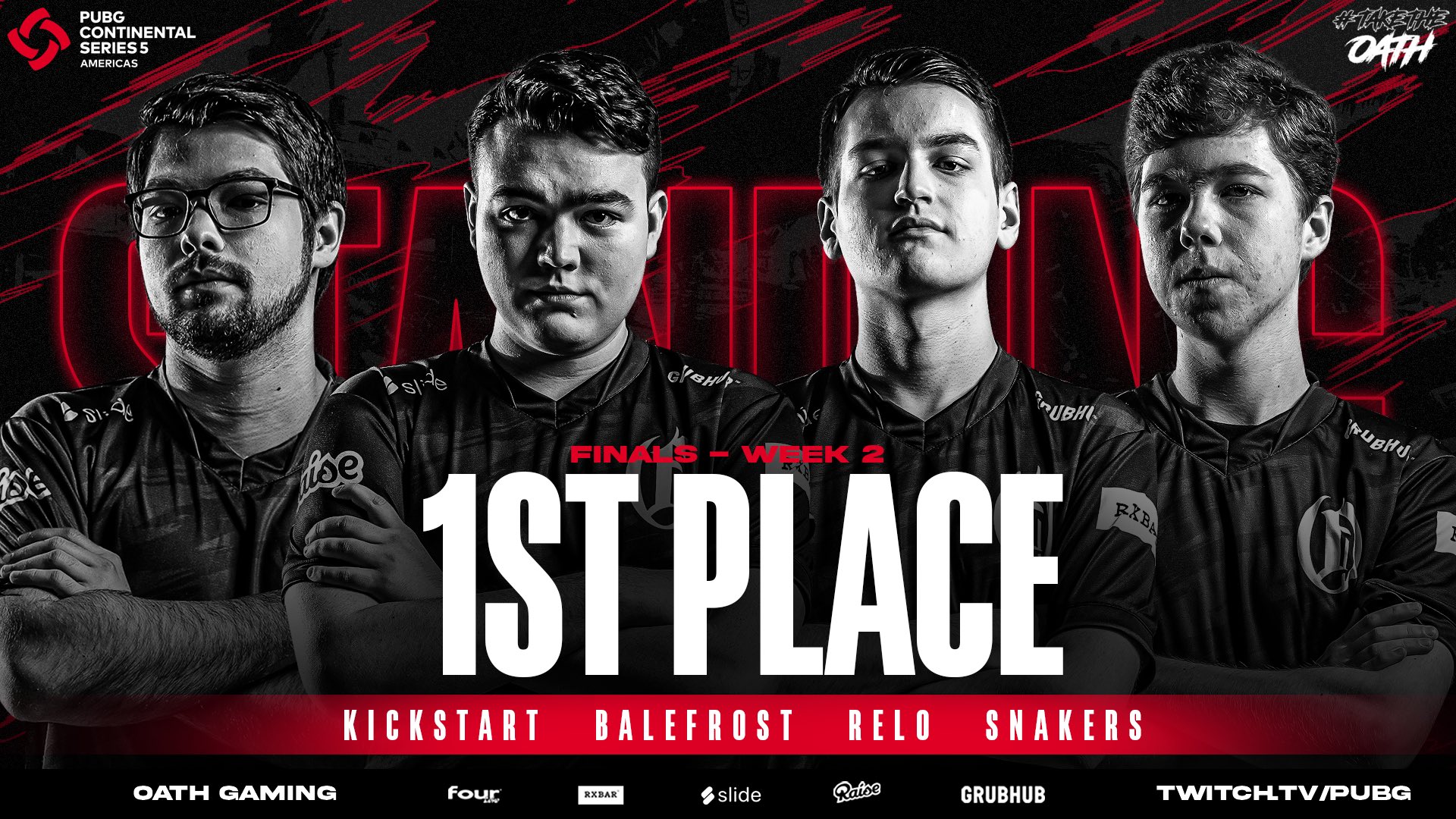 MVP: Kickstart
Player To Watch: Balefrost
The reigning PCS5 Americas champions enter PGC on a hot streak only rivaled by Virtus.Pro. Aside from their PCS5 win, they also claimed first place during ESL Masters Phase Two, giving them back-to-back titles. Those titles were earned through hard work throughout the year though. It took a minute for the team to adjust after they brought Kickstart, but when they got it together it was beautiful. Now, this team is scary and it is easy to see why.
This team lives and dies by the play of Snakers and Kickstart. They are out of their minds and they have the stats to back that up. Of any teammates during the last two major events, they are the highest performing duo in terms of kills and damage outside of combinations of Soniqs players. They will perform, it is a question of how Relo and Balefrost perform. Relo should be a safe bet to perform well, he was their second-best player during PGI.S. The real question is how will Balefrost perform. If this team wants to win the event, Balefrost will have to perform closer to his PCS5 form than his ESL Master Phase Two and PGI.S form. If they keep all four players to stay on this, very few if any teams can stop Oath.
TSM
The @TSM crew – @alowflaylow @PurdyKurty @luke12PUBG & @pental0l w/ @Owenusmc21 and @adamdidiano – are known for fragging out and dominating in the Americas.

Who thinks #TSMWIN is the way to go for #PGC2021?!

Stay tuned for a Road to PGC ft. TSM this week!#PUBGEsports pic.twitter.com/oJRAoOyxuN

— PUBG Esports (@PUBGEsports) November 1, 2021
MVP: Luke12
Player To Watch: Penta
Despite only winning ESL Masters Phase One this year, the potential of this TSM team is still through the roof. There is no team who is happier to see the return of SUPER Settings than the boys in black and white. They had the second-most kills during PCS5 Americas and ESL Masters Phase Two, but finished outside the top four in both. It was not for a lack of placements either. TSM just struggled to close out all the games they came close to winning. The switch back to SUPER provides a MASSIVE buff to their playstyle.
The first player that comes to mind when people think of TSM is Luke12. Before TGLTN transitioned back into pro play after streaming, Luke12 was the original Aussie freak of nature. Even joining the core of this team when they were Lazarus, he was one of the best players in OCE. No matter what tournament Luke12 plays in, he is one of the best statistical players. Now, he is back on LAN which is a scary thought for everyone else. Outside of Luke12, the rest of TSM is similar to Soniqs. This is a very experienced team. Purdy is one of the longest-tenured IGLs at PGC and provides a wealth of game knowledge to this team. aLow is a monster in close-range fights and is always a threat to pop off. Meanwhile, the addition of Penta provided this team with a spark and extra firepower as soon as he was added. TSM has the tools to win the event, can they exercise their demons and lift that trophy though?
Dignitas
MVP: Sparkingg
Player To Watch: Poonage
Dignitas feels like the equivalent of Schrodinger's PUBG team. They are a team who can pound or be just fine. That is largely thanks to their playstyle, which is aggressive almost to a fault at times. Their peaks  are some of the best in PUBG because of the talent they have on this team. Sparkingg, one of the stars of PGI.S, is back on the global stage and more importantly, on LAN. He was the key piece of the Meta Gaming team that finished 7th place at PGI.S and was one of the ten best players at the event. Next to him is the duo of Poonage and Shinboi, two members of the former Zenith Esports roster that finished second at PGI.S. That trio though is led by their IGL Honeybadger. During his time on Guadalajara Gascans, Honeybadger helped that team become a contender in NA. Soon after he flexed over to Dignitas and the rest is history.
When it comes to their potential at PGC, it is very hard to predict. Dignitas' range depends heavily on their ability to acquiesce with the lobby they are in. Most people will want Dignitas to be successful, but if that will happen is a different story. If the rumors are true, it may be a rough few weeks for Dignitas.
Spacestation Gaming (SSG)
Where are our @Spacestation fans out there?

Y'all ready to hype @RothPUBG @Sharpshot4k @KeenanPUBG & @oldless1 on this #PGC2021 journey?!

You might consider the squad an underdog but don't be fooled – they know how to rep' the Americas on their Road to PGC! pic.twitter.com/jOPQREwSBX

— PUBG Esports (@PUBGEsports) November 2, 2021
MVP: Sharpshot
Player To Watch: Oldless
It came down to the very last game of PCS5 Americas, but Spacestation Gaming qualified for PGC. This team didn't even exist before PGC. Right after PGC, 4 veterans came together to make their own team: Keenan, Roth, Sharpshot and Uncivil. Originally called Spicy Fish, the team was picked up by SSG after a second-place finish at ESL Masters Phase 1. Since then, the team produced steady results, but squeaked into PGC and are the scrap to stars story of the tournament.
The main fragger on this team is Sharpshot. The former ATC, Duel & Soniqs player is the best player on this team. His performances have carried SSG through whole weekends. Behind him are Oldless and Keenan. Despite PCS5 being Oldless' first tournament with SSG, his performance was the main reason SSG qualified for PGC in the end. Keenan is the known quantity and moveable chess piece this team can use in any way. Lastly, former Zenith Esports member Roth IGLs for this roster.
All due respect to SSG, but of all the North American teams they feel like the weakest by a large margin. They peaked hard at the start of the year, but the signs of life that other teams have just aren't present with SSG. Sure there could be a SSG miracle run, but the likelihood of that happening is slim.
KPI Gaming
[#OFICIAL] UN NUEVO EQUIPO COMPETITIVO#KPIONTOP pic.twitter.com/mt8QgLiIzh

— KPI Gaming (@KPI_Gaming) October 27, 2021
MVP: SzylzEN
Player To Watch: Dr4FTk1NG
The lone team out of South America, KPI Gaming is out to prove that their region is not a joke. Of all the teams to try and do that, this one is by far the best. The former FUIMBA roster went on a run leading up to PGC that few other teams can match. They finished third in ESL Masters Phase 2 and fourth in PCS5 Americas. In both of those events, they finished top eight in total team kills, which meant they simply knew how to close out games. That skill will be important at PGC.
This roster is a full Argentine four stack. At the helm is the former Meta Gaming member SzylzEN. Not only is he one of the most experienced IGLs in LATAM, but he can gun anyone down with no remorse. Behind him is Captain. As the team's second in command and secondary fragger, Captain is a key cog in the wheel of KPI. The last two players on this roster are inexperienced young gun fraggers: Em1hh and Dr4FTk1NG. Em1hh plays a more supportive role in this roster and has only played professionally for a year at this point. Dr4FTk1NG though is a fragger with immense potential, despite his inexperience. After playing in his first three career events in March of 2020, he took a step back from pro play until his former teammate Captain asked him to join Fuimba. Since coming back, he has been lights out. 
Coming into PGC, Fuimba has mixed expectations. Some people believe they could be the fourth-best team to come out of the Americas. Others believe they are the worst team out of the Americas. The former is more likely to be true, but bombing out is not out of the question.
---
Need More?
What do you think? Tell Christian on Twitter at @TheWiz_SPM.
Follow The Game Haus for more sports and esports coverage.
Twitter: TGH Esports
Facebook: The Game Haus
"From our Haus to Yours"