Now that the calendar is in September, the second-most important stretch in PUBG esports is about to begin. It is finally time for PCS5 in Asia to begin. Over the next three weeks teams from across the globe will fight for their right to make the 2021 PUBG Global Championship. Though before making it there, the must get the invites or points needed to make PGC. PCS5 is the last step in the process. For PCS5 Asia, sixteen teams from across China, Korea, Japan and Chinese Taipei will fight for their PGC lives. This article will look at the reigning champions, China. Almost every team from the region could win, but who has the best chance?
NewHappy
Player To Watch: MMing
PGC Potential: Qualified
Ten months after their first PCS appearance, NewHappy have returned to the PCS stage in a form that is extremely dangerous. The PCL Summer champions took no prisoners by winning the most games and having the most kills by 49 kills. It was one of the most dominant tournament performances in recent memory. They enter the event as the perceived favorite and with good reason.
This team is led by one of the best individual talents in China, MMing. He is towards the top of every all-time PCL stats and has multiple PCL awards to boot. His presence is felt on the server when he is in game. In the PCL Summer finals alone, he totaled 60 kills. In other words, he averaged two kills a game. Those types of performances are unheard of and the hardest to counter. His main partner in crime is ZpYan1, who over the two PCL splits this year has the same number of kills as MMing. MMing may draw most of the attention, but ZpYan1 is just as prominent. Nannnnn and HSMm round out this roster as threat worthy players. It is a deep roster.
While this team is locked for PGC, their performance still has massive PGC implications. If NewHappy gets enough points to make the top eight in the Asian PGC Points, Four Angry Men make it to PGC once again. Otherwise, 4AM will not be at PGC for the first time ever. If Newappy matches their PCL performance, that will certainly happen. The issue arises with the fact that they only enter this event with a minimum of 12 points if they finished last. There are plenty of teams who already have points that could finish ahead of NewHappy. This storyline will be important through the entirety of the event
Petrichor Road (PeRo)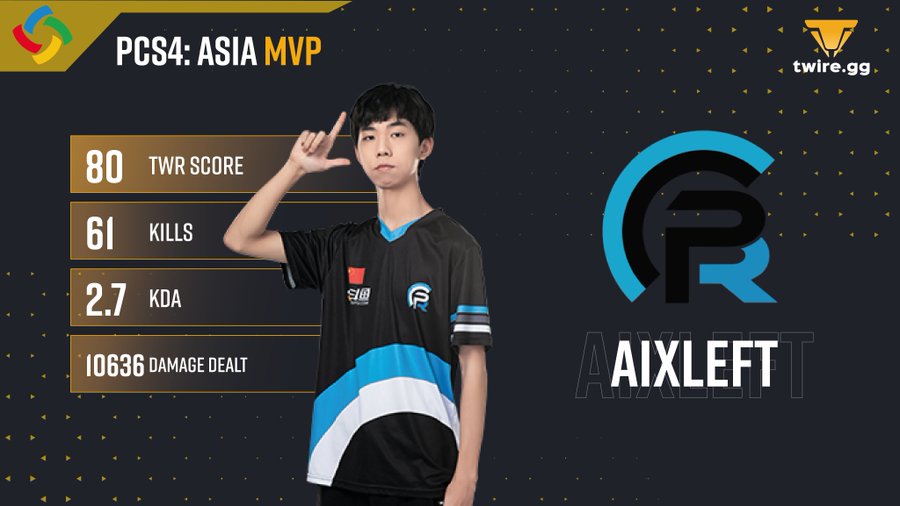 Player To Watch: Mingzi
PGC Potential: Qualified
The PCS4 Champions are already locked for PGC by virtue of having an impassable amount of points for the bottom teams. That being said, they are going to take this tournament as hard as possible.
This team at its core is driven by one of the PUBG's superstars Axileft (also goes by XDD). He is in the class of TGLTN, Pio and a few other players that can solo carry a team. He is scary and dominant. Surrounding him is the tenured duo of Myl and Mamu. Both players took the next step after PGI.S and now are reliable fraggers. Throughout their PCS4 run, they both clutched out games and provided invaluable plays for the team. Lastly, the recent addition of Mingzi gave this team another strong option. The former Tianba member is a welcome addition to an already great roster. Their performance at PCS5 should be similar to PCS4, but the competition will be better. This will be a great test of how real that PCS5 performance was.
Games Forever Young (GFY)
Player To Watch: LanBo0
PGC Potential: Low
Games Forever Young entered PCS4 with a good amount of hype behind them. Instead, the team fell flat on their face and finished 14th during PCS4. Now after a second place finish during PCL Summer, GFY is looking for revenge.
This team is led by their super talented fragger ATongMuu. If you need a kill, just send ATongMuu. Surrounding him is an experienced trio of 911x, Loong and LanBo0. 911x was the star player on the TSG roster that won PCS2. Meanwhile, LanBo0 is in his second PCS event and Loong came from his time on RNG. It is a roster with experience and talent, but no true star.
Their chances for PGC sit in a very awkward spot. Since they flopped in PCS4, they have only 22 points coming into this event which sits as the second-least points heading into the event. It would take likely a top four performance to safely secure PGC, but that also accounts for other teams above them not getting more points total including other PCS events. They could do it, but I don't see it.
17Gaming
Player To Watch: Xbei
PGC Potential: Medium
After a pretty good performance in PCL Spring, 17Gaming put up an extremely disappointing result for the majority of PCS4. They found their footing in the final week to finish seventh, but it should have been much lower. Now with a chance at redemption, 17Gaming are back to prove themselves.
At their core, 17Gaming is a roster with four very talented players who could all lead their team in kills. While that normally tends to be Xbei, SuJiu lead the team in kills during the PCL Playoffs. Those two are paired with Shou and LilGhost, the latter of which people may remember from his stint last year on Champion of Competition (COC). With talent and experience on this team's side, if they perform as bad as they did during PCS4 serious questions need to be raised.
17Gaming sits in an interesting spot for PGC. They currently sit on 52 PGC points, which is equivalent to a point total somewhere between seventh and eighth at PCS5. If they perform to their potential they should be safe. If their rough patches rear their heads once again, 17Gaming could miss PGC despite a great year domestically.
Change The Game (CTG)
Player To Watch: LuckyWss
PGC Potential: Low
CTG entered PUBG in the middle of 2020 to less than stellar results. Now in 2021, they seem to have taken the next step. There is one issue with them though. Of all the Chinese teams at PCS5, Change The Game has the least track record. In fact, only one player with top tier international experience; MonkeyKing last at the 2019 FACEIT Global Summit. While this team may be raw, they can scrap it out. To go along with MonkeyKing, LuckyWss brings his fragging power. Aside from them, LingQiang is on the team in a supporting role while the team is surprisingly starting V5 over experienced veteran PaoPao.
In the end, CTG will have a massive uphill battle to make PGC. Not only are they only getting points from this event, but they are arguably the worst Chinese team in attendance. They not only have to have the tournament of their life, but they need the teams with PGC points already to falter.
Multi Circle Gaming (MCG)
Player To Watch: Tanki
PGC Potential: Very High
Of all the Chinese teams, MultiCicle Gaming has been the most consistent of all of them by far. Over the past year they won one PCS event, finished fourth in another and finished fifth at PGC. They are deadly consistent. A large percentage of that can be attributed to their IGL Summer, one of the most tenured IGL's today. He has played at PGC, PNC, PGI.S and in PCS events. His international experience is invaluable. Pair his knowledge with three absolute freaks in Tanki, LingDuu and EvilLee and this team is dangerous. Either one of those players could lead the team in kills on a given weekend. They are a threat together and individually, which is why they are so dangerous. 
MCG currently sits on 92 PGC points, which is relatively high. That total does not mean they are safe though. They still need to put up an average performance at worst to make PGC, but that should be of no concern. It would take a performance unlike something we have not seen at this level from them to miss out on PGC.
---
Need More?
What do you think? Tell Christian on Twitter at @TheWiz_SPM.
Follow The Game Haus for more sports and esports coverage.
Twitter: TGH Esports
Facebook: The Game Haus
"From our Haus to Yours"