With PCS: Asia Two starting this Thursday, it is time to talk to the casters about the event. The obvious people to talk to about Asian PUBG are the faces of the Asian PUBG English cast, Clinton "Paperthin" Bader and Tom "Bench" Kim. This dynamic duo is responsible for casting the events that go on in Asia for the early birds in North America and the late morning viewers in Europe. Make sure you give them a follow on twitter, @Paperthinhere and & @benchpresscast.
Broadcast Schedule
PCS: Asia Two will occur in over the next three Thursday and Fridays at 6 AM EST. Four matches will be played every day with points carrying over every single week till a champion is crowned on September 9th. You can tune in and watch on youtube.com/PUBG and twitch.tv/PUBG
Should Infantry be the overwhelming favorite headed into this event?
Paperthin: "Infantry should definitely be the favorites coming into this event. Coming off of wins in PCS1 and the PCL, they look to be unstoppable. A gifted team mechanically, and having the right mix of aggression and patience, they seem to be poised to repeat in PCS2."
Bench: "I really do think Infantry is currently the biggest threat to all of the contestants right now, as they won the previous PCS 1 Asia and was able to continue the snowball into the PCL 2020. An unstoppable force so to speak."
Six of the top ten teams from last PCS did not qualify. Do you think that helps a team like Element.36 who finished ninth last event?
Bench: "Not necessarily, as new contestants are also very competitive, if not better than the eliminated ones in terms of performance."
Paperthin: "I think it could help a team like Element.36, but what's going to be more important for them is learning from their successes and mistakes at PCS1 and building from there. They have proven they can go toe-to-toe with the big boys (winning a decisive 2 vs 4 against a full Infantry send at the Alamo, for example), and they now need to show they can compete for a top 5 spot. Oh, and make sure to get an AWM in the hands of Sylphia, that dude is nuts."
With L-Stars, LYG, and RushB not qualifying for PCS: Asia Two which of the three new Chinese teams should other teams watch out for?
Paperthin: "Of the three new Chinese teams, I definitely have my eyes on Triumphant Song Gaming. TSG has impressed me since I first got to cast them back in Late December/Early January. They are strong in almost every category you can think of, and are especially good at utilizing terrain to their advantage, so I expect them to do well on Miramar (Where they picked up both of their chicken dinners in the PCL Finals). They also won the group stage at the PCL, so no doubt they can hang with the big boys."
Bench: "CoC and SMG."
Almost a third of the lobby is in their first PCS event. What does that say about the Asia PUBG Scene?
Paperthin: "To me it says a couple of things. First, there are a lot of strong, hungry teams in China. Champions of Competition are a lot of unknowns outside of China, so they look to be the upstart newcomers. SMG has some familiar faces though (hint: The 4AM Cpt nade), and inside of the China TSG are known to be quite strong, but could never seem to clutch it out to qualify for the big internationals. Second, for Korea, I think there is a bit of lackadaisicalness in the region these days. I have been talking to a lot of players and coaches behind the scenes, and one thing that has come up often is in my conversations is the disappointment with the downward trend in how hard teams are practicing and, in particular, the scrims have become less serious. One of the things that propelled Korea to success in 2019 was that they had top level scrims almost every day that every team was really dedicated to giving it their all in. These days, that doesn't seem to be as much the case. That is opening the door for some squads to get their shot at an international, but it is hurting the region in general. One team who I will say feels different to me compared to the rest of Korea, is T1. With the rejunivanted Starlord making his triumphant return to the IGL role, he has whipped Adder, Akad, Helen, and Rex into shape and made them a force to be reckoned with. I would not be surprised to see them in the hunt for the championship on the final day of PCS2. Third, for Japan, we are seeing consistency emerge in their top teams. Sunsister is the perennial favorite, and Element.36 showed they were not just a flash in the pan at PCS1. Fourth, Chinese Taipei is seeing a team that is full of young, emerging talent in Team Sades, who like Oath earlier this year, finally have their full roster old enough to compete in the Tier 1 PUBG events, and showed they have the skill to be a top team in their region. And GEX Ace is a team with some really solid veteran players, who are trying to show they also belong at these events, along with their sister team GEX who has been at the other PCS events this year."
Bench: "Several teams are having their first international appearance. Because of PCS, more Asian PUBG teams are allowed the attention they may deserve."
If you had to pick one team from each region to pay attention to (Japan & TWHKMO, China, Korea) who would they be?
Paperthin: "For China it is TSG for their Miramar play. Then for Korea it is T1 to watch and see how they hold up under their new battlefield leader. In Japan, Element.36 has a toughness and grit about them that really has endeared me to them. Finally, in Taiwan, it is Team Sades because they are group of young-guns who may just explode onto the big stage.
Bench: "In Korea T1, in China Infantry, and in JP&TWHKMO Element.36."
Who do you think is the most underrated team entering the tournament?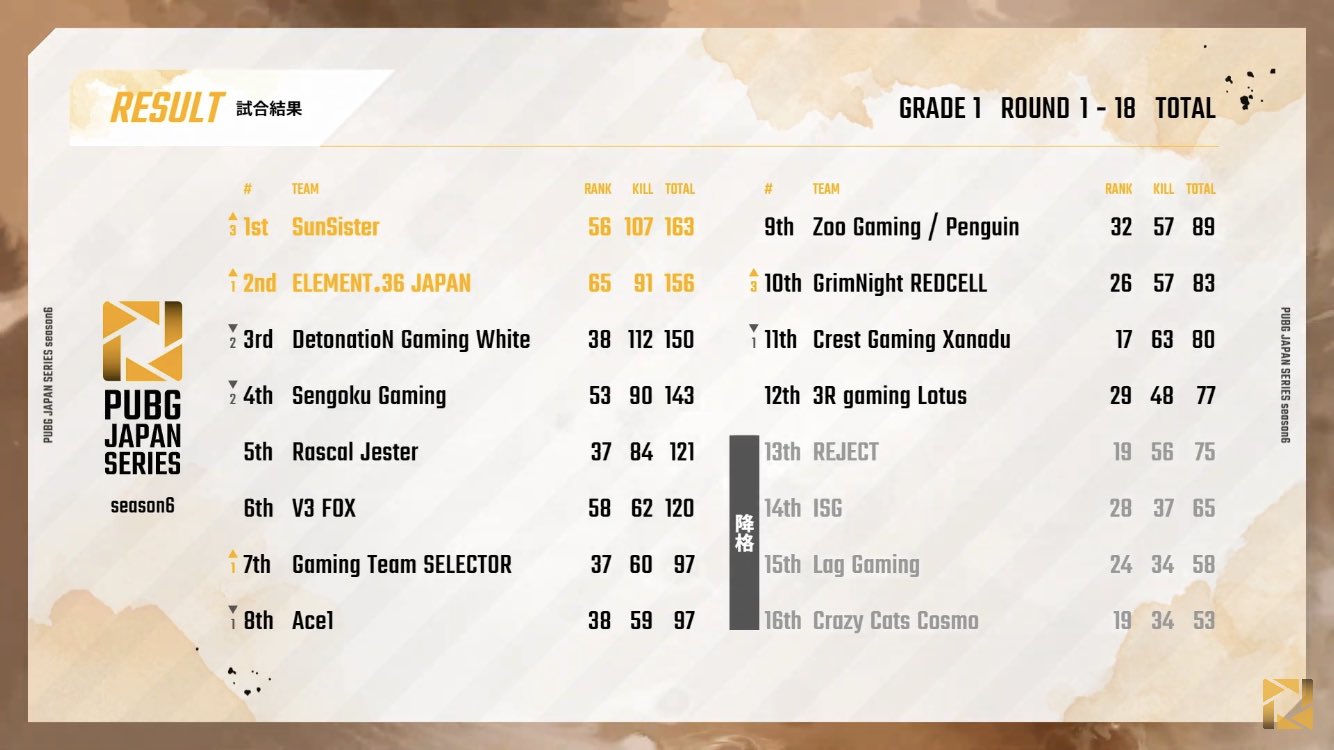 Paperthin: "For me the most underrated team has to be Champion of Competition from China. They got second in the PCL, which is insane considering how stacked that region is right now, and most of the players are relative unknowns in the global scene. They aren't going to blow the doors off you for the most part it seems like, but they are a consistent, smart team, getting 5 second places and a first in 18 games at the PCL Summer finals. XS has been their best fragger, so he's the guy to keep your eye on if they do end up popping off."
Bench: "I actually think Element 36 is very underrated in spite of their previous performances. Plus, they come out from a minor region as well, so it would be exciting to see them do well!"
Which team has the most to gain by a good performance?
Paperthin: "Definitely T1. Part of that is obviously that they are a huge brand in global esports, so they expect success. However, they have been desperately searching for an IGL for almost a year, since their disappointing performance at PGC 2019. Finally, it feels like they have one with Starlord, who had been benched first in the role by VSG, and even then as a starter for the team. There were no real jitters for them in the Korean qualifiers, other than losing a couple of close 1v1 finishes, but they always bounced back from those, and finally maintained their steadfastness on the final day and won the event (much to the delight of their fans that they didn't throw their lead on the final day, turning around a curse that plagued them for sometime). If T1 can win the event or just be the best Korean team at the event, it will show a couple of things. One, VSG was mistaken for doubting Starlord and he will be vindicated in that the teams woes were not nearly as much on his shoulders as it seemed the VSG staff thought. Two, T1 was 100% correct in their assessment of the talent on their roster, recognized the strengths and weaknesses, and adjusted accordingly in a way that found them success not just in Korea, but internationally as well. Three, it will give T1 a good reason to stay in PUBG esports, which is good for the future of PUBG any way you slice it."
Bench: "Instead of who can 'gain the most', if we change the question to who 'loses the most' will be easier to answer for me. I think Tianba has to show that they can dominate too in this tournament, as they failed to do so in PCS 1. Sure, they came in 5th which is great, but we as fans expect something more than that from them as they dominated the PCS charity showdown as well."
Who do you think is going to win?
Paperthin: "My pick for PCS2 Asia is Infantry. My jaw is on the floor 90% of the time I am watching them play. They are on another level right now, and quite honestly, beyond even the form Gen.G was in last year. I wish so desperately that we could see all the regions clash again at an international LAN to really test their mettle, but for now, I think Asia still remains the strongest region, and IFTY the strongest team in it."
Bench: "My heart currently is leaning towards Infantry, but who knows? Bunch of great competitive teams from all around the Asia is playing in a same lobby, so anything could happen."
Thanks to Paperthin and Bench for taking the time to answer these questions ahead of the games this week!
Need More?
What do you think? Tell Christian on Twitter at @TheWiz_SPM.
Featured image courtesy of Overwatch League.
Follow The Game Haus for more sports and esports coverage.
Twitter: TGH Esports
Facebook: The Game Haus
"From our Haus to Yours"