Gavin Michaels, VGC 2017's King of Trick Room, takes his second regional title in a dominating fashion. Over the course of the entire tournament, consisting of nine best-of-three Swiss Rounds and a Top 16 cut, Gavin only dropped a single game in his conquest of Anaheim. Not to mention, his team was nearly identical to the team that won him San Jose Regionals just a few months prior. We'll break down Gavin's team, but first let's look at what managed to reach Top 16.
Results & Teams (Top 16 Cut)
1. Gavin Michaels
2. James Eakes
3. Kamran Jahadi
4. Raghav Malaviya
5. Tyler Bennett
6. Riley Factura
7. Giovanni Costa
8. Anthony Jiminez
9. Aaron Zheng
10. Nelson Ocampo
11. Shreyas Radhakrishna
12. Alicia Martinez
13. Jirawiwat Thitasiri
14. Sam Johnson
15. Alia Lee
16. Gary Qian
Pokémon Sprite Images courtesy of Game Freak
Gavin's Trick Room: The Breakdown
To put it simply: Gavin's team is entirely reliant on setting up Trick Room, and sweeping with strong sweepers. The unique traits of having two setters, a Fighting-type, and Magnezone allow for Gavin to pretty much ensure that the dimensions are twisted and damage will be plenty. But let's break down the individual aspects of the team.
The Trick Room Setters

This team features the combo of Porygon2 and the less common Mimikyu (which actually might
start to grow in popularity) as the team's primary Trick Room users.
Porygon2 is about as standard of a Pokémon as you can get, but Gavin's Porygon2 favored more physical Defense with special attacks like Thunderbolt being favored over Return.
Mimikyu on the other hand is a little bit more interesting. Gavin's Mimikyu is fully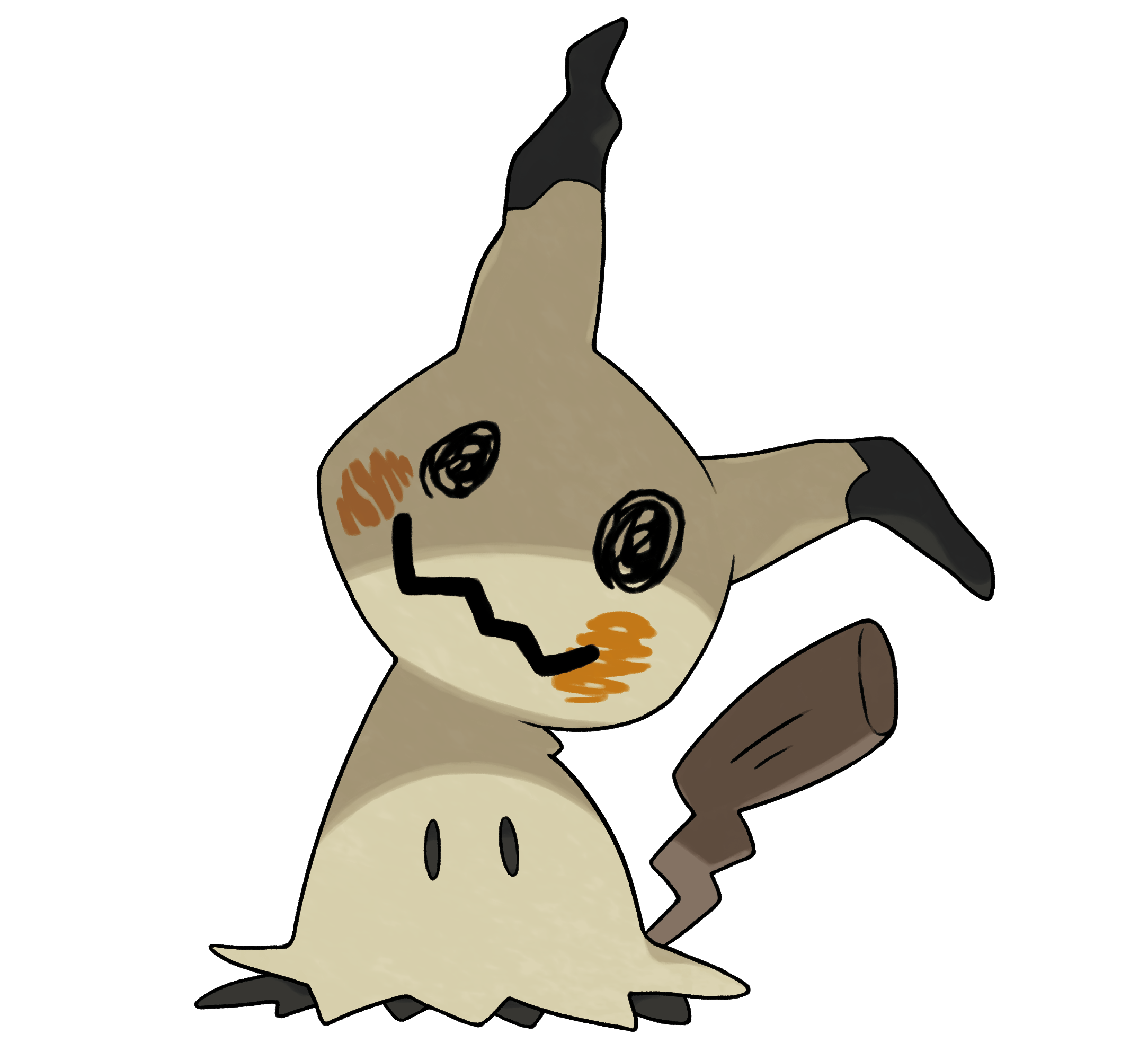 invested in Speed and Attack, which is beyond unusual for a Pokémon who sets Trick Room. But Mimikyu has other utility with moves like Taunt and Destiny Bond which it can take advantage of with its higher Speed. Ghostium Z is the item of choice, with Mimikyu being able to fire off a Never-Ending Nightmare into opposing Tapu Lele (*which it will out-speed by the way). A trick we saw in the finals was Z-Destiny Bond, which redirects attacks to Mimikyu with the added effect of Destiny Bond. This strategy was used to get rid of James Eakes' Gigalith which was crucial in eliminating James' only Trick Room answer.
Hariyama

Hariyama is commonly seen alongside Trick Room modes as a Fake Out user to assist
its partner in setting up Trick Room. Gavin basically invented standard Hariyama with Flame Orb + Guts being used to transition Hariyama's role to a sweeper under Trick Room. Hariyama is brilliantly supported by Mimikyu, which can eliminate Tapu Lele, which can cancel out Fake Out due to the Psychic Terrain (also Tapu Lele can easily OHKO Hariyama, so there's that).
The Sweepers
Magnezone
A grossly underrated Steel-type Pokémon in the format that has only been used successfully by Gavin and Wolfe Glick. Magnezone is a powerful sweeper if given the speed advantage, and with Gavin equipping his with Choice Specs, Magnezone is primed to decimate unprepared teams. With its Magnet Pull ability, Magnezone can trap other Steel-types, like Celesteela and Kartana, making it easier to dispose of them if they're major threats.
Araquanid
Fun Fact: Did you know that teams featuring both Porygon2 and Araquanid have won all four 2017 regionals so far? It's a strong combo that can't be beaten easily.
Araquanid is a Pokémon that has died down a bit in usage, but still manages to snag high placings at tournaments. Under Trick Room, Araquanid is an unstoppable force that can easily just click Liquidation and chunk everything it hits. Gavin's Araquanid featured some interesting move options in Lunge and Substitute, making it more offensive in favor of the more popular Leech Life and Wide Guard variants.
Snorlax
A familiar Pokémon to most, but a new one to Gavin's team, Snorlax replaced Drampa in this new iteration. Snorlax traditionally likes Trick Room and also likes to boost with Curse, so it's the absolute slowest, tank-iest, and threatening thing once Trick Room goes up.
Now a new combination that Gavin put to very good use is Belly Drum Snorlax next to Mimikyu. The HP sacrifice is zero issue for Snorlax as Gluttony allows it to recover all of that HP with a Figy (Aguav, Wiki, etc.) Berry. Mimikyu can easily set up Trick Room and Snorlax proceeds to annihilate you with maximum strength. I would strongly advise you to have a way to stop this combination if you're playing at a best-of-one tournament.
May or may not be speaking from personal experience…
Celesteela's Comeback
This was the first time Celesteela topped Kartana in usage at a Regional or higher tournament since San Jose all the way back in December. We saw a couple Celesteela variants with some being Special attackers and some going back to the classic Leech Seed strategy; but the defining move of Celesteela now is Flamethrower.
With Flamethrower, Celesteela easily beats Kartana. I don't think Kartana will drop in usage, but I expect that Celesteela and Kartana will be evenly represented in coming tournaments.
What's New With Eevee?
Giovanni Costa managed to make another Top Cut appearance with his now famous (or infamous even) Eevee team. There was a different team member that replaced Gengar on this new version of Giovanni's team: Tapu Lele. Unfortunately, we never got to see Giovanni featured on stream, I can speculate what Tapu Lele could've been useful for.
Tapu Lele, like all of the other Tapu's, gets access to Psych Up, which enables it to be able to copy the Evoboosts from one of its teammates. Since Tapu Lele's Psychic Terrain boosts the power of Psychic-type attacks, Tapu Lele could be a more efficient sweeper than Tapu Fini. Psychic Terrain also helps block priority moves aimed at Eevee or any of Giovanni's other Pokémon.
The Niche Picks 
The current meta game appears to be settling, but Anaheim brought a fair amount of odd choices that managed to do well.
Salazzle
*For anyone looking to use a Focus Sash on Salazzle (like James Eakes), I would definitely recommend not running it next to a Sand Stream Gigalith.
With the introduction of Pokémon to Sun and Moon, Salazzle gained access to Fake Out through breeding, which made it much more viable. Salazzle has a great offensive typing, being able to hit the ever present Steel and Fairy-types. Encore was the fourth move choice from James, which effectively punished Protects, which Salazzle is great in baiting out due to its high Speed.
Drifblim
Honestly, one of the last Pokémon I would've expected to see in a tournament at all. Drifblim is by far one of the most unique options for a Tailwind supporter, having access to Unburden, allowing it to double its Speed without an item. Raghav Malaviya used a Misty Seed Drifblim which took advantage of Unburden after the usage of Misty Seed thanks to Tapu Fini. Raghav's Drifblim had access to Swagger which it could use on his own Garchomp in the Misty Terrain to boost Garchomp's Attack without the drawback of confusion. With Tailwind becoming increasingly more popular, I anticipate we'll see Drifblim again soon.
Talonflame
Keeping with the theme of Tailwind, Talonflame managed to break into Top Cut and have about 30 seconds of stream time before being knocked out. Despite the insane nerf to Gale Wings, Talonflame is still a fast Tailwind setter that can still fill an attacking or support role.
Murkrow
Another Tailwind user, but Mukrow functions a bit differently than most. Being the only Prankster Tailwind user, other than Whimsicott, Murkrow has an arsenal of useful support moves that Gary Qian was able to use effectively. On Gary's Murkrow, we saw Quash (which can put a stop to even the speediest of opponents), Taunt (stops supporters in their tracks), Foul Play (standard Dark-type STAB), and Tailwind. While Murkrow is certainly an odd choice, it can definitely catch opponents off-guard with its multitude of tricks.
Xurkitree
Another unique Ultra Beast to have success in a major tournament, Xurkitree shocked the competition under Jirawiwat Thitasiri. During Xurkitree's brief stream appearance, we saw Gigavolt Havoc secure victory for Jirawiwat, indicating a rather unusual item choice. At this point you can expect any Ultra Beasts to do well at major tournaments.
Flygon
To round out this section, I would like to touch on Flygon, which absolutely fascinates me in this format. Unfortunately, Flygon's stream appearance was brief and we never really saw it do anything in Gary Qian's Top 16 match. I have no idea where to begin with Flygon, but Gary has promised a short team report, so I'll update this piece with some of my analysis when he finally publishes it.
*Edit: You can read about Gary's Flygon and the rest of his team here!: linkis.com/wordpress.com/LsMuS
Final Thoughts
Nugget Bridge came back strong with a great stream of Anaheim Regionals, featuring excellent commentary from Gabby Snyder, Adam Dorricott, and Duy Ha. Gavin's victory in Anaheim guarantees him a trip back in August for the 2017 World Championships, which could be a promising tournament for him. Foreshadowing perhaps? Our next set of Regionals are coming up on March 4th in Collinsville, IL, and over in Europe in Sheffield, UK. Check back to The Game Haus for recaps of both of these tournaments along with other great Pokémon articles! Thanks for reading!
Art of Pokemon courtesy of Pokémon and Ken Sugimori
You can 'Like' The Game Haus on Facebook and 'Follow' us on Twitter for more sports and esports articles from other great TGH writers along with Eric!