Guangzhou Charge 4 – Toronto Defiant 0
Both the Charge and Defiant came into this match in desperate need of a win. The Charge were expected to finally shine this stage, but with a 1-2 record, doubts have arisen. On the other hand, the Defiant have plummeted down the rankings and sought to use Guangzhou as a stepping stone to rise again. Sadly for them, the Charge came out in potentially their most dominant showing of the season and wiped the floor in this match.
Starting Lineup
Yiliang "Eileen" Ou
Jungwoo "Happy" Lee
Hongjun "HOTBA" Choi
Seungpyo "Rio" Oh
Jungyeon "Chara" Kim
Jinseo "Shu" Kim
Match Recap
Ilios (Charge 2 – Defiant 0)
Starting on the Well, the Charge ran triple DPS, forcing the Defiant to swap comps and delay. The Charge got an initial pick onto Normunds "Sharyk" Faterins, yet still lost the initial cap. HOTBA and Happy forced a retake at 38%, but Toronto took it back quickly in the ensuing fight. After holding until 99%, Toronto finally succumbed to the Charge. Guangzhou held until 99% themselves, and the fight looked dangerous, yet Toronto pulled an unprecedented C9, giving Guangzhou the round.
On Ruins, after many swaps at the start from both teams, GZ took the initial point. They held 25% before giving it up to Toronto, yet retook off back of huge EMP/Earthshatter combination after only a minute. At 99% they lost Eileen and began to look weak, but a demech onto Daniel "Gods" Graeser and a well-timed Shu transcendence prevented the Defiant from winning a single round of Ilios.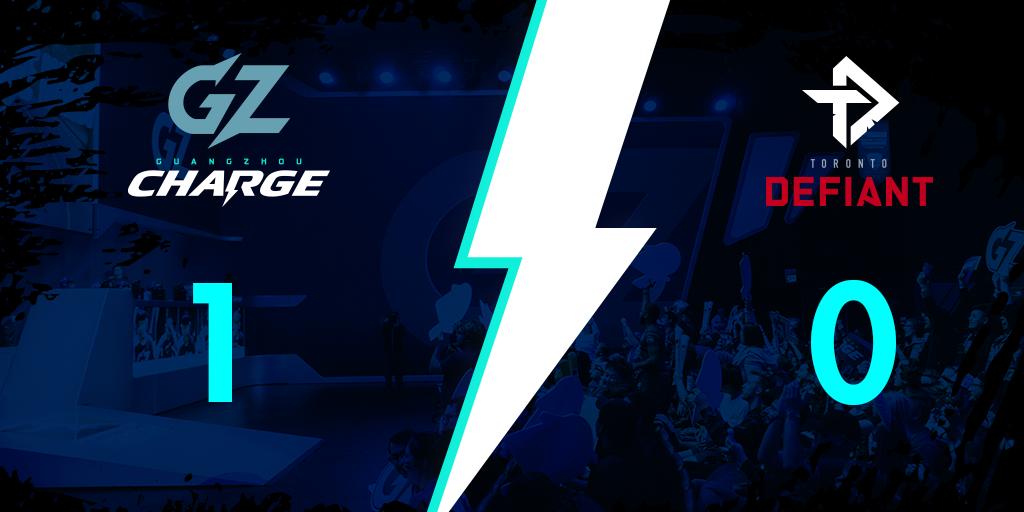 Paris (Charge 4 – Defiant 2)
After Subbing in Charlie "nero" Zwarg to replace Eileen, the Charge opted into an Orisa/double sniper/Pharah combo. Off of insane plays from Happy, GZ took A in less than 1:30. They swapped to a Sombra/triple support strat for B, except they featured HOTBA on the Sombra for the first time. Guangzhou stalled out for several minutes on B, yet they took it finally with 3:35 in bank.
On defense, the Charge lost A in a similar time as they took it the previous round off of a scrappy fight loss. On B, they chose to go with full bunker defense, and held for several minutes, but were forced off the point. Whether it was another C9 or not, Toronto ended the round with only 10 seconds more than the Charge had.
For their second offense, Happy's initial pick onto Gyeongmu "Yakpung" Jo opened up A quickly yet again. And this time, they successfully snowballed B and took their second double cap with 1:46 left in the bank again. Yet the time bank proved useless, as their defense was far more formidable this time. Halfway through, nero held off a big Defiant push with a triple tire kill off of an EMP from HOTBA. The Charge gave up two ticks in overtime, but in an insanely scrappy brawl, they hold off Toronto from any more progress.
Hollywood (Charge 3 – Defiant 0)
On their offense, Guangzhou's initial push netted one tick; before making any more however they were halted by Jin "im37" Hong's Ashe and a lovely B.O.B. sighting. In the end, Guangzhou's Scrappy fight took A after 2:14. The rest of the map went entirely the way of the blue boys, as they cruised through B and C off of tactical EMPs from HOTBA and scrappy Earthshatters from Rio; not even a 6-man EMP from im37 could stop the payload from moving. The Charge ended the round with 1:35 still in reserves. Yet this once again proved to not matter, as they denied the Defiant even access to the payload. It was an absolutely dominant defense, and it netted Guangzhou the series.
Gibraltar (Charge 3 – Defiant 0)
The Charge sensed weakness, but didn't relent even on the final map. On the offense, the Charge easily pushed through the entirety of Gibraltar with a significant time bank remaining. The Charge didn't lose a single fight or possession of the payload once. Even more impressive, they intentionally delayed capping Point A purely to enable a splitspawn on B and kill the half of the Defiant who were isolated. Their defense was nearly as formidable, preventing once again a single tick. With more of a whimper than a bang, the Defiant caved, and the Charge pulled of the coveted 4-0.
Conclusion
👏 get 👏 in 👏 the 👏 volts-wagon 👏

4-0 is the way to go! Thanks for cheering us on today. ❤️ pic.twitter.com/wZ0E5lZkTm

— Guangzhou Charge (@GZCharge) June 23, 2019
This was most likely the best match Guangzhou has played all season. The victory today marks only their second 4-0, with the last being the Dallas Fuel in Stage 1 Week 2. However, despite Toronto being a low ranked team, this 4-0 means so much to the Charge. They played smart, they played quick, and they played a lot of triple dps strategies that overwhelmed their opponents. Rio and Happy, in particular, played out of their minds tonight and deserve special recognition for their contributions. With this, Guangzhou has kept playoff hopes alive.
You can 'Like' The Game Haus on Facebook and 'Follow' us on Twitter for more sports and esports articles
For more from Ethan make sure to follow him on Twitter! Also be sure to check out the Game Haus YouTube channel for more appearances from him!!
"From Our Haus to Yours"