The Overwatch League gave fans some much desired information by dropping official 2020 player contract statuses on Friday. Many of the players on the list were listed as either under contract with current teams for the 2020 season, or given a team option, which gives teams a month to negotiate a new contract. However, a handful of the players in the league have already become free agents; these players will be allowed to sign with any team in the league as of Monday, October 7. Now, these players can begin signing if they choose, and one of the hottest commodities on the market might be Yeonjoon "ArK" Hong.
ArK's Legacy
This main support has experienced it all with the Overwatch League already, the wins and the losses alike. Season 1, ArK began on the starting six for the New York Excelsior, and played nearly all season. In Stage 4 he saw more of the bench as the NYXL began running with Taesung "Anamo" Jung instead. Flash forward to Season 2, ArK found himself permanently benched, and sought a new team post stage 1. He found it in the Washington Justice, reuniting with former tank buddy Jun-hwa "Janus" Song and coach Hyeong-seok "WizardHyeong" Kim.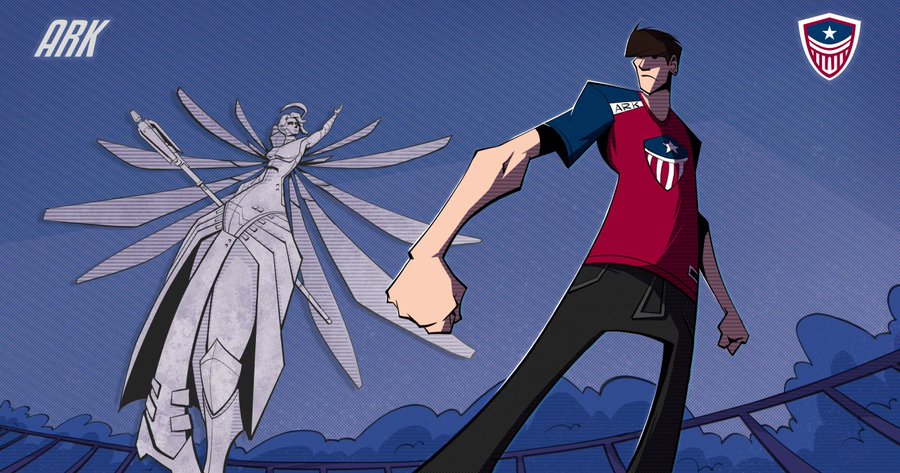 He was not able to immediately change the team like many had hoped, as Washington struggled through two more stages of GOATS meta. However, with the inclusion of role lock for Stage 4, ArK helped the Justice turn around to claim a 6-1 stage. ArK is a strong main support on Lucio and Mercy, and is fluent in Korean and English, so if he's not immediately snatched back up by the Justice, he may quickly find himself on one of these other teams.
Guangzhou Charge
One of the primary teams ArK could fall on, the Charge's mentality and playstyle suit this main support well. Guangzhou is made up mostly of Korean players, but they're able to communicate in either English or Korean. ArK's style of play may also serve as a big benefit for the Charge. Guangzhou plays fairly aggressively, but their main support, Jung-yeon "Chara" Kim, has been punished for his positioning before. ArK is a player in the middle, not too aggressive or passive; this is was why he didn't fit as well with New York's style and was benched. This could work very well with Guangzhou's style and give them more of a unique playstyle, something they've lacked.
The main issue with the concept is that the Charge currently still have Chara under contract. This main support was a decent player already, but most importantly he has strong chemistry with the rest of his team, and also served as team captain. However, their backup support Lizhen "OnlyWish" Chen only saw two maps of playtime all season, so he may very well not return. The Charge have been shown to spend big money on pickups or buyouts, so it's entirely possible they see the value of bringing on ArK even as a backup in hopes of letting him start at some point. Guangzhou securing ArK would be a stellar move for a team that finished strong but could use an extra kick for 2020.
Toronto Defiant
In a similar vein to a previous article discussing Hongjun "HOTBA" Choi fitting in on the Defiant, ArK's move here would stem from his ability to mend this failing mixed roster situation. The Defiant need a strong fix; they've been fielding Western DPS, Korean supports, and a very mixed tankline. Their players all have high individual talent as shown by Stage 1 results and their Western players' extensive histories. Yet they need to either drop half their roster or desperately attempt to have a communication fix. Regardless of their decision, ArK could fit within this system and might help fix this team's issues.
Considering ArK played for both full Korean and mostly-Western rosters alike in the Overwatch League, he'd be a valueable addition if Toronto decides to scrap a mixed roster idea. And if the Defiant do decide to retain both sides, ArK may be the bridge to combine them. Of the Defiant's current main supports, Jaeyoon "Aid" Go has shown underwhelming results, and Joo-seong "RoKy" Park has had difficulty in learning English and sadly hasn't seen much playtime as a result. Hopefully these two would find other teams, but ArK could absolutely come in and work well with a mixed roster; he'd be sharing support duties with Se-hyeon "Neko" Park, who's had experiences on a mixed roster as well. ArK to Defiant could be exactly what they need to bolster up for Season 3.
Florida Mayhem
Imagine telling someone from mid-2018 that trading ArK to the Florida Mayhem was seriously a possibility. The Mayhem just dropped nearly half their roster with the opening of free-agent season. One of these was Jae-ho "RaiN" Park, a main support who did not see much playtime last Season. They've kept their primary main support, Jun-soo "Kris" Choi, for the upcoming year so far. However, Kris' play was by no means exemplary over the course of the recent year. By getting rid of five cheaper players it sets them up to possibly make one or two big investments.
Florida's damage dealers have looked strong, and after several mid-year trades their tank-line is now pretty stacked. Their weakest area still remains their support line, and this is where they should truly invest big money. ArK would genuinely be a good investment for the Mayhem all memes aside; he's a known Overwatch League veteran who's shown good results on two teams thus far. There are worse options for both the team and for ArK to go, especially as Florida began to show promise late in the 2019 season.
Seoul Dynasty
With the announcement of localization for 2020, Seoul has become potentially the hottest team in the league. As Seoul will be the only team based in South Korea, and as 55% of the league's players are Korean, many players will be clamoring for the opportunity to play more within their home country. The player contract article also noticeably mentioned that Jin-mo "tobi" Yang is a free agent as well. While this leaves Seung-soo "Jecse" Lee still under contract, if Seoul fails to keep Jehong, ArK will likely be gunning for a spot. Even if that spot is as a backup.
Ultimately, many main support players in and out of the league will likely be doing the same. This pickup would likely be more on Dynasty's side depending on if they think ArK is a worthy pickup or not. Salary will also be a huge factor as well, as cheaper players may have a better chance of making the team. Nevertheless, he has shown strong results, both on the NYXL in the past and with the Justice in Stage 4. His playstyle also mirrors Seoul's newfound aggressiveness fairly well. ArK to the Dynasty may be something to potentially see for the 2020 season.
Voyage of the ArK
Like with HOTBA and the Charge, it's likely Justice will make the payments necessary to keep ArK on board. He's helped the team both mechanically and internally and was a notable factor in granting them a 6-1 final stage. This is especially likely considering the Washington Justice have tweeted about the release of 4 of their players, yet ArK was not mentioned, indicating he's likely still in talks with the team. ArK's history has been up and down, and hopefully, his free agency doesn't spell the end of his career. However, with so many teams in need of a strong main support, even if Washington do not renew his contract, the future looks bright for this player.
You can 'Like' The Game Haus on Facebook and 'Follow' us on Twitter for more sports and esports articles
For more from Ethan make sure to follow him on Twitter! Also be sure to check out the Game Haus YouTube channel for more appearances from him!!
"From Our Haus to Yours"