Still recovering from the first round of the Stanley Cup Playoffs?  That's understandable, considering 18 of the 42 total games played went to overtime.  But now, the spotlight shines on the eight remaining teams.  The Conference Semifinals feature three series with divisional rivals as well as some of the league's best goaltending.  Here's a preview of the four series ahead.
Ottawa Senators vs. New York Rangers
(Courtesy of espn.com)
2017 Season Series: Ottawa 2-1-0/Getty Images
While it may not be a divisional battle nor have the playoff history of its Eastern Conference counterpart, this matchup features two teams with huge star power.  Henrik Lundqvist was stellar in helping the Rangers dispatch the Montreal Canadiens in the first round.  His 195 saves were two shy of Braden Holtby for most in the first round.  His .9466 save percentage in the series was three ten-thousandths shy of his career postseason mark against Washington in 2013.  The victory over Montreal wasn't perfect, however.  Chris Kreider and JT Miller didn't score, while Nick Holden and Marc Staal had costly turnovers and mental lapses at times in their own zone.  Lundqvist carried the team this far, but the Blueshirts play better when they get a more consistent effort on offense and defense.
The Senators enjoyed production from all units in their 6-game series win over the Boston Bruins.  Former Ranger Derick Brassard exploded for eight points, while Bobby Ryan added two game-winning goals.  Erik Karlsson, Dion Phaneuf and the blue line held the Bruins to just 13 goals in the six contests, making it easy for goalie Craig Anderson.  Karlsson showed why he's a Norris Trophy candidate, leading the Sens in ice time while bearing two fractures in his left heel.  Ottawa received needed contributions from their top players, but do they have the depth to make a deeper run in the postseason?
Pittsburgh Penguins vs. Washington Capitals
(Courtesy of japersrink.com)
2017 Season Series: Washington 2-0-2
This is the series you'll want to tune in to every game for, and the NHL knows it.  They've played up the tensions between Sidney Crosby and Alex Ovechkin in the spots they run during commercial breaks.  The Presidents' Trophy winner versus the runners-up.  Two division rivals with the two aforementioned superstars and both teams top five in the regular season on the power play.  Need I say more?
The Capitals had to fend off the budding Maple Leafs in six.  Braden Holtby's 197 saves were tops among goalies in the first round as he neutralized Auston Matthews and company just enough.  Ovechkin was his usual self with two power play goals and three total.  But he has options around him that Washington hasn't seen in quite some time.  TJ Oshie had seven points, Justin Williams shined in the playoffs again, and 11 other players recorded two or more points.  On paper, Washington is as stacked as they come on all sides.
Fortunately for Pittsburgh, they run just as deep on offense.  Crosby, Evgeni Malkin and Phil Kessel are the notable names.  But Jake Guentzel and Bryan Rust tormented Sergei Bobrovsky and the Columbus Blue Jackets all series. They benefited from their linemates and pressured up front to outplay their expectations.  Marc-Andre Fleury performed admirably in net filling in for the injured Matt Murray.  With Murray still not skating as of the weekend, Fleury still sits between the pipes.  Can a Pens defense missing Kris Letang cover up the holes they had in Round 1?
Nashville Predators vs. St. Louis Blues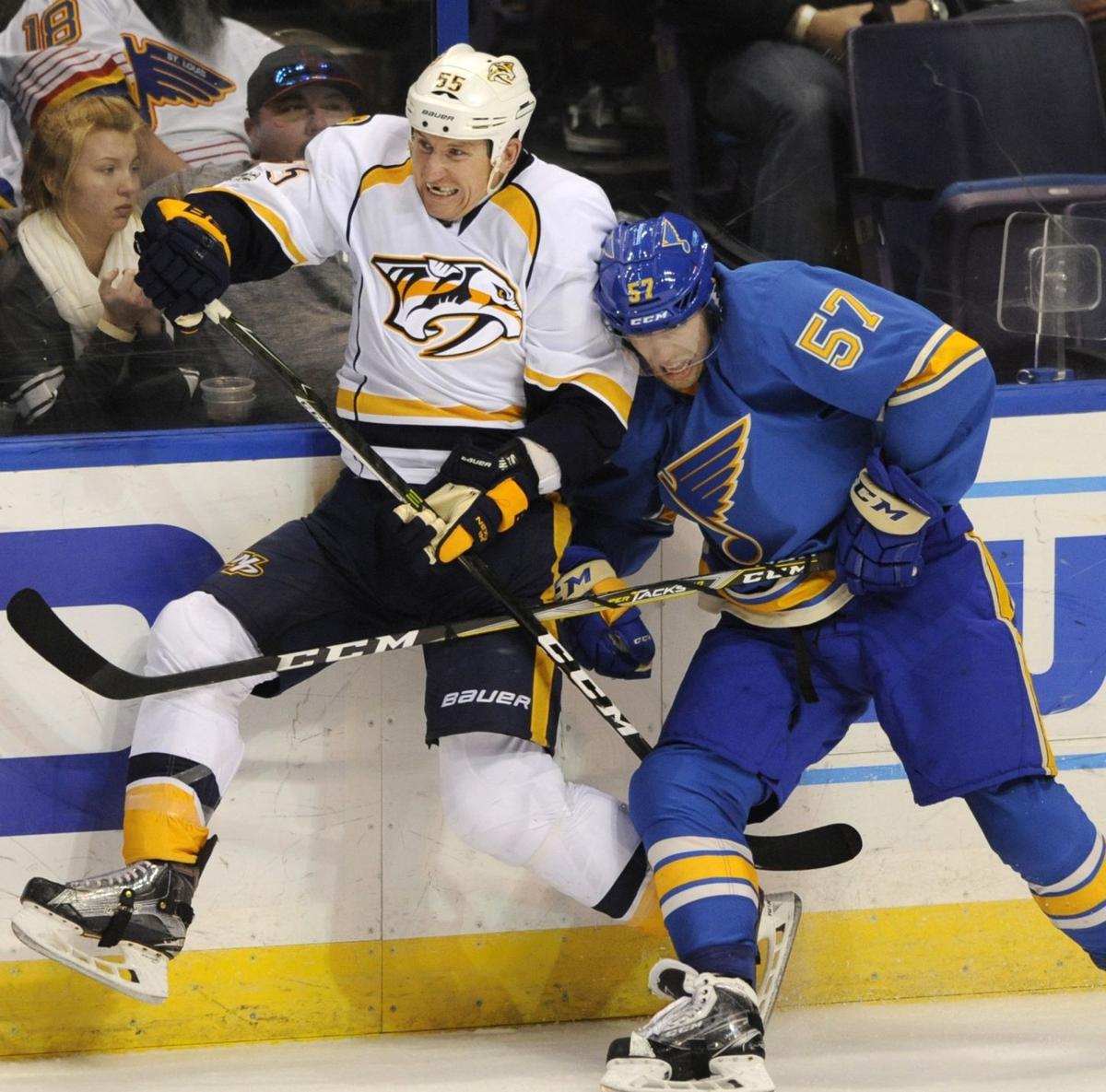 (Courtesy of stltoday.com)
2017 Season Series: Nashville 3-2-0
The Predators being here is one shock.  The way they did it is another.  Pekka Rinne allowed a measly three goals in a four game sweep while making 123 stops in net.  The blue line was a force physically on the boards and in open ice as they neutralized Chicago's stars.  What didn't get enough credit, however, was the offense.  Down two goals in Game 3, Filip Forsberg and company outhustled Chicago to win in overtime.  The Blackhawks' radio team noted in that game Nashville was energetic on both sides of the puck while Chicago was exhausted.  That sustained pressure should help them in this series too.
Netminder Jake Allen and the Blues dispatched a middling Minnesota Wild team in five games.  Allen's .956 save percentage and eight goals allowed were second-lowest in the league only to Rinne.  He took the pressure off of the offense, which was quiet, if not tempered.  The Blues perform well across the board, but they don't overpower you in one exact area.  Their penalty kill ranked third in the regular season at 84.8%.  Will it make a difference facing a Nashville team that produces better on even strength?
Edmonton Oilers vs. Anaheim Ducks
(Courtesy of nhl.com)
2017 Season Series: Edmonton 3-2-0 (Anaheim lost 2 overtime games)
Penguins/Capitals gets the attention because of the history, but this can be just as entertaining of a matchup.  These are two Pacific rivals that vied for the division title until the final week.  The Ducks and Oilers are also second and sixth in hits, respectively.  There are skill players that draw you to this matchup, but the physicality potential spices it up further.
The Oilers showed they're the real deal after taking care of defending West champion San Jose.  Connor McDavid scored four goals in his postseason debut.  But here were the goal scorers in the last two games: Patrick Maroon, Mark Letestu, Oscar Klefbom, David Desharnais, Leon Draisaitl, Anton Slepyshev and McDavid.  That's tremendous diversity on offense.  They won't always get that production from some of those 3rd and 4th line guys, but this team doesn't have to rely on McDavid to score.  Their success, however, relies on netminder Cam Talbot.  He had two shutouts in Games 2 and 3, but allowed five goals in Game 4.  They need Talbot to be on top of his game every night.
The Ducks are the NHL's hottest team right now.  Following their four games sweep over Calgary, they've won 13 of their last 15.  The special teams unit is dangerous both on the man up and the man down.  Their penalty kill ranks third in the NHL and they accrued the second-most penalty minutes in the regular season.  They have playmakers at almost every forward position on their top three lines.  Defenseman Cam Fowler may return this series now that he's resumed practice.  Their challenge is getting good goaltending.  John Gibson took a step forward as Anaheim's leading tender.  However, this is his first full postseason.  What can we expect from him?
Predictions
New York-Ottawa: Derick Brassard and Mika Zibanejad play well against their former respective teams, plus we get another good matchup in net.  But the Blueshirts are just a little deeper on offense. Rangers in 6
Pittsburgh-Washington: We get another postseason classic from these two.  The Caps push Fleury to the brink, but the Pens survive thanks to secondary contributions and speed. Penguins in 7
Nashville-St. Louis: Jaden Schwartz and Vladimir Tarasenko are talented, but they have to show up for the Blues.  The Preds employ the same gameplan they had against Chicago to prevent the Blues to get to the net cleanly.  Peter Laviolette knows how to win here. Predators in 5
Edmonton-Anaheim: Fowler can make all the difference on defense for Anaheim.  However, if Edmonton plays physical, but smart on the boards, they have the talent to overcome a veteran Ducks team.  Oilers in 7
You can 'Like' The Game Haus on Facebook and 'Follow' us on Twitter for more sports and esports articles from other great TGH writers along with Connor!
"From Our Haus to Yours"