The Nashville Predators are learning the hard way about how to win a Stanley Cup Final.
Following Wednesday's 4-1 loss to the defending-champion Pittsburgh Penguins, the Preds went down 2-0 in the series. Although they have played well at times, it doesn't show in the score sheet. Head coach Peter Laviolette said there's been a lot to be proud of in the first two games, but they need more production and better luck.
Of the 50 teams that have taken a 2-0 lead in a best-of-seven Final, 45 went on to win the series. The history isn't on Nashville's side, but there are ways for the Preds to get back in the series.
Emphasize the Positives
There's been a lot to like from Nashville in the first two contests. They've out-shot the Penguins 64-39, even preventing the Pens from shooting the puck for 37 straight minutes in Game 1.
Coming back from a three-goal deficit in the first matchup showed that this team has fight, and we've seen that all postseason. Aside from that, they've out-hit Pittsburgh and decimated them in faceoffs in Game 2. They've overall moved the puck well and they get their opportunities.
Individually, a few players have stepped up when they've needed. Mike Fisher has rebounded from an injury to notch three assists in the first two games. He's found timely passes and made good decisions with the puck. Colton Sissons continues to play well, and Laviolette has him on the power play to reward his faith.
While there are positives, there are still other areas that Nashville must improve.
Pekka Rinne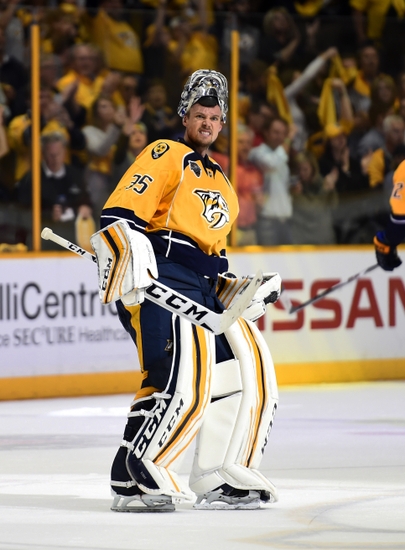 Rinne has been the Predators' MVP in these playoffs. His .942 save percentage in the first three rounds was extraordinary.
Going up against Pittsburgh's offense, however, has been a different story. He's allowed eight goals compared to just 28 saves and was chased in Game 2 after giving up three goals in four minutes to start the third period.
The statistics aren't there, and the eye test isn't pretty either. He hasn't reacted well to rebounds and is getting exposed on his glove side. Pittsburgh has a solid offense, but they haven't been as creative as they could be so far. They haven't needed to. Jake Guentzel's game-winners were closer to the point than they were to Rinne.
Whether they're nerves stemming from his first Stanley Cup appearance or his 1-7-2 career record against the Penguins, he hasn't been the same Rinne. It's not too much to ask of Rinne to continue his stellar play after his appearance. He's the rock of the Predators when their vaunted defense slips up. If he struggles, the Predators have no chance to upend Pittsburgh.
Speculation about his starting spot was up in the air after Friday's practice. Afterwards, Rinne said he knew who was playing, while backup Juuse Saros was unsure.
Rinne gives Nashville the best chance to win each night. However, if Laviolette is desperate enough, he could make the change.
Offensive Production
Fisher and Sissons are contributing on offense and they had success on the power play in the first game, but it hasn't been enough. Filip Forsberg, who leads the team in postseason goals, hasn't found the back of the net in seven shots. James Neal hasn't had the same luck. Calle Jarnkrok missed a wide-open net early in Game 2 that would've put Nashville up two goals. Even P.K. Subban, their offensive-minded star defenseman, had one goal taken away and just one shot on goal.
The Predators were going to slightly drop off with Ryan Johansen no longer playing due to thigh surgery. Their offense wasn't an issue in the first few games without Johansen, but now they're no longer getting timely goals. The officiating didn't do them any favors on Subban's non-goal, but that isn't an excuse now.
Home Ice
The Predators have been excellent this postseason no matter the venue, but they've excelled at Bridgestone Arena. The Predators are 7-1 in Nashville, allowing more than two goals just once in the process. Their penalty kill is 14-17 at home, which is important considering it was 7-7 in Nashville's last game.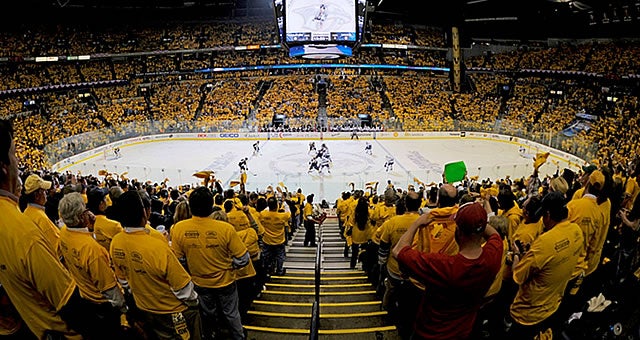 The players that have struggled in the Final have performed well at home in the playoffs too. Rinne's GAA is 1.54, if he starts today's game. Forsberg has five goals and four assists. Roman Josi has six points and a team-high 26 shots on goal.
Home ice is never the most reliable factor in determining success. Despite that, this is the height of excitement in hockey. Bridgestone Arena has sold out every regular season and postseason game this year.
It'll rock in its first-ever Stanley Cup Final home game. The players feed off of it in one way or another. Nashville can use any kind of motivation.
The Penguins have found ways to win two straight games over the Predators despite some positives on Nashville's side. However, there's room for improvement. Rather, it's a requirement for them at this point.
More contributions and improved luck combined with continued pressure on faceoffs and the boards can push Nashville in the win column and fight back in the series.
Feature image courtesy of The Denver Post/Photo by Mark Humphrey, AP
You can "Like" The Game Haus on Facebook and "Follow" us on Twitter for more sports and esports articles written by other great TGH writers along with Connor!
"From Our Haus to Yours"