Clever nicknames are rare to come by in the NFL, but The Greatest Show on Turf ranks at number one to me.  While some nicknames are silly (The Hogs) and others are a little too predictable (Thunder and Lightning), The Greatest Show On Turf stands as one of the perennial offenses to have ever touched the field – or turf for that matter.
Named after the 1952 circus movie, The Greatest Show On Earth, The Greatest Show on Turf of the St. Louis Rams seemingly entered the scene out of nowhere before quietly dissipating after the 2001 season.  The nickname originated in 2000, but it was the 1999 season that first shocked the nation so let's say this nickname lasted from 1999 – 2001.  Kurt Warner took the reigns at quarterback and had not two, not three, but four game-changers as wide receivers that defenses had to account for.
Kurt Warner's career turned out to look something like a bell curve in a statistics class – it took off during his early seasons, got sluggish in the middle, then got hot again near the end.  As a member of the greatest show on turf, Warner excelled at throwing bombs.  Though some might say all he had to do was lob the ball up to one of his fantastic receivers, a lot of his passes came over the middle and required pinpoint accuracy to be completed.  This allowed his receivers to gain lots of yardage after the catch.  Warner was named All-Pro twice and passed for 12,612 yards and 98 touchdowns just as a member of the Greatest Show on Turf.
Success in the passing game for the greatest show starts with Isaac Bruce and Torry Holt.  Both players had similar physiques at 6'0" and both turned in such impressive careers.  Bruce, the more consistent of the two in terms of hands, recorded 228 catches for 3,742 yards and 27 touchdowns in the greatest show's three year span, while Holt, the more dynamic play-maker and faster of the two, registered 215 catches for 3,786 yards and 19 touchdowns.  During their careers, Bruce had four pro bowl years and Holt had seven.
But the talent in St. Louis didn't end there as head coach Dick Vermeil liked to spread out the offense in three, four and sometimes five receiver packages.  Third and fourth wide receivers Az-Zahir Hakim and Ricky Proehl provided depth at the position that most coaches can only have in their dreams.  If not standing out for his unusual name, Hakim was making a name for himself as a reliable third down outlet, catching 67.8% of the passes thrown his way for the greatest show.  Hakim would go on to start more games with other teams, but his best days were in Vermeil's system, where he logged 128 catches for 1,785 yards and 15 touchdowns as a member of the Greatest Show on Turf.
Ricky Proehl, who was rarely a team's number one or two receiver, somehow managed to play 17 years in the NFL, longer than any other receiver of the greatest show.  Proehl wasn't flashy or speedy, but contained good instincts and route-running capability.  He was another clutch performer even if he didn't play every down, catching a touchdown in the postseason for all three seasons the greatest show was around.  His 73.2% catch percentage was also the highest on this receiving squad.  Never count out Proehl when you talk about the greatest show on turf; he was a dangerous but under-looked fourth receiver.
Let's not count out the running back, and probably the biggest star of the greatest show on turf, Marshall Faulk.  A lethal weapon and as versatile as they come, Faulk ran for over 1,300 yards each season and earned All-Pro honors for three years straight (1999-2001).  That's more insane than Charles Manson.  But what really separates Faulk from other running backs is that he is probably the best receiving back of all time.  In addition to 1,381 rushing yards in 1999, Faulk also recorded over 1,000 yards on the receiving end.  That to me, is the most impressive season a running back has ever had.  Any time a running back can not only run the ball effectively, but catch like a wide receiver, they've sold me on their greatest.  For the greatest show on turf's short run, Faulk ran the ball 766 times for 4,122 yards (5.4 average), for 37 touchdowns.  He also caught 251 passes for 2,643 yards (a whopping 10.5 average), and 22 more scores.  Speed, elusiveness, shifty hips, power, vision and receiver hands.  Was there anything Marshall Faulk couldn't do?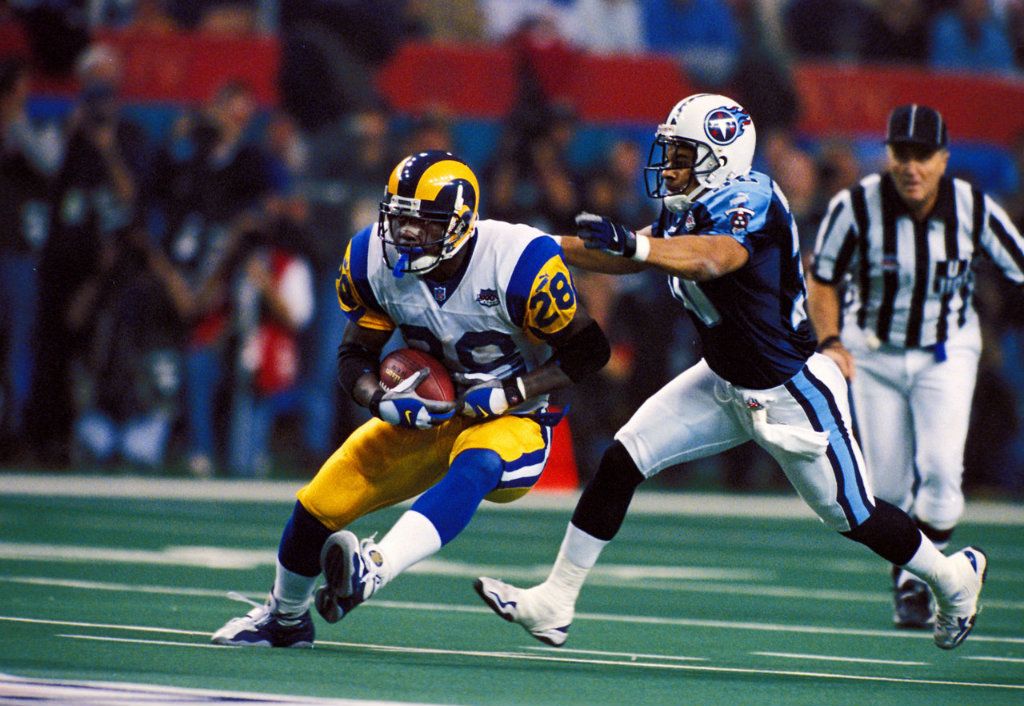 Given the stats I've listed, why didn't this nickname and the dominant victories in St. Louis continue for more years?  My answer is a few reasons.  First, the NFL stands for "not for long" if you start playing poorly, and Kurt Warner couldn't come close to his success after the 2001 season and was released just two seasons later.  The Rams also didn't have a terrific defense by any means.  Some games were shootouts during the greatest show's run, but their defense got sloppier as the years went by.  If you look at the best teams to win the Super Bowl, they may not have a good offense, but they almost always have a good defense.  Nevertheless, the Greatest Show on Turf stands as a special core group of players and as the last creative nickname for an offense.