The first three rounds of the 2019 NFL Draft are over, and the last four rounds will finish up today. So far, only five quarterbacks have been taken off the draft board. Three of those quarterbacks were drafted in Thursday's first round. Here is a situational breakdown for the 2019 draft's three first-round quarterbacks:
Kyler Murray
With the first overall pick, the Arizona Cardinals selected Oklahoma quarterback Kyler Murray. Murray had originally planned to play baseball for the Oakland Athletics before last season. But after having a tremendous college football season in 2018 and winning the Heisman Trophy, he bet on himself. Murray's decision to take his talents to the NFL instead have paid off already.
The Cardinals used their first-round draft pick on a quarterback just last year. However, they had been interested in Kyler Murray throughout much of the pre-draft process. While he is possibly the smallest quarterback in the NFL, at only 5-foot-10 and under 210 pounds, he showed great playmaking ability in college. Murray was able to make accurate throws to all parts of the field as well as use his legs to get out of trouble.
Cardinals new head coach Kliff Kingsbury coached in the Big XII, where Murray also played. He had been on video back in the fall saying if he had the number one pick, he would certainly take Kyler Murray. Well, he had the number one pick and his team did take Murray. That meant that they had two first-round quarterbacks on their roster, one from each of the previous two drafts.
Showing their full commitment to Kyler Murray, the Cardinals traded 2018 first round pick Josh Rosen on Friday to the Miami Dolphins for a second-round pick, which was the number 62 overall selection, as well as a fifth-round pick in next year's draft.
Daniel Jones
Of the three first-round quarterbacks this year, Daniel Jones was the most surprising pick because of how high he went. The New York Giants shocked the entire NFL on Thursday by drafting Duke's Daniel Jones with the number six overall pick. Most teams and scouts had Jones rated as a late first-round pick at best, but clearly, the Giants had him much higher. New York also had the number 17 overall pick, which they acquired from the Browns as part of the Odell Beckham Jr. trade.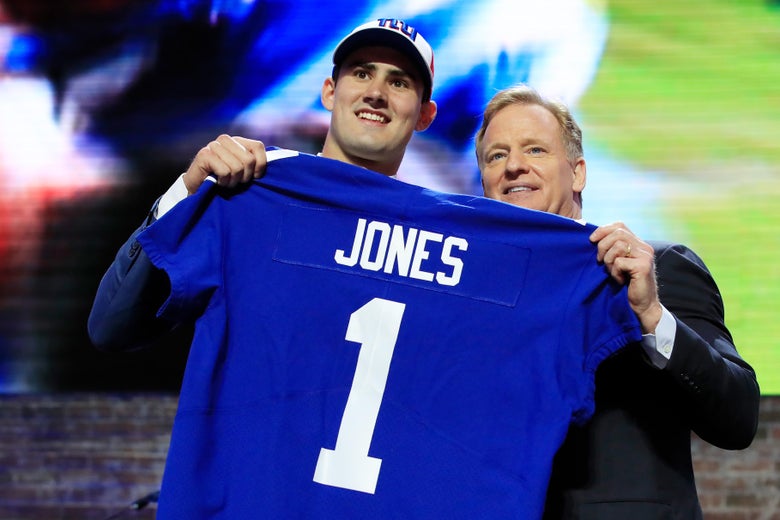 The Giants probably did not need to take Jones that high. There were many stud defensive players still on the board at that point. Specifically, there were edge rushers such as outside linebacker Josh Allen and defensive linemen such as Ed Oliver, both positions of need for New York. There is a high chance Jones still would have been available at 17 if New York waited. The Giants did not want to risk another team drafting him.
Jones has neither supreme athleticism or devastating arm talent and power. What the Giants are counting on, though, is his pre-snap ability to read the defense and get his receivers open. When he has protection and his receivers are open, Jones is accurate and makes the right decisions. However, Jones needs to get faster, both in mentally processing reads as well as physically with his footwork and arm mechanics. The speed of the NFL game is significantly faster than that of college, so he will have to adjust accordingly.
A major reason the Giants drafted Jones is likely that he has connections with the Manning family. His head coach at Duke, David Cutcliffe, was the offensive coordinator in college for both Peyton and Eli Manning. In addition, Jones occasionally worked out with current Giants quarterback Eli Manning when Manning visited Cutcliffe at Duke. The Giants want to sit Daniel Jones for a couple of years and play Manning, which could ultimately benefit Jones. Rather than have a competitive relationship with his heir at quarterback, Manning will most likely be a mentor for Jones.
Dwayne Haskins
Haskins grew up in New Jersey as a Giants fan. The former Ohio State quarterback was hoping throughout the entire draft process to land with his favorite team. Ironically, New York passed on him and he ended up with their division rivals, the Washington Redskins.
Dwayne Haskins and Kyler Murray were the two quarterbacks frequently compared as the top signal-callers in this year's draft class. Haskins now has a chip on his shoulder after falling to the middle of the first round.
Haskins was only a starter for one season in college. However, he both has the tools to make it in the Pros and produced well in college. He has the size, arm strength and accuracy to be a reliable NFL starter. He also showed great leadership towards his teammates at Ohio State. In addition, he showed great decision making, as represented by his 70% completion percentage, 50 touchdowns and only eight interceptions.
The Redskins have Case Keenum as their number one quarterback currently, but Haskins very well may beat him out for the starting spot. If he does, he will get a chance to prove the Giants wrong twice a year, every year, something he seems eager to do.
You can "Like" The Game Haus on Facebook and "Follow" us on Twitter for more sports and esports articles from other great TGH writers along with Pranay! 
"From Our Haus to Yours"