Tennessee Titans- Laremy Tunsil, OT, Ole Miss
The Titans would prefer to take a defensive player, but would settle for Tunsil if they don't find any takers to trade down. He would help protect Marcus Mariota, because the Titans allowed the most sacks in the NFL last season. Getting protection for Mariota is a priority for the Titans this offseason. Tunsil is as responsible as anyone for the success at Ole Miss the past few years. He did miss seven games this season due to a suspension for receiving extra benefits.
Cleveland Browns- Carson Wentz, QB, North Dakota State
Cleveland just signed Robert Griffin III, but have said they still plan on drafting a quarterback. Hue Jackson likely wants Carson Wentz because he prefers tall, strong-armed quarterbacks. Wentz had a great pro day that cemented this pick for Browns.
3. San Diego Chargers- Jalen Ramsey, S/CB, Florida State
The Chargers are losing Eric Weddle at safety and already need corner help. They will need a guy like Ramsey, who will be versatile in the secondary. Ramsey had a great combine and will be a good fit for the Chargers.
Dallas Cowboys- Joey Bosa, DE, Ohio State
The Cowboys don't have a great pass rush or secondary, and Bosa falls to them in this mock draft. Bosa had a good combine and is the best player available. Jerry Jones may be tempted to pick a quarterback or skill-position player, but if the Cowboys plan on winning next season, they need to take Bosa.
Jacksonville Jaguars- Myles Jack, LB, UCLA
The Jaguars have to improve their defense this off-season. Jack might end up being the best player in this class. He is very athletic, with the ability to cover and stop the run.
6. Baltimore Ravens-Vernon Hargreaves, CB, Florida
Baltimore can either get an offensive lineman or secondary help here. Their secondary was terrible, so they will probably fill the bigger need. Hargreaves is a good shutdown corner, who would immediately improve the Ravens' secondary.
San Francisco 49ers- Jared Goff, QB, Cal
The 49ers need a quarterback unless Chip Kelly decides to go with Colin Kaepernick. Goff is a local kid who is the best quarterback in the class. He will be the best quarterback that Chip Kelly has coached and will be a starter from day one.
     8. Philadelphia Eagles-Ezekiel Elliott, RB, Ohio State
Demarco Murray is now a Titan, Ryan Matthews is injury prone and Darren Sproles is a thrid down back. Elliot can be a workhorse running back for the Eagles. Some NFL scouts say he is the best running back prospect since Adrian Peterson. That's crazy when you think of running backs like Todd Gurley and some other first round running backs, but that means eight would be a good spot for Elliot. He has great vision, but is a liability in the pass game, whether it is catching or blocking.
Tampa Bay Buccaneers- Emmanuel Ogbah, DE, Oklahoma State
The Buccaneers need a better pass rush and can get a strong defensive end in Emmanuel Ogbah. He was quick off of the ball for Oklahoma State last season and may have the ability to lead the Bucs in sacks next season. Ogbah had a great senior season, with only two games without a half-sack, and can provide a good pass rusher for the Giants.
10. New York Giants- Deforest Buckner, DE/DT, Oregon
Buckner has a lot of talent, but didn't produce much in college. The Giants seem to get the most out of their defensive linemen and can help Buckner reach his potential. Their defense was awful last season and Buckner can help provide the Giants with a pass rush, that they lacked last season.
11. Chicago Bears- A'Shawn Robinson, DE/DT, Alabama
A'Shawn Robinson had a great season for Alabama and is a perfect fit for the Bears. Chicago needs defensive ends that fit their 3-4 system and they won't find any better than Robinson.
New Orleans Saints- Jarran Reed, DT, Alabama
New Orleans will take anyone who can remotely play defensive line for their team because they are so desperate. Reed will help stop the run, but won't help much with the pass rush.
Miami Dolphins- Ronnie Stanley, OT, Notre Dame
If Elliot is off the board, the Dolphins can improve their offensive line. They really need guards, but Stanley is too good to pass up at this point. Stanley is a top ten talent, but some issues with his work ethic have come up.
Oakland Raiders- Leonard Floyd, DE/OLB, Georgia
Oakland finally has their offense on the right track. Now they need some defensive players to put with with Khalil Mack. Floyd is a versatile player who can rush the passer and cover really well.
Los Angeles Rams-Laquon Treadwell, WR, Ole Miss
The Rams have said that they are satisfied with their quarterback position. If that is the case they had better get some more weapons. Treadwell is an athletic freak, who has great hands. He will be able to start on the outside for the Rams next season.
Detroit Lions- Sheldon Rankins, DT, Louisville
The Lions still haven't adequately replaced Ndamukong Suh and Nick Fairley, so taking a defensive tackle would really help their run defense.
Atlanta Falcons- Shaq Lawson, DE, Clemson
Atlanta had a league low 19 sacks last season. They will be targeting pass rushers again this season. Lawson is a pass rusher who uses his strength and moves to get toe the quarterback. He will at the least provide good depth on the defensive line.
Indianapolis Colts- Darron Lee, OLB, Ohio State
The Colts had a terrible defense last season and will want to get a play-maker on that side of the ball. Lee impressed at the combine with his speed, but he is also a good tackler and is able to provide a decent pass rusher for the Colts.
Buffalo Bills- Robert Nkemdiche, DL, Ole Miss
Nkemdiche has a lot of concerns about his character after an incident involving marijuana before Ole Miss' bowl game. He has a lot of potential and versatility, which makes him an intriguing prospect. Rex Ryan will overlook his character issues to get a player whose value is greater than his draft position.
New York Jets- Jack Conklin, OT, Michigan State
Conklin is a good tackle who will probably end up going higher, but will be snatched up by the Jets if he falls this far. This pick makes even more sense now that D'Brickashaw Ferguson has chosen to retire. Conklin would be a good value pick at this point and fill a need for the Jets without Ferguson.
Washington Redskins- Kenny Clark, DT, UCLA
Terrance Knighton just signed with the New England Patriots so the Redskins need someone to fill in on the interior of the defensive line. Clark has to put on a few pounds, but is more than capable of being a solid nose tackle.
Houston Texans- Will Fuller, WR, Notre Dame
Fuller had a great combine and is now arguably the best wide receiver in the class. He is the best deep threat in the class and has amazing speed. The Texans need a wide receiver to pair with Deandre Hopkins.
Minnesota Vikings- Josh Doctson, WR, TCU
The Vikings just cut Mike Wallace and would like another receiver to pari with Stefon Diggs. Doctson had a great season at TCU and showed the ability to make big plays. Teddy Bridgewater could have a career year with an extra target and because he is now playing half of his games in a dome.
Cincinnati Bengals- Andrew Billings, DT, Baylor
The Bengals need to find a replacement for Domata Peko. He continues to get worse every season and the Bengals do nothing about it. Billings will be the steal of this draft. He is very quick off of the ball and reminds me of Aaron Donald. The Bengals can pair him next to Geno Atkins and have the best defensive line in the NFL.
Pittsburgh Steelers- Eli Apple, CB, Ohio State
The Steelers desperately need secondary help and will probably pick a corner back if they decide they don't want to stash another linebacker on their depth chart. Apple was the best corner for Ohio State last season and would get playing time from day one with the Steelers.
Seattle Seahawks- Michael Thomas, WR, Ohio State
The Seahawks don't have too many needs. Thomas is a good receiver, but had a tendency to disappear at times this season. Russell Wilson will get the most out of Thomas.
Green Bay Packers- Reggie Ragland, ILB, Alabama
Clay Matthews is better at outside linebacker and the Packers have said they will move him back there next season. They will need to get a good inside linebacker this off-season and will hit the jackpot if they can get Ragland at 27. He will help the Packers stop the run next season.
Kansas City Chiefs- Taylor Decker, OT, Ohio State
Decker would be an upgrade over Eric Fisher at tackle, but could play guard if he was needed to. He has been part of the reason Ezekiel Elliot has been so successful with his tremendous run blocking, but he is also a decent pass blocker. The Chiefs need to make sure Alex Smith gets sacked less as he gets older.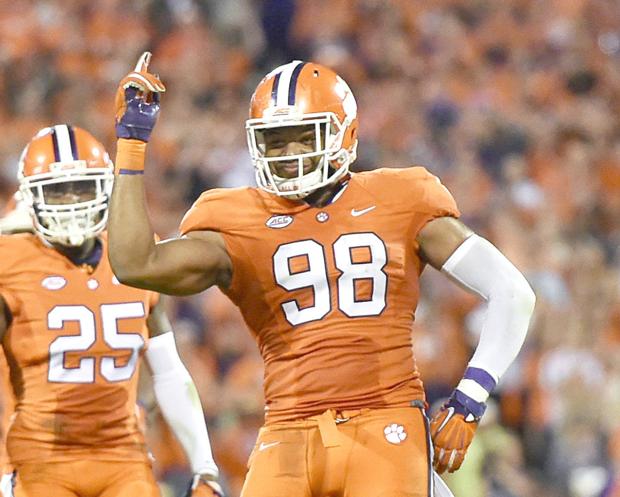 29.Arizona Cardinals- Kevin Dodd, DE/OLB, Clemson
The Cardinals need to improve their defense, as their offense was outstanding in 2015. Dodd is capable of playing outside linebacker for the Cardinals, who run the 3-4 defense.
30.Carolina Panthers- Makensie Alexander, CB, Clemson
The Panthers have a great defense, but could use someone to pair with Josh Norman. Alexander was an elite corner in college football season and helped Clemson reach the National Championship Game.
31. Denver Broncos- Paxton Lynch, QB, Memphis
Denver lost two quarterbacks this off-season and replaced them with Mark Sanchez. They developed Brock Osweiler well, and Lynch fits the same mold. He differs from Osweiler in that he is more mobile, but has a weaker arm.
Make sure to follow The Game Haus on Facebook and Twitter, post on the forums and keep on reading!