The NFL preseason started last week and we are in the middle of training camp. However, there are still some notable free agents left on the market. This is due to reasons such as teams having concerns of players injury history or players simply wanting to wait. One of these notable agents is 26-year-old former Pro Bowl running back Jay Ajayi.
After playing two and a half seasons on the Dolphins and making a Pro Bowl in 2016, Miami traded Ajayi to the Philadelphia Eagles in 2017. He was a key piece in Philly's Super Bowl run that year and got off to a good start in 2018. However, he suffered a season-ending torn ACL in week five last season before becoming a free agent. Ajayi's torn ACL from 2018 combined with previous concerns about his knees are most likely teams away from signing him.
However, some team will eventually take a chance on Ajayi and probably give him a one year, "prove-it" deal. After all, he just recently turned 26 years old and doesn't have too many NFL miles on his body. In addition, he is a powerful, explosive runner who can break defenses down and greatly improve a playoff contender's backfield. Here are two of Jay Ajayi's potential landing spots this offseason:
Tampa Bay Buccaneers
The Buccaneers are the NFL team in most need of an addition to their running back group. Their current duo of Peyton Barber and Ronald Jones simply did not cut it last year. If Tampa Bay is truly looking at making a playoff push this year, they need a sustainable running game. Unless Jones makes an unexpected jump this season, they currently do not have the players for that.
New head coach Bruce Arians said in June that the team doesn't need an elite running back and will not pay a hefty price for one. Because of his devaluing of the position, the Buccaneers did not chase Le'Veon Bell in free agency. It seems like they will also stay away from a potential trade for Chargers running back Melvin Gordon. However, Jay Ajayi is a guy Tampa might be willing to take a chance on.
Because of Ajayi's injury concerns and drop in market value, his 2019 salary will be relatively low compared to his talent. The Buccaneers have the least cap space remaining in the NFL at just about three million dollars. That might actually be enough to sign Ajayi for this season on the previously mentioned one-year, "prove-it" deal. Ajayi would add power and playmaking ability, which is currently nonexistent, to Tampa Bay's backfield. He will force defenses to pay attention to the running game and potentially add an extra defender or two into the box. This will open up the passing game for quarterback Jameis Winston and allow him to make better decisions with the football.
Adding Jay Ajayi would be a low-cost addition with a high potential reward for this season. Ajayi would not only improve the Buccaneers running game, but he would also help improve Jameis Winston's passing production.
Houston Texans
Earlier this week, the Texans released 2017 draft pick D'Onta Foreman due to concerns with his work ethic. They still have Lamar Miller as a serviceable number one back, but would certainly benefit from adding another rushing option. While Houston's AFC South rival, the Indianapolis Colts, had interest in Jay Ajayi earlier this offseason, the Colts scooped up Foreman yesterday. That leaves the door open for the Texans to add Ajayi and create a strong one-two punch in their own backfield.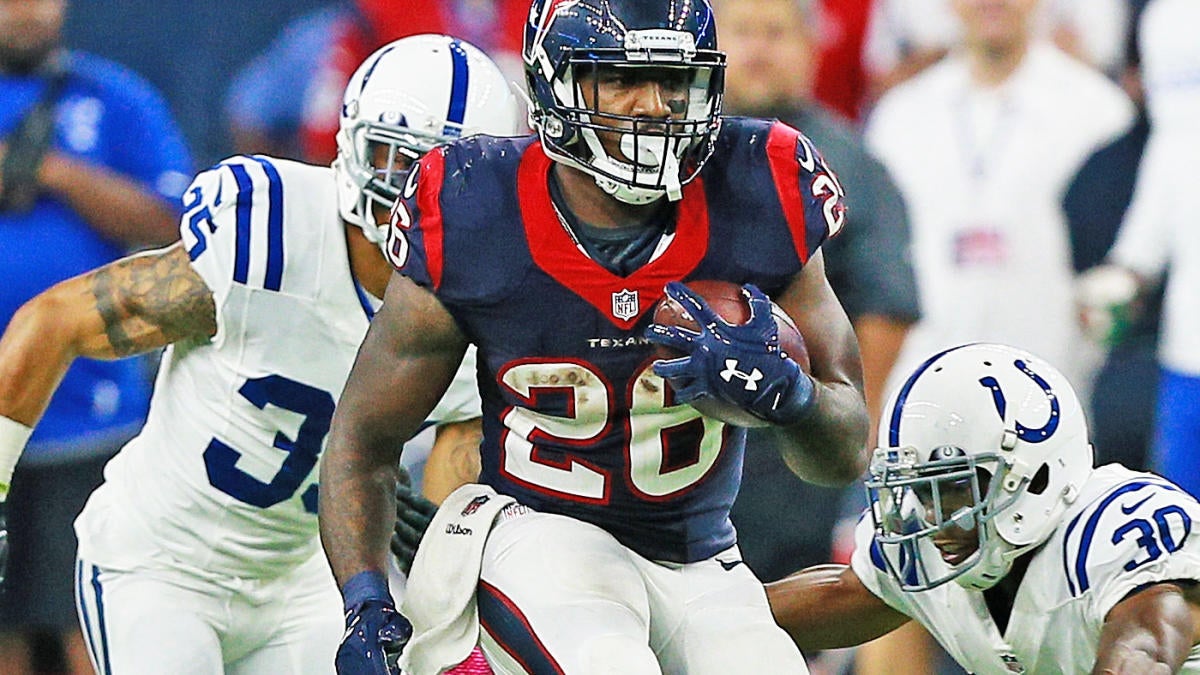 Lamar Miller has been a solid option for the Texans over the previous three seasons. averaging 4.1 yards per carry. But while he is a solid three-down back with decent hands in the receiving game, Miller lacks power and explosive playmaking ability. That is where Jay Ajayi comes in. Ajayi is great at pounding defenders and occasionally breaking out for huge runs. Miller and Ajayi would complement each other well in the backfield and improve the Texans' already potent offense.
Featured Image from FranchisesportsUK
You can "Like" The Game Haus on Facebook and "Follow" us on Twitter for more sports and esports articles from other great TGH writers along with Pranay! 
"From Our Haus to Yours"