In early July, Los Angeles Chargers running back Melvin Gordon requested a new contract. He has been holding out of training camp and said without a new deal, he would demand a trade. Gordon rejected the Chargers' highest offer, which was at $10 million-per-year. Los Angeles is reportedly unwilling to increase their offer. This could be due to their talent behind him at the running back position in Austin Ekeler and Justin Jackson. It could also be due to the fact that Gordon has suffered late-season injuries in three of the last four seasons. Regardless, Melvin Gordon has now officially demanded that the Chargers trade him.
Gordon is not in the elite tier of guys such as Le'Veon Bell, who held out last year, and Ezekiel Elliott, who is currently holding out. However, he is a very good running back who has made the Pro Bowl twice in the last three seasons. Gordon had 885 rushing yards last season in just 12 games on a terrific 5.1 yards a carry. He also had 490 receiving yards and 14 total touchdowns. He is also only 26 years old and entering his fifth season, so he has a few prime years left.
There are certainly teams around the league who would benefit from trading for a running back like Melvin Gordon. Here are Melvin Gordon's two best fits if the Chargers do in fact trade him.
Indianapolis Colts
The Colts could be one Melvin Gordon away from being the class of the AFC. They have a loaded roster with terrific, young players on both sides of the ball. Adding Melvin Gordon to an offense that already has Andrew Luck, TY Hilton, a strong tight end duo and a very good offensive line would make it unstoppable. Gordon could split carries with Marlon Mack to keep both of them fresh and healthy for the playoffs. The Colts could also use Mack as an appealing trade piece for Gordon and still have the explosive Nyheim Hines as their second running back.
Indianapolis has over $45 million remaining in cap space, so they could certainly afford to give Gordon the contract he wants. They also have picks and young players, both on offense and defense, who the Chargers may be interested in. The Colts made the second round of the playoffs last season and are still an improving team. They are certainly looking to compete for championships over the next few years as Andrew Luck hits the prime of his career. If Indianapolis wants to make the most of Luck's prime, this year is a great opportunity to start attacking at a Super Bowl run.
While their current backfield is no joke, they do not have a star at the position. Gordon would be a huge addition for Indianapolis. He could help them jump from being just a contender to one of the favorites for Super Bowl LIV.
Chicago Bears
Similarly to the Colts, the Chicago Bears also have a young, talented roster with stars all over the place and championship aspirations. While their quarterback position is not as proven, Mitch Trubisky showed improvement last year and played well in their Wild Card game. The Bears traded away former Pro-Bowl running back Jordan Howard this past offseason. Howard was their leading rusher each of the last three seasons. Now Tarik Cohen, who was their explosive play guy in the last two seasons, is set to be Chicago's lead back.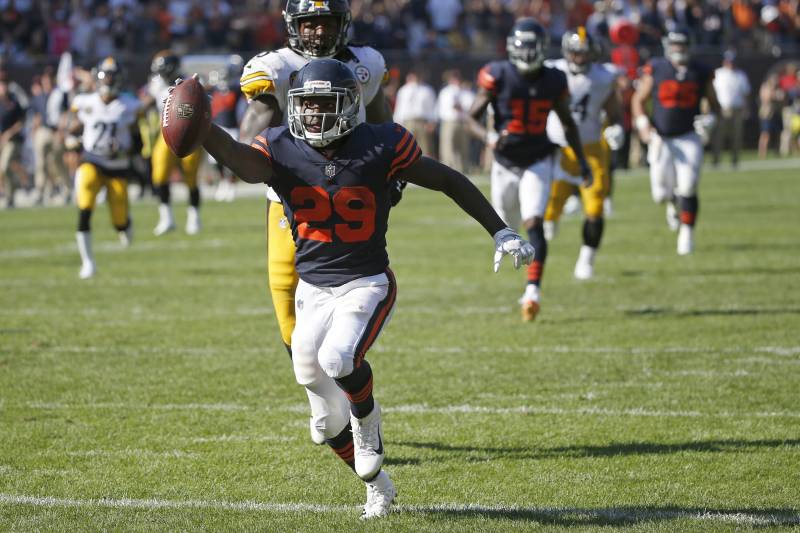 Trading for Gordon would definitely be an upgrade at the running back position. While Chicago is hoping third-round draft pick David Montgomery can be a feature back, he is just an unproven rookie. Adding Gordon would allow Cohen to revert to his explosive play and pass-catching role out of the backfield. A primary reason the Bears traded Howard was that due to his lack of production catching passes, he did not fit head coach Matt Nagy's style of offense. Gordon is not only a great rusher but he is also a very good pass-catcher out of the backfield. He had over 400 yards receiving each of the last three seasons on just about nine yards-per-reception. With a Gordon/Cohen duo, opposing defenses would have to respect the backfield pass-catchers no matter who is in the game.
Melvin Gordon would be a good fit for the Bears offense and would take the load off Trubisky. They have about $16 million in cap space, which is just enough to Gordon's salary expectations. If Chicago is serious about winning now, trading for Gordon would be a huge step in the right direction.
Featured Image by USA Today
You can "Like" The Game Haus on Facebook and "Follow" us on Twitter for more sports and esports articles from other great TGH writers along with Pranay! 
"From Our Haus to Yours"