Every year, week 15 and week 16 carry the most playoff drama, even more than week 17. While the final week usually decides some playoff spots, 26 of 32 teams are still alive and kicking heading into Week 15. Because of this, every single game this week actually has playoff relevance for at least one of the participating teams. Yes, even the 4-9 Falcons, who are playing the 3-10 Cardinals, are still mathematically alive. We know which star players teams are counting on to come through and lead them to victory. However, each game has a specific player, an X-factor, who could change the outcome of the entire game.
Here are the biggest Week 15 X-factors in each game, starting with the two games on Saturday evening:
Houston Texans @ NY Jets
X-factor: Jets DE Leonard Williams
The Texans are a well-rounded team, but have one specific weakness that holds them back at times, the offensive line. A limited team like the Jets must take advantage of this weakness. Their best defensive-lineman, Leonard Williams has the ability to wreck the Texans O-line, both in the run and pass game. If he can lead a run-stuffing d-line AND get to Deshaun Watson, it will give someone like ball-hawk Jamal Adams to make game-changing plays.
Cleveland Browns @ Denver Broncos
X-factor: Browns OL Coach Bob Wylie
Bob Wylie isn't exactly a player, but he needs to put the Browns offensive line in positions to keep BakerMayfield clean. He must be perfect with his protection packages to give the quarterback and running back time to make plays; otherwise, Denver's dynamic duo of Von Miller and Bradley Chubb will feast in the backfield all day long.
Arizona Cardinals @ Atlanta Falcons
X-factor: Falcons WR Calvin Ridley
Falcons' top receiver Julio Jones is going to get his, but Patrick Peterson will most likely stop him from dominating the game. Because of that, Calvin Ridley needs to step up on the other side. He had a stretch mid-season when he was contributing a lot, but hasn't done much in the last five games. Ridley has to step up for the Falcons offense.
Miami Dolphins @ Minnesota Vikings
X-factor: Dolphins CB Minkah Fitzpatrick
Breakout cornerback Xavien Howard was having a great season, but got injured and is listed as doubtful for this game. If rookie Minkah Fitzpatrick indeed is the top corner in Sunday's game, he will have his work cut out for him against Adam Thielen and Stefon Diggs. No matter who he is covering, Fitzpatrick has to stay focused and keep the receiver in front of him. Otherwise, this game could get away from Miami in a hurry.
Dallas Cowboys @ Indianapolis Colts
X-factor: Colts TE Eric Ebron
Andrew Luck's connection with TY Hilton is back, as shown by last week's 199-yard receiving output. However, the Cowboys have been terrific at defending receivers this season; they have allowed the sixth least receiving yards by wide receivers in the NFL, but are middle of the pack against tight ends, at number 13. Ebron is in the midst of a terrific, possibly Pro-Bowl year, with already 12 touchdowns on the season. The Colts need him to step up and make plays, especially if Dallas takes out Hilton's impact.
TB Buccaneers @ Baltimore Ravens
X-factor: Ravens CB Jimmy Smith
The Ravens have the league's number one overall defense, including the number three passing defense. On the other hand, the Buccaneers have the league's number one overall (and passing) offense, led by receiver Mike Evans. Baltimore's top corner Jimmy Smith will most likely on Evans all game. If he can prevent big plays and stop Evans in the red zone, Baltimore will be fine. If Evans beats him a lot, especially for touchdowns, the Ravens will be in trouble.
Detroit Lions @ Buffalo Bills
X-factor: Bills WR Robert Foster
The Bills found a diamond in the rough with Robert Foster, who came up off the practice squad just a few weeks ago. Out of four games in his latest stint on the active roster, Foster has three with over 90 yards receiving. Quarterback Josh Allen will get yards on the ground, but they need to be effective in the passing game too. For that to happen, Robert Foster has to have another big week.
GB Packers @ Chicago Bears
X-factor: Packers Slot WR Randall Cobb
Remember back in week one, when Aaron Rodgers made his 20 point comeback against the Bears? It was Randall Cobb who took a 10-yard slant with 2 minutes left and turned it into a 75-yard, game-winning touchdown. This week, the Bears announced that cornerback Bryce Callahan, who is rated the number 8 slot corner this year by PFF, is out for the season. Green Bay needs to take advantage of this and get the ball in Randall Cobb's hands to have a chance this week.
Washington Redskins @ Jacksonville Jaguars
X-factor: Redskins RB Adrian Peterson
Washington is down to its fourth quarterback, Josh Johnson. At this point, its offense will go where what is remaining of Adrian Peterson will take them. AP has been inconsistent this year, as expected by a 33-year old running back. Even a vintage performance will not guarantee this injury-depleted team a victory but it will at least give them a chance.
Tennessee Titans @ NY Giants
X-factor: Titans RB Derrick Henry
Derrick Henry's masterful performance last game was so dominant, it brought his season YPC up from 3.7 to 4.9. If he builds off that and has another great game, Tennessee should handily win this game. But if he reverts to his former self, so will Tennessee, which was an unpredictable team that could beat the best and lose to the worst.
Seattle Seahawks @ SF 49ers
X-factor: Niners DT DeForest Buckner
The Niners have a very small shot of winning this game, but if they are to do so, they have to stop the run. But not only does DeForest Buckner need to help plug the middle running lanes, but he also has to get pressure on Russell Wilson. Buckner has actually shown prowess as a pass rusher this season, with nine sacks from the interior. But against Wilson getting through the line is not enough; Buckner has to alter throws and take Wilson down.
NE Patriots @ Pittsburgh Steelers
X-factor: Steelers S Sean Davis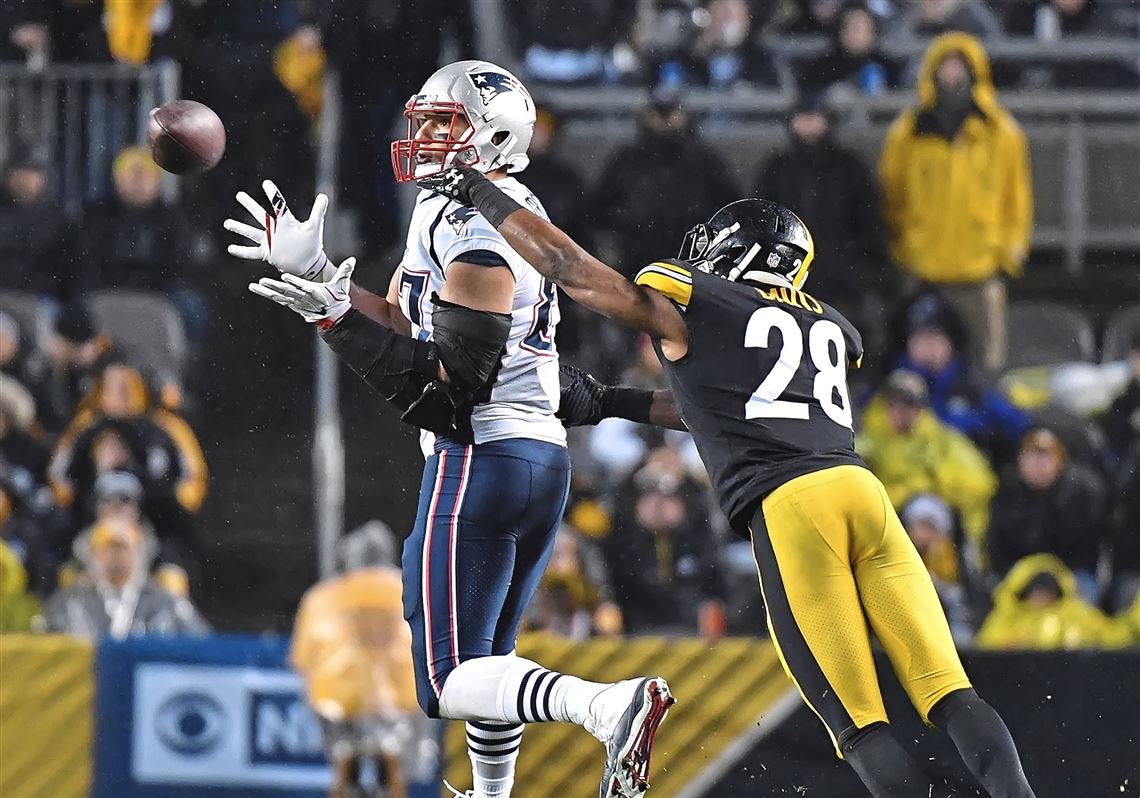 Last year when the Patriots had to go on a drive to make a fourth-quarter comeback, they went to Rob Gronkowski four times, including the eventual game-winning touchdown.
At that point, Sean Davis was still developing and had no shot at stopping Gronk. In the year since then, Davis has developed a lot and is now taking stopping Gronkowski as a challenge. If he can somehow slow down the Pats star tight end, especially at the end of the game, Pittsburgh has a good chance in this game.
Philadelphia Eagles @ LA Rams
X-factor: Eagles QB Nick Foles
With the news that Carson Wentz has fractured back vertebrae, backup quarterback Nick Foles, always unpredictable, is clearly the X-factor. If he can pull out some of the magic he showed in last year's Super Bowl run and play at his peak, the Eagles will have a chance to beat the powerhouse Rams. But if Foles is having one of his low days, this game will be a blowout in favor of LA.
NO Saints @ Carolina Panthers
X-factor: Panthers LB Shaq Thompson
When Alvin Kamara has a great game along with Drew Brees, the Saints are unstoppable. Thompson has the speed to stick with Kamara and has previously shown the ability to bring him to the ground. If the Panthers follow the Cowboys' formula, treating Kamara as a receiver and playing Thompson on him man-to-man, they have can diminish his effect on the game. Shaq Thompson must stay disciplined with his coverage and tackling on Kamara.
Featured image from AdvancedSportsLogic
You can "Like" The Game Haus on Facebook and "Follow" us on Twitter for more sports and esports articles from other great TGH writers along with Pranay! 
"From Our Haus to Yours"