The 2021 NFL Draft will be a great event for teams to start building for their future. Here is the Zaven Collins 2021 NFL Draft Profile.
Zaven Collins Background
Position: Linebacker
Size: 6-foot-4, 260 pounds
Class: Redshirt Junior
2020 stats: 54 total tackles, 7.5 tackles for loss, 4.0 sacks, 4 interceptions, 2 passes defended, 2 forced fumbles, 1 fumble recovery, 2 touchdowns
Collins was a solid player for his whole career, but really took a huge step forward in 2020. Because of his big year, he decided to declare for the 2021 NFL Draft.
In high school, Collins played quarterback and on defense and was first-team all-state in Oklahoma. He was overlooked by some of the major schools, but Tulsa gave him a chance. After redshirting his first year on campus, Collins started to produce. He had 85 total tackles, 9.5 tackles for loss and a sack as a redshirt freshman. The team did not have success that year, as they finished with a 3-9 record. When Collins was a sophomore, he had 97 total tackles, 8.0 tackles for loss and 2.0 sacks. The team marginally improved to a 4-8 record. For his final season playing college football, Collins had 54 total tackles, 7.5 tackles for loss, 4.0 sacks and four interceptions, two of which were returned for touchdowns. The Golden Hurricane went 6-3, but with Collins sitting out, they lost their bowl game.
After improving so much as a redshirt junior, Collins decided to take his talents to the next level. He is currently projected to be a first or second round pick in the 2021 NFL Draft.
Strengths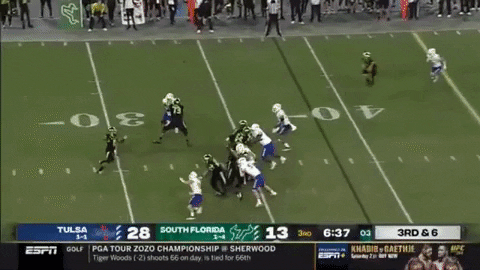 The first thing that will be apparent about Collins is his size. He has great size for a linebacker at 6-foot-4 and 260 pounds. This helps him be a decently versatile player, as his size allows him to get after the quarterback, drop in coverage and stop the run. He is a well-built player who won't need to add any muscle to be ready for the next level.
Collins is great at run defense. He is able to read running plays very well from the start. Once he knows where the ball is going, he can weave in and out of traffic to make a play on the ball. Collins is a good tackler who is capable of finishing the play once he gets to the ball. His tackles for loss prove that he can get to the ball-carrier quickly.
When asked, Collins can get after the quarterback well for an off-ball linebacker. He can blitz on the edge and win. When asked to blitz up the middle, he can fake out offensive linemen with a delay that has been effective. Defensive coordinators will love to use him in a lot of different blitzes, as he has the capability to change plays with his pressure.
Weaknesses
Collins' speed and change of direction will come into question. While his size is an asset, NFL teams may ask him to slim down to increase his speed at the next level. If he can play faster, this will help him chase down ball-carriers in pursuit better and cover well. His change of direction can also give him problems, as shiftier players can out-maneuver him at times.
While Collins did show impressive ball skills and decent zone coverage. He did not play man coverage very often at Tulsa. Collins may be able to do so due to being a defensive back and linebacker in high school, but there wasn't much tape of him in man coverage. There will be plenty of questions on whether Collins can cover tight ends or running backs in man to man.
Misdirection and play-action passes can be troublesome for Collins. He gets sucked up close to the line or in the direction of the ball carrier often. After he realizes what is coming, his agility and recovery speed aren't up to par enough to get him back into position to make the play. If he reads his keys better or improves his movement skills, he can get better against these types of plays.
Projected Draft Range: First Round Pick-Second Round Pick
Make sure to check out our brand new NFL Draft page for more content!
You can like The Game Haus on Facebook and follow us on Twitter for more sports and esports articles from great TGH writers!