The 2022 NFL Draft will be a great event for teams to start building for their future. Here is the Tyler Linderbaum 2022 NFL Draft Profile.
Tyler Linderbaum Background
Position: Offensive Guard/Center
Size: 6-foot-3, 290 pounds
Class: Redshirt Junior
2021 stats: Consensus First Team All-American
Linderbaum developed into one of the best interior offensive linemen in the country during his Iowa career. Now, he is one of the best prospects in the 2022 NFL Draft.
He was a U.S. Army All-American who signed on at Iowa as a defensive tackle. Linderbaum moved from defensive tackle to center entering the 2019 season. He earned Honorable Mention All-Big Ten honors as a redshirt freshman. Iowa went 10-3 that season with a win in the Holiday Bowl. During the 2020 season, he really improved and was named an All-American by several outlets. Iowa went 6-2 that season, but didn't go to a bowl game. His play continued to be recognized in 2021, as Linderbaum was a consensus All-American. The Hawkeyes once again went 10-3 and finished the season off with an appearance in the Citrus Bowl.
Linderbaum has learned and mastered the center position very quickly. Now, he is a projected first-round pick in the 2022 NFL Draft.
Tyler Linderbaum Strengths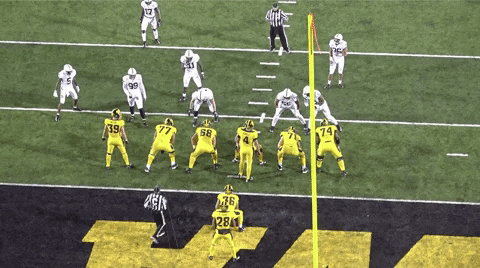 Linderbaum has shown the ability to move well, which makes him a good fit for zone-blocking schemes. He can get to the second level in the running game and even sometimes is seen blocking more than 40 yards downfield. In pass protection, he can move laterally well enough to pick up rushers coming from different directions. His athleticism is apparent, as is his history as a wrestler.
At Iowa, Linderbaum was given the opportunity to receive a lot of run blocking reps. He gets a quick start to the play and has natural leverage when run blocking. Linderbaum executes combo blocks well. He double teams players then makes his way to the next level. His ability to block downfield opens offenses up to big gains.
Although he started his career as a defensive lineman, he is a very smart center. He understands his leverage, hand placement and timing well. Linderbaum recognizes how defenses will attack him pre-snap. He shows the ability to pick up blitzes well along with stunts and twists.
Tyler Linderbaum Weaknesses
Linderbaum doesn't have the prototypical size for a center. He is listed at 6-foot-3 and 310 pounds, but looks a little lighter. Not only is he undersized for the NFL position, but he also has limited reach. He will need to add some weight to look the part of an NFL center.
With his lack of size, Linderbaum doesn't have the best strength in the class. He struggles to anchor in pass protection against power rushers on the interior. Against big NFL nose tackles, he will give up space and the pocket can get pushed back. He is better suited for a zone-blocking scheme is because it his hard for him to move interior linemen by himself.
At Iowa, he was able to show a lot of his run blocking skills, but that wasn't the same in pass protection. Defensive linemen were not able to get into a lot of great pass-rushing situations against Iowa. He will be more experienced and better as a run-blocking when entering the NFL.
Projected Draft Range: First Round Pick
Make sure to check out our brand new NFL Draft page for more content like the Tyler Linderbaum 2022 NFL Draft Profile!
You can like The Game Haus on Facebook and follow us on Twitter for more sports and esports articles from great TGH writers!