The 2022 NFL Draft will be a great event for teams to start building for their future. Here is the Sam Howell 2022 NFL Draft Profile.
Sam Howell Background
Position: Quarterback
Size: 6-foot-1, 220 pounds
Class: Junior
2021 stats: 3,056 passing yards, 24 touchdowns, nine interceptions, 62.5 percent completion, 8.8 yards per attempt, 828 rushing yards, 11 touchdowns
Howell helped North Carolina turn around their program in his three seasons on campus. He is now headed to the next level.
As a four-star prospect, Howell decided to stay in-state and play for the Tar Heels. He started as a true freshman, finishing the season with 3,641 passing yards, 38 touchdowns and seven interceptions on 61.4 percent completion. His play helped the Tar Heels go from two wins before his arrival to seven in his first season. In 2020, Howell passed for 3,586 yards, 30 touchdowns and seven interceptions on 68.1 percent completion. North Carolina went 8-4 and finished the season with an appearance in the Orange Bowl. Although the Tar Heels only won six games in 2021, Howell played well. He passed for 3,056 yards, 24 touchdowns and nine interceptions on 62.5 percent completion. Howell also totaled 828 rushing yards and 11 touchdowns on the ground.
Following his junior season, Howell decided to enter the draft. He is currently projected to be a first or second-round prospect in the 2022 NFL Draft.
Sam Howell Strengths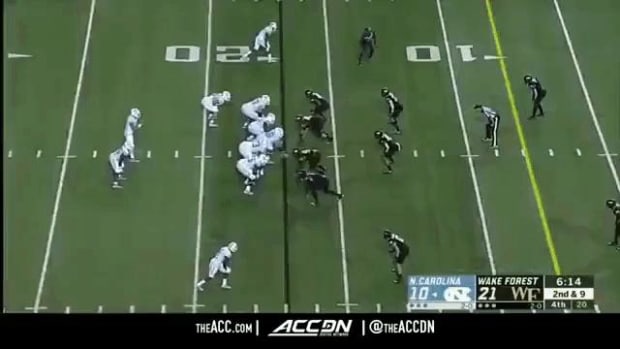 Howell has some of the best accuracy in the class. He is accurate to all areas of the field. On short throws, he puts the ball right on target to allow runners to run after the catch. His ability to fit the ball into tight windows on the intermediate level is also unique, especially given that he doesn't have elite arm strength. His deep ball is inconsistent, but he is capable of throwing a nice one every once in a while.
An added facet of Howell's game is his ability to run the football. He rushed for over 800 yards in 2021 and that shows up on tape. When no receivers are open downfield, he can tuck it and run the ball to pick up yardage. His mobility helps him escape pressure, but he can also be used on designed runs to really keep a defense honest.
One of the things that is understated about Howell is that he takes what the defense gives him. He isn't afraid to go deep if it is there, but he also is willing to take the open check-down throws. If nothing is open, he will run and pick up yards. He can recognize how a defense will play him and will take the easiest throw to complete.
Sam Howell Weaknesses
UNC's offense incorporated a lot of RPOs and easy reads for Howell. He showed the ability to occasionally make reads of the whole field, but he needs to continue working on that. In the NFL, he will have to scan the whole field more often.
While he is a capable decision-maker, there are times where Howell locks on to one receiver. He looks like he knows where he is going to throw the football before the snap and some defenders can jump the routes. If he doesn't force it to his first read, he can find open receivers later in his progressions.
Howell has escapability, but he doesn't always feel the pressure coming. There are times when he gets sacked, when he had time to scramble or throw the ball away. He'll need to work on recognizing where blitzers are coming from.
Projected Draft Range: First Round Pick-Second Round Pick
Make sure to check out our brand new NFL Draft page for more content like the Sam Howell 2022 NFL Draft Profile!
You can like The Game Haus on Facebook and follow us on Twitter for more sports and esports articles from great TGH writers!