The 2022 NFL Draft will be a great event for teams to start building for their future. Here is the Phidarian Mathis 2022 NFL Draft Profile.
Phidarian Mathis Background
Position: Defensive Line
Size: 6-foot-4, 315 pounds
Class: Redshirt Senior
2021 stats: 53 total tackles, 10.5 tackles for loss, 9.0 sacks, 2 passes defended, 2 fumble recoveries, 1 forced fumble
Mathis spent a lot of time at Alabama as a contributor on their defense. He is now getting ready for the NFL Draft.
As a four-star prospect out of Louisiana, Mathis decided to leave the state to play for Nick Saban at Alabama. He redshirted in 2017 and then was named to the SEC All-Freshman team after having 18 tackles in 2018. In 2019, he registered 0.5 tackles for loss and 27 total tackles. Mathis made more of an impact in 2020 with five tackles for loss and 1.5 sacks. He helped Alabama go undefeated and win a National Championship that season. Mathis elected to return to school for the 2021 season. He was an impact player with 10.5 tackles for loss and nine sacks. His play aided Alabama in making the National Championship Game, but they lost to Georgia.
Following five seasons with the Crimson Tide, Mathis is heading to the league. He is currently projected to be a mid-round pick in the 2022 NFL Draft.
Phidarian Mathis Strengths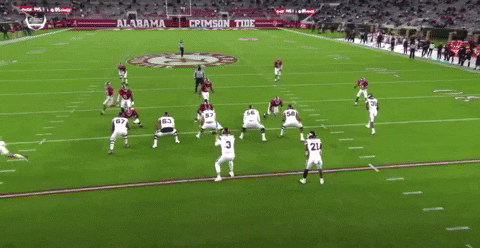 Mathis has a good build for an interior defensive lineman in the NFL. He stands 6-foot-4 and 310 pounds, which will help him hold up on the interior. With his good size comes good strength and length. He has 34 5/8-inch arms, which will give him the advantage over a lot of the offensive linemen playing on the inside.
His calling card at the next level could be his run defense. He has the ability to take on extra blockers, which frees up others to make plays on the ball. He does show the ability to take on two gaps. If he is blocked by just one person, he can shed and make the play. His ability to disrupt blockers will make him an asset on early downs.
He can be a versatile player for a defense, which is becoming more important. Mathis has shown the ability to play as a 3-4 defensive end or nose tackle (very limited times), but he can also be a 4-3 defensive tackle. His ability to play multiple positions and hold up against the run will help him be an option for more teams during the 2022 NFL Draft.
Phidarian Mathis Weaknesses
Mathis isn't the greatest athlete in the class. He currently wins because of his strength and length. Mathis isn't the quickest or fastest defensive lineman. His flexibility also isn't the greatest. He won't be able to run down ball carriers in the backfield or quarterbacks when they scramble very often.
His pass rush can be good, but he really relies on bull-rushing the quarterback and pushing the pocket. That may help him see the field, but in order to be a better pass rusher he needs more moves to add to his arsenal. If he can provide more moves, he could be a three-down player in the NFL.
There are times when his awareness can be better. Mathis can misread a running play and leave space open for a running back to run. There are other times where he bites on play-action passes and misdirections. This is an area that can be cleaned up at the NFL level with more reps.
Projected Draft Range: Third Round Pick-Fifth Round Pick
Make sure to check out our brand new NFL Draft page for more content like the Phidarian Mathis 2022 NFL Draft Profile!
You can like The Game Haus on Facebook and follow us on Twitter for more sports and esports articles from great TGH writers!