The 2021 NFL Draft will be a great event for teams to start building for their future. Here is the Michael Carter 2021 NFL Draft Profile.
Michael Carter Background
Position: Running Back
Size: 5-foot-8, 199 pounds
Class: Senior
2020 stats: 156 carries, 1,245 rushing yards, 9 rushing touchdowns, 25 catches, 267 receiving yards, 2 touchdown catches
Carter made up one half of the dynamic North Carolina running back duo over the last few seasons. He spent four seasons in Chapel Hill and is now heading to the NFL.
Out of high school, Carter wasn't the most recruited player, but went to North Carolina out of Florida. He immediately made a role for himself as a freshman with 97 carries for 559 yards and eight touchdowns. North Carolina limped to a 3-9 record that season. As a sophomore, Carter played well with 597 rushing yards, 135 receiving yards and three total touchdowns. The Tar Heels didn't have a good season once again and finished with a 2-9 record. Carter took a huge step forward with Mack Brown as head coach in 2019 with 1,003 rushing yards, 154 receiving yards and five touchdowns. North Carolina made and won a bowl game with a 7-6 record for the 2019 season. For 2020, Carter had 1,245 rushing yards, 267 receiving yards and 11 touchdowns. UNC went to the Orange Bowl, but ended up losing to Texas A&M after several key players sat the game out.
Carter played great at North Carolina, especially in his last two seasons with the team. Now he is projected to be selected anywhere between the second round to the fourth round of the 2021 NFL Draft.
Strengths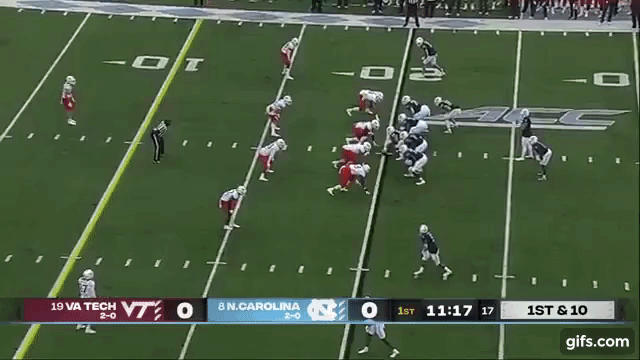 Carter has some of the best agility in the class. He is able to cut on a dime and change direction. With that comes the ability to change speeds and really set up defenders. He can make people miss and at times doesn't even let defenders get close to him. Once he is in the open field, Carter can be a nightmare to track down.
He has a lot of experience as a receiver out of the backfield at North Carolina. Carter runs a decent amount of routes for a running back. He can make crisp cuts and runs good routes. His hands are solid overall and once the ball is in his hands, he has excellent run after the catch ability.
His ability to generate big plays is among the best in the class. He averaged 8.0 yards per carry and 10.7 yards per catch as a senior, which are both great for running backs. Carter makes people miss and runs hard, as he always has a nose for picking up as many yards as possible. Teams looking for a player who can provide a spark will love Carter.
Weaknesses
The obvious weakness for Carter is his size. He is just 5-foot-8 and 199 pounds. He'll need to add strength to his frame in order to avoid injury, as his running style won't make things easy on him. It will help him run with power as well and should help him develop into a better pass protector, but he'll need to make sure it doesn't slow him down either.
Carter is not a great pass protector. He simply doesn't have the strength to pick up blitzes at an elite level. His ability to recognize where rushers are coming from is there. He can work on his technique and get a little bit better in this area as well, but as things stand, if Carter is on the field in a passing situation. He is likely going to be running a route rather than pass protecting.
With his small size, Carter doesn't have much power as a runner, even though he runs hard. Once teams get in the red zone, they may want to take him off the field because he won't have the same amount of room to operate as he does in the open field. Carter may be limited in his role because of his size and lack of power.
Projected Draft Range: Second Round Pick-Fourth Round Pick
Make sure to check out our brand new NFL Draft page for more content!
You can like The Game Haus on Facebook and follow us on Twitter for more sports and esports articles from great TGH writers!