The 2021 NFL Draft will be a great event for teams to start building for their future. Here is the Landon Dickerson 2021 NFL Draft Profile.
Landon Dickerson Background
Position: Offensive Guard/Center
Size: 6-foot-6, 325 pounds
Class: Redshirt Senior
2020 stats: Rimington Trophy, First Team All-American
Dickerson only spent two short seasons at Alabama, but he accomplished just about everything a center can at the collegiate level. Now he is off to the pros.
An Under Armour All-American out of high school, Dickerson signed with Florida State, leaving his home state of North Carolina. He started seven games as a freshman, but missed the rest of the season with a knee injury. As a sophomore for the Seminoles he was only able to play in four games before his season was once again ended with an injury. He played in one game in 2018 before getting injured and received a medical redshirt. After the 2018 season, Dickerson decided to grad transfer to Alabama. He won the starting center job for the Crimson Tide in 2019 and was an All-SEC Second Team selection. Alabama won 11 games including the Citrus Bowl over Michigan. Dickerson was the winner of the Rimington Trophy, awarded to the country's top center, and was a First Team All-American in 2020. He tore his ACL in the SEC Championship Game, but his play throughout the season helped Alabama go undefeated and win the National Championship.
After a long and eventful college career, Dickerson declared for the draft. He is currently projected to be a day two selection in the 2021 NFL Draft.
Strengths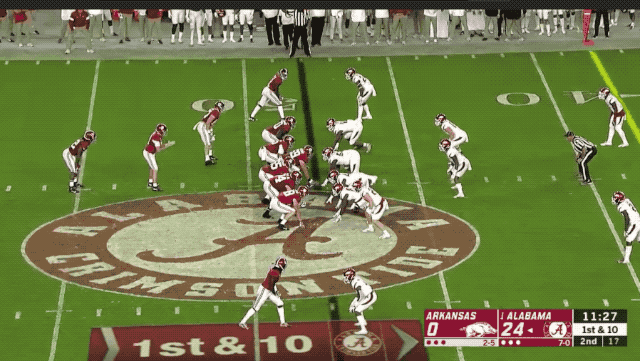 Dickerson has tremendous measurables for a center. He stands at 6-foot-6 and 325 pounds, which will make him one of the bigger centers in the NFL. To go along with his height and weight, his length is also very good for his position and gives him tremendous reach. He is a more difficult matchup for interior defensive linemen because of his size and reach.
With his great size comes great power. Dickerson has great strength for the center position and produces great power. He has the strength to maintain blocks in both the passing and running game. When his team runs the ball, he is a move blocker capable of opening up huge holes for running backs. He can handle most power rushers on the inside as well.
His motor is among the best in the class. Dickerson plays through the whistle, displaying his great passion for football. He has a meanstreak and a will to win that isn't really matched by many others in this draft class. Dickerson looks to make big pancake blocks when given the opportunity and will be ready for the fight at the NFL level.
Weaknesses
Dickerson has a big injury history. He was injured in three straight years during his time at Florida State. Along with that, he tore his ACL during the SEC Championship Game. There will be questions surrounding his durability and his ability to be ready for the 2021 NFL season.
He will also be one of the older players in the class as a redshirt senior. While this came with the opportunity to get a lot of experience, a lot of the time he was injured and couldn't bank in on getting reps. He got plenty of experience in his two years at Alabama, but it came at an expense.
His mobility will not be among the best in the class. He doesn't move the quickest for a center and does not have great lateral mobility. His flexibility will also be question. Dickerson makes up for his lack of athleticism with his length, strength and football IQ, but NFL athletes still may get the better of him at times.
Projected Draft Range: Second Round Pick-Third Round Pick
Make sure to check out our brand new NFL Draft page for more content!
You can like The Game Haus on Facebook and follow us on Twitter for more sports and esports articles from great TGH writers!