The 2022 NFL Draft will be a great event for teams to start building for their future. Here is the Kingsley Enagbare 2022 NFL Draft Profile.
Kingsley Enagbare Background
Position: Edge Rusher
Size: 6-foot-4, 265 pounds
Class: Senior
2021 stats: 43 total tackles, 7.0 tackles for loss, 4.5 sacks, 2 passes defended, 1 forced fumble, 1 fumble recovery
Enagbare has been one of the best players on South Carolina over the last few seasons. Now he is heading to the NFL.
Out of Georgia as a four-star high school prospect, Enagbare decided to go to South Carolina for his college career. He played in a rotational role as a freshman with three tackles for loss and one sack. While he only started one game as a sophomore, he still registered seven tackles for loss and 3.5 sacks. He stepped into the starting lineup as a junior and racked up seven tackles for loss and six sacks. The Gamecocks won just two of their 10 games that season. Enagbare had seven tackles for loss and six sacks in his senior season. His play helped South Carolina improve to a 7-6 record and a bowl win over North Carolina.
Now Enagbare is headed to the next level. He is currently projected to be a second to a fourth-round pick in the 2022 NFL Draft.
Kingsley Enagbare Strengths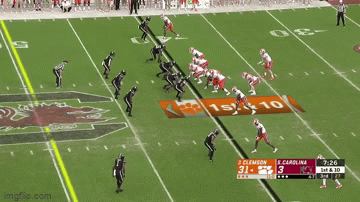 Enagbare has great measurables for an NFL edge rusher. He stands at 6-foot-4 and 265 pounds, which are both solid numbers. With that frame, he has built-in strength to utilize. He also has long 35-inch arms, which can give him an advantage against some NFL offensive linemen.
To go along with his overall strength, his hand strength is great. He has heavy hands and really takes the fight to NFL offensive linemen. Enagbare is aggressive in getting his hands on linemen early and does so with great pop that can move his matchup backward. His power and hand usage could make him a candidate to move inside if he adds more weight.
His run defense stayed pretty consistent over his time at the collegiate level. He showed that he could shed blocks with his strength and then he does a solid job of tracking the ball carrier. Enagbare is a good tackler and shows a good motor in pursuit to make the play. He could see a role as a run defender early in his NFL career.
Kingsley Enagbare Weaknesses
His athleticism leaves some to be desired. He can sometimes get a good first step, but he lacks the quickness and speed to win that way. He will, but it comes because of his power. Along with his lack of explosiveness, his flexibility isn't the greatest, which makes it hard for him to bend around the edge.
He will need to add more pass rush moves in order to get pressure on quarterbacks at the next level. His arsenal is rather limited and he needs to add more counters as well. If he can do that and start developing a pass rush plan, he could improve as a pass rusher.
While he did show solid ability to stop the run, he can get over-aggresive. There are times when he gets fooled by misdirections, play-actions and read options. His aggressiveness paid off at the college level, but there were also times when he was out of position to make plays.
Projected Draft Range: Second Round Pick-Fourth Round Pick
Make sure to check out our brand new NFL Draft page for more content like the Kingsley Enagbare 2022 NFL Draft Profile!
You can like The Game Haus on Facebook and follow us on Twitter for more sports and esports articles from great TGH writers!