The 2022 NFL Draft will be a great event for teams to start building for their future. Here is the Jameson Williams 2022 NFL Draft Profile.
Jameson Williams Background
Position: Wide Receiver
Size: 6-foot-2, 189 pounds
Class: Junior
2021 stats: 79 receptions, 1,572 receiving yards, 15 touchdown catches, 19.9 yards per reception
Williams had one fantastic year at Alabama and helped break open games. Following the season, he declared for the 2022 NFL Draft.
Out of high school, Williams was a four-star prospect out of Missouri who decided to sign with Ohio State. He was buried on the depth chart for two seasons at Ohio State, but did register 15 receptions for 266 yards and three touchdowns. Following his sophomore season, he transferred to Alabama. He immediately started producing and finished his lone season with 79 receptions for 1,572 yards and 15 touchdowns. His play helped Alabama reach the National Championship Game.
After tearing his ACL in the National Championship Game, Williams decided to head to the next level. He is currently projected to be a first-round pick in the 2022 NFL Draft.
Jameson Williams Strengths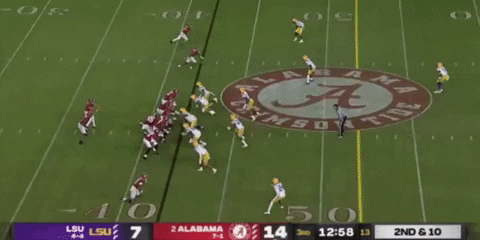 Williams has speed that helps blow games wide open. He can simply outrun defenders on his routes or when the ball is in his hands. His quickness helps him at the start of the play, but he gets to top speed quickly. Not only does he have good speed, but he also changes his speeds well when running routes.
With his speed, Williams is a big-play threat. He creates separation naturally with his speed and gets behind defenders. Williams had several long touchdowns by beating defenders deep, but he is also a big threat after catching the ball. When the ball is in his hands, he is both fast and elusive, picking up extra yards and setting his team up for success.
He is a solid route-runner. While he is aided by his speed, his ability to change his speeds also helps him get separation. Williams isn't the fastest in and out of his breaks, but his speed helps cover that up. He ran a lot of different routes over his college career and should be abe to further develop his route-running skills at the next level.
Jameson Williams Weaknesses
Williams will need to add strength to his frame. He is on the lighter size for his height. If he can add weight, it will help him beat press coverage, block and win contested catches. While he is currently recovering from the torn ACL, he will need to get in the weight room once he gets into an NFL facility.
He isn't the greatest in contested catch situations and prefers to play on the outside rather than over the middle. Williams has solid hands when he is in open space, but does struggle when in traffic. His hesitation to go over the middle will hurt him as well and is he is best used on the outside.
With extra strength he will become a better blocker, but he also needs to show better effort and technique. There were plenty of plays where he could have helped spring big running plays, but didn't show much effort. If he sustains blocks on the outside, he can really help his offense out.
Projected Draft Range: First Round Pick
Make sure to check out our brand new NFL Draft page for more content like the Jameson Williams 2022 NFL Draft Profile!
You can like The Game Haus on Facebook and follow us on Twitter for more sports and esports articles from great TGH writers!