The 2022 NFL Draft will be a great event for teams to start building for their future. Here is the Ikem Ekwonu 2022 NFL Draft Profile.
Ikem Ekwonu Background
Position: Offensive Tackle
Size: 6-foot-4, 320 pounds
Class: Junior
2021 stats: Consensus First Team All-American
Ekwonu had an incredible NC State career that saw him lead the program to new heights. Now, he has entered the 2022 NFL Draft.
Out of high school, he was a three-star recruit who decided to stay in-state to play for the Wolfpack. He started in his first year and was a Freshman All-American. NC State went 4-8 despite Ekwonu's good play. He impressed again as a sophomore, becoming a Second-Team All-ACC selection. The Wolfpack improved their record to 8-4 in 2020. They took another step forward in 2021, going 9-3 with Ekwonu's help. He also raised his level of play, being named a consensus All-American.
Following his great junior season, Ekwonu has decided to turn pro. He is currently projected to be a first round pick in the 2022 NFL Draft.
Ikem Ekwonu Strengths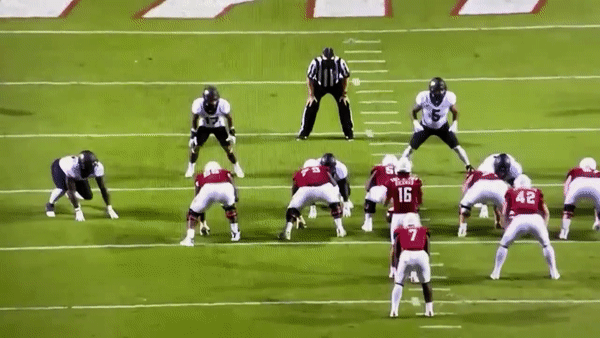 Ekwonu is one of the best run blockers in the class. He can move his man off the ball and clear big holes for running backs to go through.Ekwonu sustains his blocks as well. On zone blocking plays, Ekwonu was able to show the ability to move and make blocks on the perimeter. He also can get to the second level to make blocks.
His physicality is also great, as he routinely finishes plays. He has a mean streak and will play through the whistle, even if he has moved his man several yards down the field. On pass plays, he is always looking for work. He sets a physical tone for the whole offense.
He has solid length and powerful hands, which work together well. Ekwonu strikes hard with his hands, sending a jolt into defenders. His long arms make it easier for Ekwonu to control his blocks and harder for defenders to shed.
Ikem Ekwonu Weaknesses
Ekwonu is a better run blocker than pass blocker. He has held up as a pass blocker over his career, but can struggle with quick edge rushers. He can give up the edge, or when he has that covered, defenders have shown an ability to beat him to the inside.
While he has shown good balance and mobility, there are times when Ekwonu lunges. Sometimes he lunges while moving to the second level on running plays. The main issue is his tendency to be impatient as a pass blocker,w which results in him lunging at a defender and sometimes losing a rep because of it.
His hands are powerful, but he needs better timing and placement with his hands. As mentioned, there were times where he lunged at defenders, but also times where he waits too long to get his hands on defenders. He also needs to make sure he is accurate with his strikes to maximize their effect.
Make sure to check out our brand new NFL Draft page for more content like the Ikem Ekwonu 2022 NFL Draft Profile!
You can like The Game Haus on Facebook and follow us on Twitter for more sports and esports articles from great TGH writers!