The 2021 NFL Draft will be a great event for teams to start building for their future. Here is the Gregory Rousseau 2021 NFL Draft profile.
Background
Position: Edge Rusher
Size: 6-foot-7, 253 pounds
Class: Redshirt Freshman
2019 Stats: 54 total tackles, 19.5 tackles for loss, 15.5 sacks, 2 forced fumbles, 1 fumble recovery, 1 pass defended
Rousseau is one of the talented draft prospects that sat out the 2020 college football season because of COVID-19. He only has one season of college football under his belt, but has already made a name for himself in NFL Draft circles.
Coming out of high school, Rousseau was ranked a four-star and three-star recruit by different websites. In his first season at Miami, Rousseau had five total tackles, but his season was cut short by an ankle injury and he was redshirted. Rousseau came back in 2019 as a redshirt freshman totaling 54 total tackles, 19.5 tackles for loss and 15.5 sacks. Miami went 6-7 in 2019 with their season capped off with a loss to Louisiana Tech in the Independence Bowl.
It will be very unique for a player who only saw the field for one season to go pro with high expectations, but Rousseau will do just that. He is a projected top 15 pick in the 2021 NFL Draft.
Strengths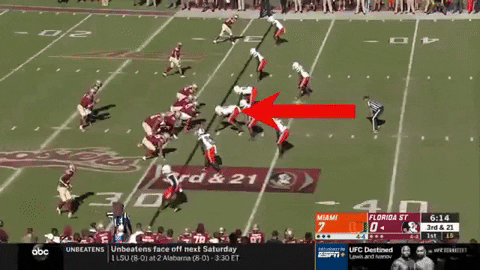 His pass-rushing production is absolutely mind-boggling for a one-year player. He had 15.5 sacks in 2019 and had to deal with a lot of double teams. For such a young player to have that kind of impact, while being double-teamed, he has a lot of potential to get after the quarterback at the next level.
He has a great frame for a pass rusher. Rousseau stands 6-foot–7 and weighs 253 pounds. He will likely be able to add a decent amount of weight to his frame, which will only make him a better player. His length is also going to be among the best in the class and will allow him to shed blocks easier.
In pass-rushing situations, Rousseau uses his athleticism and body control to win his matchups. He is able to use speed to beat slower tackles and can beat smaller tackles with strength. When it comes to body control and athleticism, Rousseau has an edge over most tackles.
Weaknesses
While he has athletic ability, Rousseau isn't the most flexible. He has a rigid body that doesn't bend well. This makes it tough to win on the edge at times, because he can't dip and use leverage to win his matchups. He'll need to get more creative if he can't win with flexibility at the next level.
In college, Rousseau won matchups consistently with his athletic ability. That doesn't happen in the NFL. He needs to add a lot of pass rush moves and counters to be a successful player. If he can get more technical with his approach, he can turn into an elite-level pass rusher in the pros.
As soon as he gets to the NFL, his team will want him to fill out his frame. If he can add 10-15 pounds of muscle to his 253-pound body, it will help him be the prototypical size for a defensive end edge rusher. This could be especially helpful, as Rousseau has proven to be a good interior pass rusher in college.
Projected Draft Range: Top 15 Pick
Make sure to check out our brand new NFL Draft page for more content!
You can like The Game Haus on Facebook and follow us on Twitter for more sports and esports articles from great TGH writers!