The 2021 NFL Draft will be a great event for teams to start building for their future. Here is the Carlos Basham 2021 NFL Draft Profile.
Carlos Basham Background
Position: Edge Rusher
Size: 6-foot-3, 274 pounds
Class: Redshirt Senior
2020 stats: 28 total tackles, 4.5 tackles for loss, 5.0 sacks, 1 pass defended, 4 forced fumbles (in 6 games)
Basham had a very successful career at Wake Forest over the last four seasons. He is now heading to the pro level.
Out of high school, he was a three-star prospect who chose to go to Wake Forest out of Virginia. He redshirted in 2016, but got some playing time in 2017. Basham registered 24 total tackles and two tackles for loss as a redshirt freshman. As a sophomore, Basham had 64 total tackles, 11 tackles for loss and 4.5 sacks. His play helped the Demon Deacons go 7-6 and win the Birmingham Bowl. In 2019, Basham totaled 57 total tackles, 18 tackles for loss and 10 sacks. Wake Forest won eight games, but lost the Pinstripe Bowl to Michigan State. Basham returned for this senior season and had 28 total tackles, 4.5 tackles for loss and five sacks in six games played. The Demon Deacons went 4-5 with their season ending in a loss to Wisconsin in the Duke's Mayo Bowl.
After displaying his versatile skillset in the college ranks, Basham is hoping that will pay off in the NFL Draft. He is currently projected to be a second to fourth round pick.
Strengths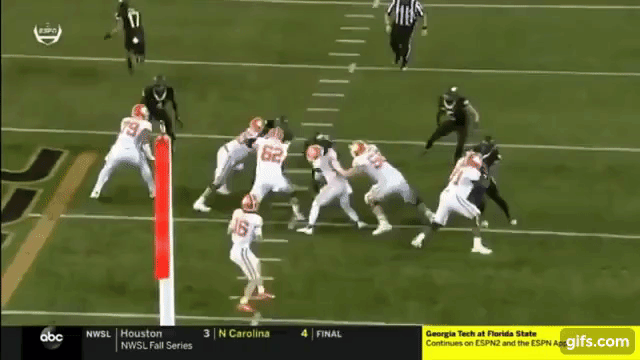 Basham is well filled out for an edge rusher. He is 6-foot-3 and 273 pounds. His height and length are average for the best, but his weight is bigger than most edge rushers. He has good strength for the position and part of that is because of his solid size.
He has good pass rush technique and a solid amount of pass rushing moves. Basham has violent hands, that he uses well and with good timing. He can strike hard and in the correct places to help him create separation. He has a few pass rush moves, including a solid swim move.
Basham is capable of forcing turnovers at a unique rate for a defensive end. He hits quarterbacks and ball carriers hard and has a knack for knocking the ball loose. His 7 forced fumbles over his last two seasons show how effective he can be at getting the ball out.
Weaknesses
His size is a positive, but Basham could be seen as a tweener. He is a little too big to be and edge and a little too small to be a defensive tackle. This might mean he needs to add or cut weight before getting meaningful playing time. A team might put him on the edge for the first two downs and on the interior for third downs to maximize his skillsets, but he'll have to work at rushing from the inside.
He isn't the quickest mover on the defensive line. At the snap of the ball, he doesn't get off the line of scrimmage very quickly. Basham can take a while to build up to full speed, which makes him easier to block. He also doesn't change direction very well. This lack of quickness may solidify a team's decision to move him to the interior.
Basham can struggle to shed blocks. If offensive linemen get their hands on him, he often times isn't able to shed. He has shorter arms than most offensive tackles and will need to do a better job of using his technique to free himself. A move to the inside could help this, as he would be going up against linemen with shorter arms.
Projected Draft Range: Second Round Pick-Fourth Round Pick
Make sure to check out our brand new NFL Draft page for more content!
You can like The Game Haus on Facebook and follow us on Twitter for more sports and esports articles from great TGH writers!