The 2020 NFL Draft will be a great event for teams to start building for their future. Here is the C.J. Henderson 2020 NFL Draft profile.
Background
Position: Cornerback
Class: Junior
Size: 6-foot, 191 pounds
2019 stats: 33 total tackles, three tackles for loss, one sack, 0 interceptions, 11 passes defended
Henderson was a highly-touted recruit, who decided to join the Gators for the 2017 season. The good prospect was able to develop very quickly at Florida and now will forgo his senior season to go into the NFL Draft.
He didn't start from the beginning of the year as a freshman, but broke into the lineup by the end of the year. The talented corner had four interceptions, two of which were returned for touchdowns. As a sophomore, Henderson had five passes defended and two interceptions, as he led the team to a 10-3 record, including a win in the Peach Bowl. Before declaring for the draft, Henderson made an impact on the defense again with 11 passes defended. Florida was able to win 10 games during Henderson's junior year.
His play jumps out on tape and it looks like he made a solid decision to leave after his junior season. He will be a candidate to be selected within the first two rounds of the 2020 NFL Draft.
Strengths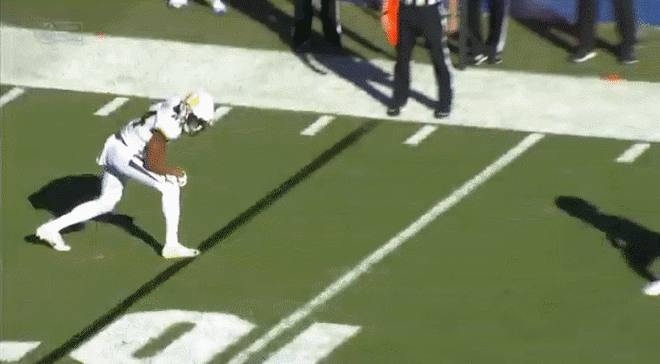 Henderson is a great cover corner. In man coverage, he is able to trail his man and stick right with him. When asked to play zone, Henderson is able to read the quarterback's eyes and use his length to disrupt plays. He is a better man coverage corner, but his ability to play both will make him more appealing to a wider range of NFL teams.
His ball skills are among the best in the class. They don't always result in interceptions, as he didn't have an interception this season, but he still makes plays on the ball. In his three seasons, he had six interceptions and 20 passes defended. When the ball gets close, he closes in and gets his hands between the ball and his man. If he is able to intercept a pass, he is a threat to take it back to the house, as he did that twice in his freshman season.
Athleticism is not something that Henderson will have to worry about. He has the speed, quickness and body control to fit right in at the NFL level. His athletic ability allows him to stick with his man and to make plays on the ball that other corners ordinarily wouldn't be able to do.
Weaknesses
One area he will need to work on for the next level is his play strength. He has good length, but he needs to fill out his frame. This will allow him to shed blocks easier and to not be pushed off of his spot by wide receivers. If he can add more strength, Henderson could become a more complete corner.
Henderson doesn't always show a willingness to help against the run. Part of that is his inability to shed blocks, but he also doesn't show much effort even when he is past his blocker. If he is put on an island, it won't always be a big issue, but some coaches will not want a corner on their team who doesn't help against the run.
Tackling is another one of his weaknesses. He missed several tackles over his career and some of that comes with his unwillingness to help against the run. Bad tackling will not just hurt against the run, but if his man catches the ball, they could extend plays and drives because of his poor tackling.
Projected Draft Range: First round-second round
Make sure to check out our brand new NFL Draft page for more content!
You can like The Game Haus on Facebook and follow us on Twitter for more sports and esports articles from great TGH writers!