The 2022 NFL Draft will be a great event for teams to start building for their future. Here is the Breece Hall 2022 NFL Draft Profile.
Breece Hall Background
Position: Running Back
Size: 6-foot-1, 220 pounds
Class: Junior
2021 stats: 1,472 rushing yards, 20 rushing touchdowns, 5.8 yards per carry, 36 receptions, 302 receiving yards, 3 touchdowns
Hall has been a model of consistency over his college career at Iowa State. Now, he is headed to the 2022 NFL Draft.
As a four-star recruit out of Kansas, Hall decided to join Matt Campbell's Cyclones. He was a Freshman All-American after rushing for 897 yards and nine touchdowns. He helped Iowa State win seven games and appear in a bowl game. His play improved as a sophomore, as he totaled 1,572 rushing yards, 180 receiving yards and 23 total touchdowns. The team also progressed in his second season with the Cyclones winning nine games, including the Fiesta Bowl to end the season. Hall continued his success in 2021 with 1,472 rushing yards, 302 receiving yards and 23 total touchdowns. The Cyclones won seven games and made an appearance in the Cheez-It Bowl to end the season.
Following his junior season, Hall declared for the NFL Draft. He is currently projected to be a first or second-round pick in the 2022 NFL Draft.
Breece Hall Strengths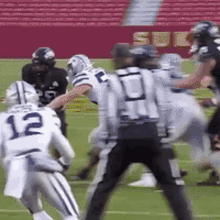 Hall is one of the more well-built running backs in the class. He stands at 6-foot-1 and 220 pounds. His size allows him to run with some power, but he also has a little bit of quickness too. It is hard for smaller defenders to bring him to the ground because he is a bigger running back who has solid contact balance.
He has good elusiveness in short areas showing the ability to make defenders miss in a phone booth. Hall has a good jump cut that defenders bite on and he also showed a really good spin move. His ability to plant his one foot in the ground and cut is also unique. He won't be the fastest running back in the class, but he can pick up extra yardage because of the moves he can put on defenders.
His vision is also an asset. Hall is a patient runner who waits for his blocks to be set up. After they are, he hits the hole hard to pick up yardage. When the hole isn't there, he is capable of changing direction and finding open room to run to. This vision extends to the second and third level, as he continually looks for open space to run to.
Breece Hall Weaknesses
Hall doesn't have the best long speed. His best traits are his ability to make defenders miss, but there are times when he gets into the open field that he is caught from behind. Even though he can produce big runs, he isn't a traditional home-run threat.
While he did show good pass-catching at Iowa State, Hall was used in a limited fashion as a receiver. Most of his production came off of dump-offs and screens. He will need to work on adding to his route tree to be more of a threat on passing downs.
There are times when Hall is too focused on making a big run. He can be hit in the backfield and run backward or sideways instead of getting upfield and taking what is there. Hall usually is a solid north and south runner, but he does get too greedy at times.
Projected Draft Range: First Round Pick-Second Round Pick
Make sure to check out our brand new NFL Draft page for more content like the Breece Hall 2022 NFL Draft Profile!
You can like The Game Haus on Facebook and follow us on Twitter for more sports and esports articles from great TGH writers!