The 2021 NBA Draft will be an important event for teams to build for their future. Here is the Moses Moody 2021 NBA Draft Profile.
Moses Moody Background
Position: Guard
Size: 6-foot-6, 205 pounds
School: Arkansas
Class: Freshman
2021 stats: 16.8 points, 5.8 rebounds, 1.6 assists, 0.7 blocks per game, 1.0 steals per game, 42.7% FG, 35.8% 3PT, 81.2% FT
Moody helped make Arkansas into national contenders during his one year of college basketball, even though he wasn't the most highly-touted prospect. In the process of helping the team, his draft stock soared.
Out of high school, Moody was a four-star prospect out of Arkansas. He decided to stay in-state and play for the Razorbacks and head coach Eric Musselman. Moody was able to help the team get a no. 3 seed in the 2021 NCAA Tournament. The Razorbacks made the Elite Eight before losing to eventual champion and no. 1 seed Baylor. Moody averaged 16.8 points, 5.8 rebounds and 1.6 assists per game.
Following his one season of college basketball, Moody decided to head to the NBA. The former four-star prospect really improved his game and is now projected to be taken in the lottery of the 2021 NBA Draft.
Strengths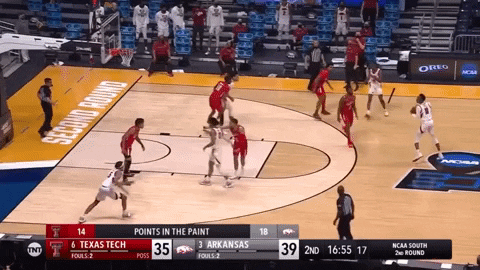 Moody has good size and athleticism for the NBA. At 6-foot-6 and 205 pounds, Moody has a solid build to start with. He also has tremendous length to use on the perimeter. To pair with his size, Moody has solid speed can jump decently well too. He won't look out of place in the NBA at all.
His length really helps him on the defensive end of the floor. He may have just averaged 1.0 steals and 0.7 blocks per game, but the stats don't tell the whole story. Moody moves his feet well and can stay in front on the perimeter. His long arms allow him to be disruptive and guard multiple positions, which will make him more valuable.
Shooting wasn't a problem for Moody at Arkansas. He shot 35.8 percent from 3-point range, which makes him a solid candidate to be a 3 and D player at the NBA level. Moody also had a decent shooting percentage overall at 42.7 percent. When he gets to the line Moody knocks down free throws at an 81.2 perent clip. From any range of the floor, Moody has a solid stroke that can improve at the next level when the floor is more spaced out.
Weaknesses
Right now, Moody can create his own shot decently, but he needs to find his teammates more. He averaged just 1.6 assists per game and wasn't Arkansas' primary ball-handler, but he needs to keep his head up when he drives to find the open man. His assist to turnover ration was 1 to 1, so Moody can improve on that to become more of an offensive threat.
In order to be a better creator for himself and others, Moody needs to continue to fine-tune his ball-handling skills. If he can add some moves to his game to through defenders off balance, he will be able to penetrate and find teammates better. He will also be able to get more open shots for himself by getting more separation.
Moody needs to finish better at Arkansas. He did well in transition, but in a half-court offense he struggled to finish at the basket over bigger defenders. Moody will need to get more creative and finish stronger at the rim at the next level.
Go to our NBA page for more articles and updates!
You can like The Game Haus on Facebook and follow us on Twitter for more sports and esports articles from great TGH writers!