With the trade deadline less than a month away, it's time for teams to assess their rosters and make a plan for the future. While some teams like the Cavaliers, Trail Blazers and Bucks are looking to add talent to their roster and gear up for the playoffs, other teams need to deal their players and begin to look to the future. Here are the players who need to move on to a new team.
Marc Gasol, Memphis Grizzlies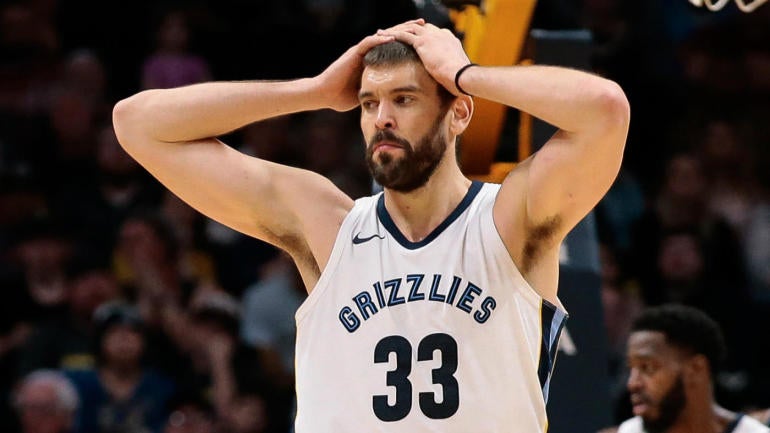 While Marc Gasol has tons of ties to the city of Memphis, including attending high school there while his brother Pau played on the Grizzlies, it's time for the front office to trade him away and start to rebuild. Gasol was consistently one of the best centers in the NBA, but he's turning 33 this month. While he's added a lethal 3-point shot into his repertoire, he is not the player he once was.
The Grizzlies do not have the young talent to challenge for a playoff spot. While their 13-28 record would've been a lot better if Mike Conley stayed healthy, their best case scenario would've been sneaking into playoffs at the eighth seed, only to lose in the first round to the Golden State Warriors.
The Grizzlies need to let Gasol play for a contender and start building for the future.
Potential Teams: Toronto Raptors, Boston Celtics and Portland Trail Blazers
Anthony Davis, New Orleans Pelicans
Anthony Davis has played for the Pelicans for six years, averaging at least 20 points per game and 10 rebounds every year except his rookie season. The Pelicans have not won a playoff game since he's been on the team, and it's time to make a big move. Davis has also proven to be injury-prone, as he's only played over 70 games in a season once.
Davis is a top-10 talent in the NBA, and he's only 24. The reluctance to trading such a talent is understandable. However, the team is barely a playoff team (currently at the eighth seed) and are nowhere near competing with teams in the top of the Western Conference.
The addition of DeMarcus Cousins was a great move on paper, but the on-court performances haven't been enough, and the dynamic duo of Cousins and Davis has been a failed experiment. Some reports believe that members of the front office prefer Cousins over Davis as the face of the franchise, and they should bring in pieces to build around Cousins.
With the threat of Cousins bolting to the Lakers in free agency this offseason, the Pelicans can't keep the status quo.
Potential Teams: Boston Celtics, Golden State Warriors
Kemba Walker, Charlotte Hornets
Kemba Walker has done everything he can to keep the Hornets afloat. However, the Hornets are not going to compete in the East with the roster they currently have. Walker is now 27 and is in his prime. He doesn't want to be apart of a rebuild.
Walker is a star in this league, and he needs to be on a team that has talent to surround himself with. His talent is being wasted on a below-average team, and the Hornets need to accumulate draft picks and young players. Walker would be a perfect fit for a team desperate for a point guard, like his hometown team, the New York Knicks.
Potential Teams: New York Knicks, Denver Nuggets
Nikola Mirotic, Chicago Bulls
The Bulls have launched into rebuild mode trading away Jimmy Butler this past offseason, and it's time for them to trade Nikola Mirotic for more draft picks and young talent.
While Mirotic is having a great season as the No. 1 option on offense, the team is in full tank mode with a record of 16-27. The Bulls needs to start getting draft picks and young players to develop.
Mirotic has also expressed interest to moving to a contender, with reports this week that he still wants to be traded before the deadline.
Mirotic was punched in the face by Bobby Portis, a teammate, during a practice before the season started and was out for 2 weeks with a broken nose. The report exploited what appears to be a dysfunctional roster with lots of unhappy players. The growing feeling around the organization was that a trade was imminent after the incident. While they have yet to deal Mirotic, both sides would benefit from a deal.
Potential Teams: Portland Trail Blazers, Utah Jazz, New York Knicks, Detroit Pistons
DeAndre Jordan, Los Angeles Clippers
Probably the most available player on this list, Jordan's impending free agency and potential trade has been very publicized by the media this season. Jordan has been a great defensive center and vertical threat for the Clippers the past couple years and has spent 10 seasons as a Clipper. During his time, he's made three All-NBA teams, one All-Star game and two All-Defensive teams.
Jordan has been dominant and is apart of a dominant interior duo with Blake Griffin, when he is healthy. Nonetheless, it's time to move to Jordan because he will not stay with the Clippers past this season, and the market for quality centers is very scarce. Jordan almost left the Clippers for the Dallas Mavericks a few years ago, but the Clippers players locked him in his house and made him sign the contract.
A deal before this trade deadline would benefit both sides. The Clippers can address other needs and rebuild after an injury-riddled season. Jordan wants to go to a contender, and there's multiple Eastern Conference teams that could desperately use his interior presence.
Potential Teams: Cleveland Cavaliers, Milwaukee Bucks, Washington Wizards, Toronto Raptors
Featured image by Sean Gardner/Getty Images
You can "Like" The Game Haus on Facebook and "Follow" us on Twitter for more sports and esports articles from other great TGH writers along with Matthew.
"From Our Haus to Yours"