The 2021 NBA Draft will be an important event for teams to build for their future. Here is the Cade Cunningham 2021 NBA Draft Profile.
Position: Forward
Size: 6-foot-8, 220 pounds
School: Oklahoma State
Class: Freshman
2021 stats: 20.1 points, 6.2 rebounds, 3.5 assists, 4.0 turnovers, 43.8% FG, 40% 3PT
Cunningham took the college basketball world by storm as a freshman at Oklahoma State. As the season went on, Cunningham cemented himself as one of the top players in the class.
Out of high school, Cunningham was the top-rated recruit in the country. He chose to play for Oklahoma State and head coach Mike Boynton. Cunningham helped the Cowboys make the second round of the 2021 NCAA Tournament before they were defeated by Oregon State. He finished his season with a stat line of 20.1 points, 6.2 rebounds and 3.5 assists per game.
After the season, Cunningham made the easy decision to go to the next level. He is currently projected to be the first overall pick in the 2021 NBA Draft.
Strengths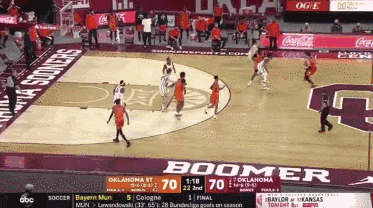 Cunningham has great size for his style of play. He stands at 6-foot-8 and 220 pounds, which is solid for a forward. For a player that runs the point a lot, Cunningham has the size to see over the defense and to make plays. He is hard to match up with for a guard, because of his size. His size also allows him to get into the lane and use his strength better than other players at his position.
His ability to score at all three levels is very apparent. Cunningham can get to the basket with a drive and finish with either hand. He can pull up in the mid-range with a nice step-back jumper and shot 40 percent from 3-point range in college. When guarded by a smaller defender he can even showed the ability to post up and score.
He demonstrated some highlight-reel worthy passes at Oklahoma State. As stated, his height allows him to see the whole floor. When the defense collapses on him, he is able to find the open man for a basket. Teams will want to have the ball in Cunningham's hands, as it opens up the whole offense for everyone else.
Weaknesses
The biggest weakness Cunningham has is his turnovers. While he showed flashes of being a good passer, he needs to protect the ball better when passing. He also has solid ball-handling ability for a player of his size, but he could tighten up his ball-handling as well. A more open floor in the NBA has helped other stars limit turnovers and that may be the case for Cunningham.
Cunningham has the length to guard multiple positions, but needs to stay in front of his man better. Smaller, quicker guards are able to get around him and get to the basket. With plenty of NBA teams going small, there will be times that Cunningham will have to keep up with smaller players.
While he is able to get to the basket, Cunningham doesn't have an explosive first step. He is able to make his way to the basket by using his strength. This will leave him susceptible to defenders taking charges on him, but will also allow NBA-level defenders to stay in front of him at a decent rate.
Projected Draft Range: First Overall Pick
Go to our NBA page for more articles and updates!
You can like The Game Haus on Facebook and follow us on Twitter for more sports and esports articles from great TGH writers!