The 2022 NBA Playoffs are at a pivotal point, featuring four teams battling for a spot in the NBA Finals: the Golden State Warriors, Dallas Mavericks, Miami Heat, and Boston Celtics. As each series draws closer to an end, TGH highlights the top-rated NBA Playoffs NBA 2K22 players to appear this postseason.
As expected, the first two rounds of the NBA Playoffs featured many of the top-rated players in NBA 2K22; headlined by former (and current) MVPs, scoring champions, and NBA Championship winners. Below is a list of top-rated NBA 2K22 players to have appeared in this year's playoffs:
Giannis Antetokounmpo (97 overall-top rated player in NBA2K22)
Kevin Durant (96 overall)
Joel Embiid (96 overall)
Nikola Jokic (96 overall)
Ja Morant (93 overall)
James Harden (92 overall)
Devin Booker (91 overall)
Trae Young (90 overall)
DeMar DeRozan (90 overall)
Though each player has now been eliminated, the Western/Eastern Conference Finals feature additional top-rated players in NBA2K22; along with players whose performances over the course of the playoffs will see their ratings rise.
Top-Rated Players in Western Conference Finals (Warriors Lead 3-0)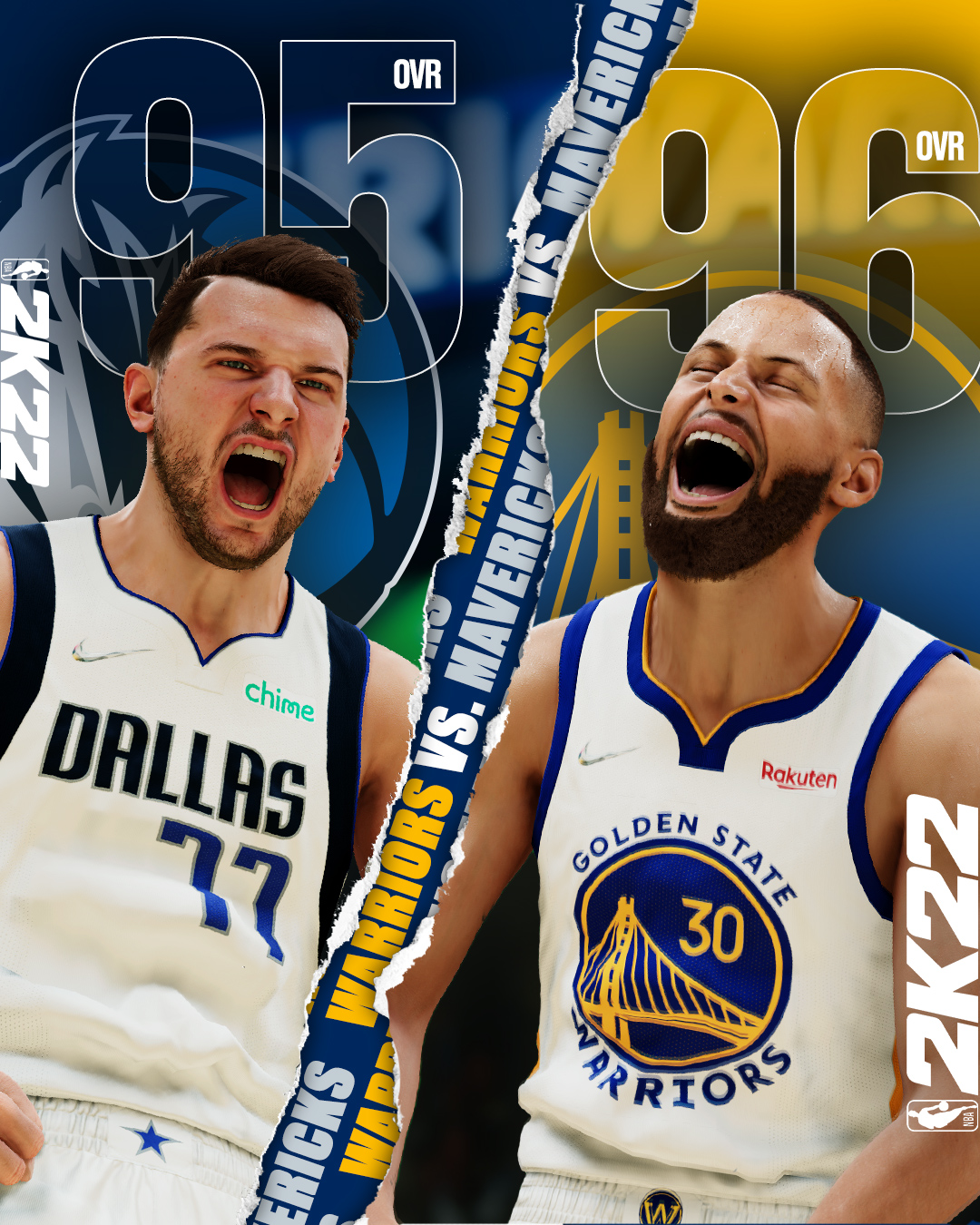 After knocking off the Memphis Grizzlies, the Warriors entered this series showing signs of their "Championship DNA". Steph Curry continues to dazzle, averaging 27.1 points, 5.9 assists, and 38.4% from 3-point. After hitting multiple big shots, putting the Grizzlies to "sleep" on Sunday night, Curry continues to display his talents as a top player in the NBA; reflected in his 96 overall NBA 2K22 rating. Though facing a tough challenge in leading his team this series, Luka Doncic (95 overall rating) has upped his play over the postseason averaging 32.1 points per game; most recently scoring 40 points Sunday night. Despite his efforts, the Mavs appear no match for the Warrior's championship core consisting of Draymond Green (83 overall), Klay Thompson (83 overall), and rising star Andrew Wiggins (83 overall).
Top-Rated Players in Eastern Conference Finals (Series tied 2-2)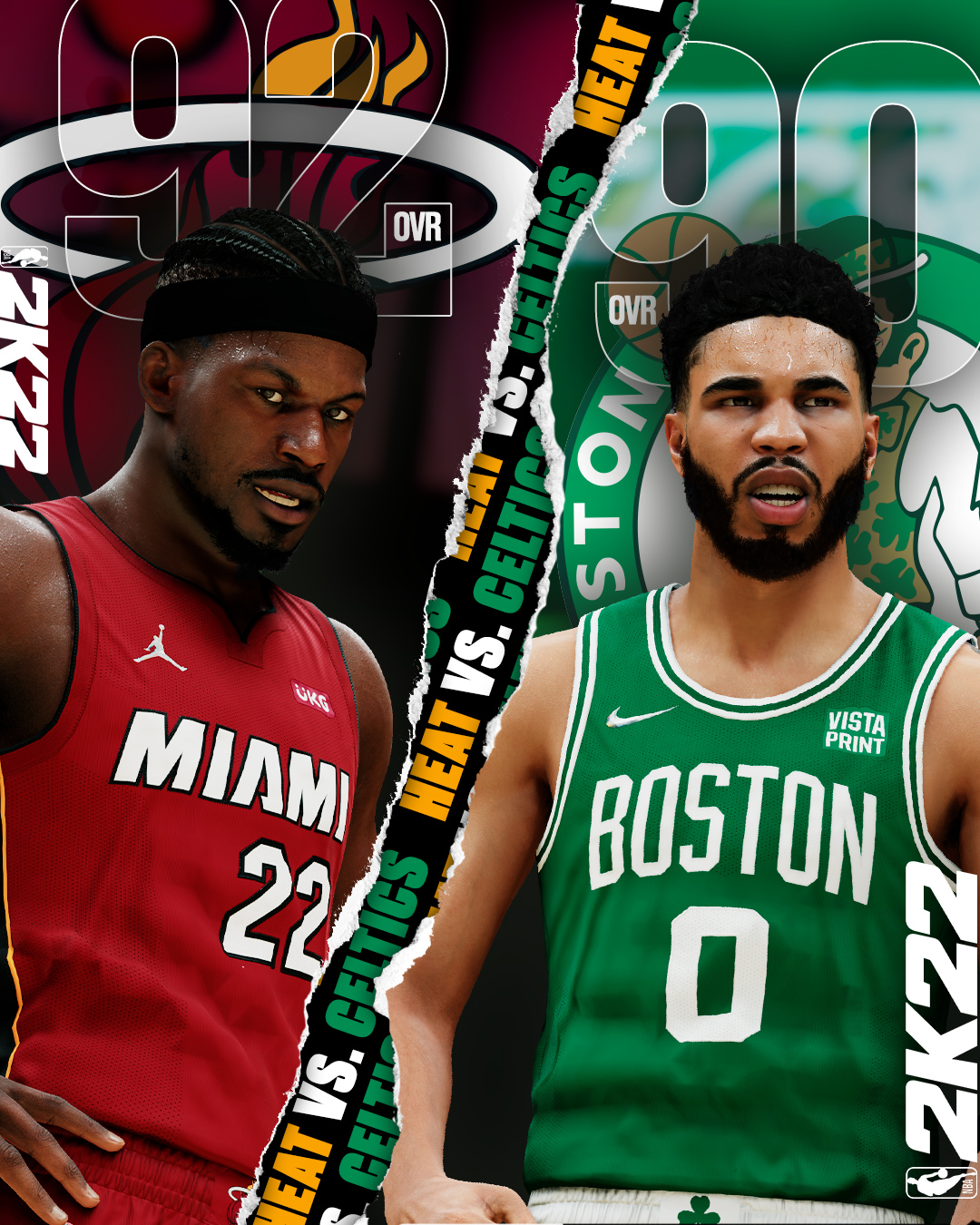 In contrast, the Eastern Conference finals feature a back and forth match-up; with the  Boston Celtics locking up the series 2-2 in a win against the Heat on Monday night. Led by two of the top-rated players in the East (Jimmy Butler-92 overall, Jayson Tatum-90 overall), this series has been marked by performances on the defensive end. Defensive Player of The Year Marcus Smart (95 Defensive Consistency, 93 Permieter Defense, 90 Help Defense IQ) remains key in this series, matching up with Butler full court. In a series featuring multiple players who have shown the ability to take over a playoff game (Tyler Herro- 85 overall, Jaylen Brown-86 overall, Greg Williams- 75 overall) and the looming return of Kyle Lowry (82 overall) from injury, expect an under the radar player to determine the winner of this series.
Finals Preview
With the Warriors up 3-0 over the Mavs and Celtics/Heat tied 2-2 in their respective series, predictions have begun for the NBA Finals. Despite who advances, each team features balanced rosters with versatile defensive players and players capable of scoring over 30 points per game. Expect a minimum 6-game series, headlined by top-rated players in NBA 2K22, in the final round of the NBA Playoffs.
---
You can "Like" The Game Haus on Facebook and "Follow" us on Twitter for more sports and esports articles from great TGH writers like Rashan Isaac.
Featured image courtesy of 2K Sports