In the latest NBA 2K22  player ratings update, well-known (and on the rise) players see changes to their in-game rating.
Post All-Star Break Deadline Update
Following the All-Star Break, NBA 2K22 player ratings received an update as regular-season action continues. The post-All-Star break update sees a number of the top scorers in the league get a boost; while one of the more notables players over the past few seasons continues to drop down. As the regular season enters the home stretch, on-court performances continue to impact player ratings. An overview of the latest risers and fallers in the NBA 2K22 players ratings update is below.
Ja Morant (+1)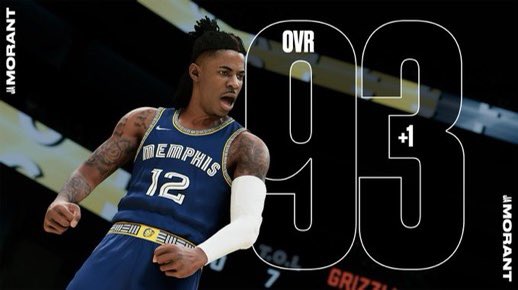 A frontrunner for the NBA's Most Valuable Player Award, Ja Morant has the Memphis Grizzlies sitting at second place in the Western Conference (48-22). Leading the Grizzlies in points (27.5) and (6.7) assists-per-game, Morant has also appeared in every game (55 total) this season. His consistency shows in NBA 2K22, after beginning with an 85 rating he now sits at a 93 overall. A 52-point explosion against the San Antonio Spurs has led to Morant being a top-10 rated player in the game.
Klay Thompson (-3)
After suffering back-to-back injuries during the previous two seasons (see more info here), it was expected Klay Thompson would eventually return to form as the best shooter/defender in the league. Sitting at third place in the West (47-22), Thompson has struggled to provide support for the Golden State Warriors; featuring a core of Steph Curry ("96"), Andrew Wiggins ("84"), and Draymond Green ("83"). Although having the third-highest player rating on the Warriors Thompson's 17.8 points per game, 37.1 3-point field goal percentage and appearance in only 23 games represent the lowest of his career. Thompson ("83" overall rating) finds himself with his lowest in-game rating since his appearance in NBA 2K15.
Brandon Williams (+8)
In a season marked by the uncertainty surrounding Damian Lillard and trading of C.J. McCollum, the play of Brandon Williams has emerged as a bright spot for the Portland Trail Blazers. Williams' production was key to breaking a recent six-game losing streak: averaging 12.9 points per game, 2.9 rebounds per game and 1.8 assists per game. An undrafted rookie, Williams eases the pain of absences by Lillard and Anfernee Simons (scoring 21 and 27 points versus the Minnesota Timberwolves in back-to-back games). As both guards continue to miss time Williams has the chance to continue showing his potential and raising his rating.
As the NBA regular season enters the final act, on-court performances will see NBA 2K22 player ratings continue to rise/fall.
---
You can "Like" The Game Haus on Facebook and "Follow" us on Twitter for more sports and esports articles from great TGH writers like Rashan Isaac.
Featured image courtesy of 2K Sports