In 2013, the Los Angeles Dodgers selected a young Cody Bellinger with the 124th overall pick in the 2013 MLB draft. Despite being drafted in the fourth round, he ascended the minor league ranks in just four short years, an astoundingly fast progression, and made his MLB debut in 2017.
Bellinger hit 39 home runs, 26 doubles, stole 10 bases and drove in 97 RBIs over just 132 games. This netted him his first All-Star Game appearance as well as the National League Rookie of the Year Award.
Over his next two seasons, Bellinger would play in 318 games with a slash line of .283/ .375/ .550. He accumulated 12.8 wins above replacement (WAR) over that time frame. In 2019, Bellinger won the National League MVP Award, his first Gold Glove and Silver Slugger Awards and made his second All-Star Game appearance.
However, this success would not last long for Bellinger as his performance declined slightly over the shortened 2020 season. This lead into his poor 2021 slash line of .165/ .240/ .302 over 95 games. 
So, what gives? How does an MVP-caliber player fall from grace so quickly, and is there hope for him to rebound come 2022? The answer can be found by looking into Bellinger's injury history and underlying metrics.
The Cold Shoulder
Bellinger has struggled with right shoulder injuries throughout his career, but this issue came to a head in the 2020 NLCS when he dislocated it during a home run celebration with former teammate Enrique Hernández. He underwent shoulder surgery just weeks after the Dodgers' World Series win.
While his recovery progressed quickly, he was injured again on April 6, this time fracturing his left fibula. Bellinger was injured a third and final time in September, fracturing a rib in the process. 
While his defense remained elite, these injuries slowed down his bat speed leading to a significant reduction in hard contact. This was especially true against left-handed pitchers, as he batted just .116 and slugged .174 against them with just four RBIs over 86 at-bats.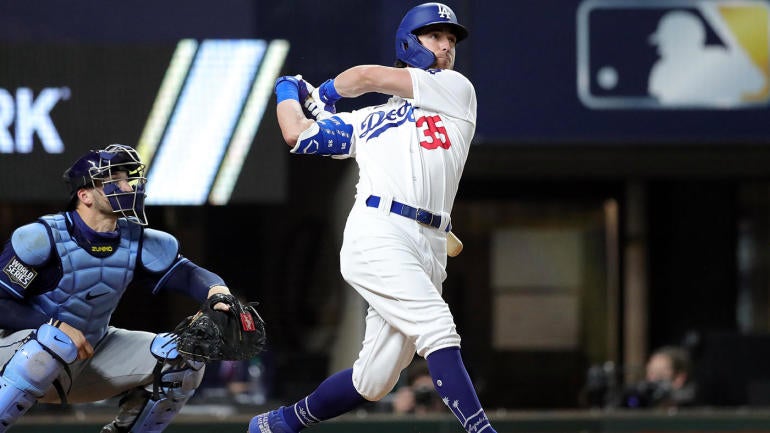 The Power Swing
The problem with a significant reduction in bat speed for Bellinger is that his plate approach is very power-centric. Over his first three seasons, he hit 111 home runs with 63.4% of his hits being extra-base hits. 
Losing the strength and bat speed to hit for power without changing his approach made him extremely susceptible to high fastballs. He struck out 29.9% of the time on fastballs compared to just 18.8% in 2019 and 17.6% in 2020. Cutting and sinking fastballs also caused Bellinger a great deal of struggle. He batted .067 and .079  against the pitches respectively.
Clearly struggling, Bellinger's only option to start making contact again was to start his swing earlier. However, this proved costly as it increased the efficiency of breaking balls against him as well. His walk-to-strikeout ratio against curveballs was just 0.20, falling to 0.12 against sliders.
These factors combined pushed Bellinger into a corner each time he stepped up to the plate, creating the perfect storm for opposing pitchers.
The Rebound
While Bellinger's bleak 2021 season may leave Dodgers fans nervous for the future, there is still hope. Come 2022, he will have had a full offseason (and potentially longer depending on how the current MLB lockout pans out) to recover from his injuries. 
In addition, he seems to have tweaked his approach to better fit his current situation. In the 2021 postseason, Bellinger was one of the lone bright spots for the Dodgers' offense, batting to the tune of a .353/ .436/ .471 slash line. Though his power numbers dropped slightly, his swing became a bit more compact and he was more patient at the plate. This ultimately led him to attain a very high on-base percentage and a strong batting average.
Expect this trend to continue into the 2022 season as Bellinger looks to make a comeback to remember.
Featured image courtesy of Harry How/Getty Images
All statistics courtesy of Baseball Reference and Fangraphs
You can "Like" The Game Haus on Facebook and "Follow" us on Twitter for more sports and esports articles from other great TGH writers along with Ryan!
"From Our Haus to Yours"