After two best-of-three series, the Mets and Nats season series is now knotted at three wins apiece. Star players on both teams continue to struggle as the month of May comes to an end, a detail that is lost in the tension of this NL East rivalry.
Mets starter Matt Harvey is probably undergoing the roughest and lengthiest of the slumps players on these teams are experiencing. After a stellar 2015 season, Harvey was considered to be the ace of a very strong Mets rotation, many argued was the best in all of baseball.
And while Harvey's slump has lasted throughout the entirety of the 2016 season so far, some players are experiencing a rough May on the diamond. Nationals young star Bryce Harper remains at the forefront of the team's headlines, with Dusty Baker giving Harper a "mental day off" on Wednesday for the rubber match of the series.
Despite these slumps by prominent figures on both teams, they both remain just half a game apart at the top of the National League East. This just serves as a testament to players who have really stepped up their games and picked up some slack that their star players are left.
In this article I'll discuss Harvey, Harper, and other slumping players on both rosters, as well as give credit to the players who have bumped up in their performances in response. We'll start with the Mets.
Matt Harvey (Slump)
As mentioned earlier, after a fantastic outing through the regular and postseason in 2015, Harvey was looked at as the ace of the fearsome Mets rotation. It goes without saying that Harvey has under performed for the Mets as a starter in 2015. In 10 starts, Harvey is 3-7 with a 6.08 ERA in 2016. After a rough five runs in a five inning outing on Tuesday against Washington, questions began circling the Mets organization as to whether Harvey would remain in the Bigs, or see some recovery time with Triple-A Las Vegas. Although Harvey did not help himself, given the manner in which he handled the press after the outing, manager Terry Collins made it clear that Harvey will remain in the rotation for his next start against the White Sox next Monday. While Harvey appears healthy, manager Terry Collins thinks this start could be the result of 216 innings of work in 2015, just one year after undergoing Tommy John surgery.
However, while Harvey's numbers aren't pretty on the season, there's one set of numbers that's especially interesting in Harvey's case. In his first three innings of work per game, roughly his first run through the lineup, Harvey's ERA is a respectable 3.03, per ESPN. However, from the fourth inning onwards, his second or third times through the lineup, Harvey's ERA skyrockets to almost double digits, 9.89, while the opponent's batting average rises from .256 to .413. The case remained true on Tuesday night, with Harvey allowing all five of his runs in the fourth and fifth innings. I think these numbers also provide a testament to why Collins continues to have faith in Harvey, and why I still believe people shouldn't sleep on him bouncing back; he still has the stuff to put up solid stat lines against Major League hitters, he just has to do a better job of mixing up his stuff as Big League hitters become more familiar with him the longer he remains in the League.
Steven Matz, Noah Syndergaard, Jeurys Familia (Bump)
Steven Matz hasn't lost a game since his initial start. Since then he's 7-0 and now stands at a season ERA of 2.36. Matz went a career-long eight innings against the Nationals in the rubber match on Wednesday, shutting the Nats out over that time. Although he is the four slot in the rotation, Matz still had very high expectations coming into the season, and he's done magnificently in meeting, and surpassing, them so far.
By this point, unless you get your sports news from a rock, you've heard of Noah Syndergaard and what he's done on the mound thus far. While Matz's 2.36 ERA is impressive in its own right for a starter, Syndergaard tops that (or I guess bottoms it?) with a 1.94 ERA on the year through nine starts. What's been even more impressive is how dominant Syndergaard looks throughout the entirety of his ouings. He can touch 99 MPH on a fastball, whether it's his 10th pitch of the outing or his 100th, which would explain his average of 11.34 Ks per nine innings. While the Mets dominance in the rotation in coming from the opposite end of what many expected, they've shown the same level of dominance on the hill in 2016 that Harvey and deGrom have shown in years past.
Jeurys Familia's save on Wednesday set a record for Mets closers with 32 consecutive saves converted in the regular season. Half of those saves have come in 2016, and many more are to come if the Mets continue to play the style of baseball they have in 2016. The Mets hit a lot of homers, sure, but they usually come with one or no men on base, leaving the Mets averaging just a tick under four runs per game. With the Mets being in a lot of close contests (17 of their 27 wins have been save situations coming into the 9th inning) a strong closer is the key to winning games. The Mets are proving that they have that in Familia this season.
Curtis Granderson (Slump)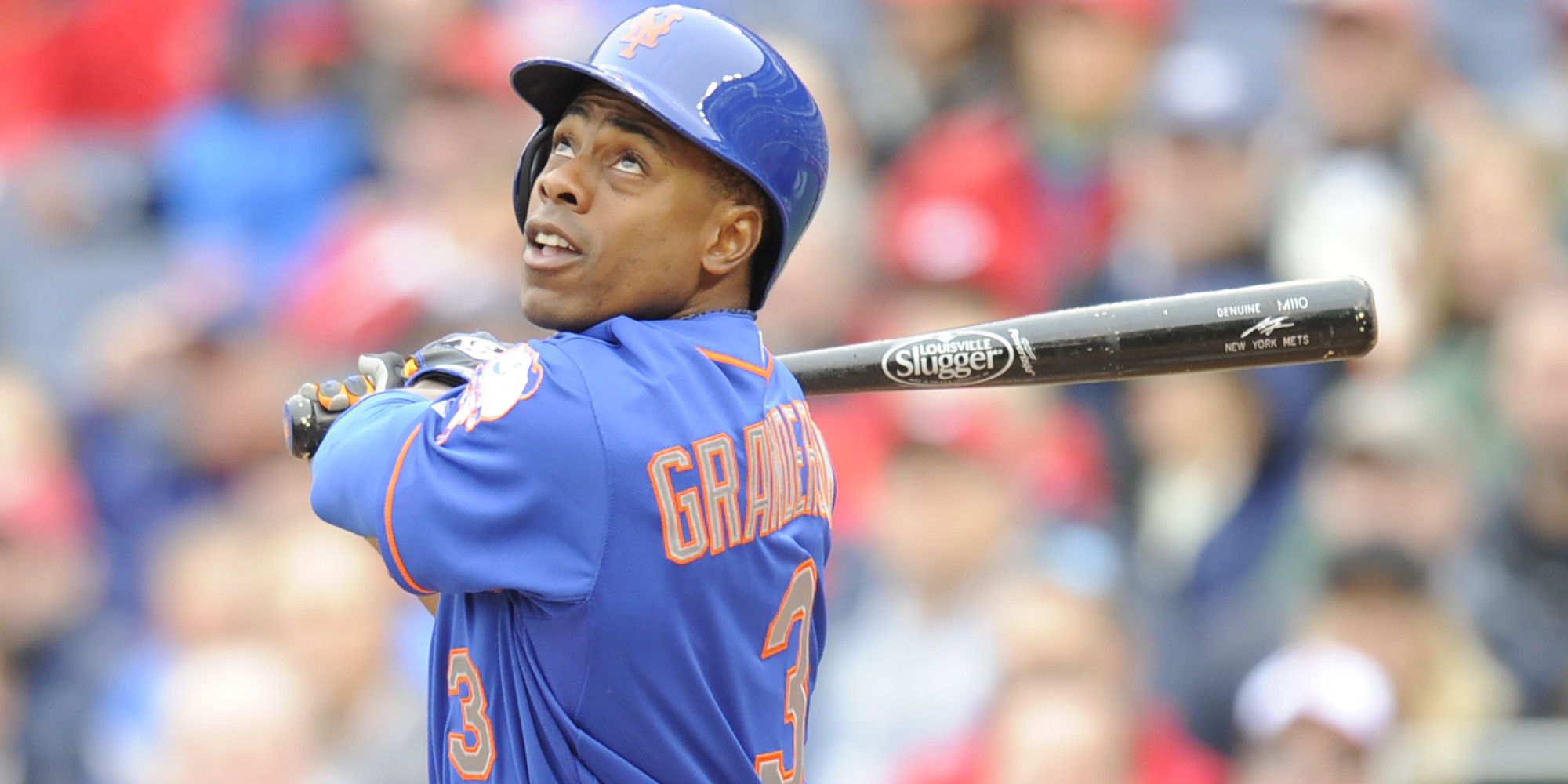 Curtis Granderson is known for being a guy with a solid mix of speed and power throughout his career, which can account for a lower batting average than expected from a a leadoff hitter. While he has delivered on the home runs, currently with eight, he's currently hitting below the Mendoza line in 2016. While this might be expected, and maybe even acceptable, from guys like Adam Dunn or Ryan Howard who could hit 40 homers a season, that isn't what Granderson's role in this Mets lineup is. The Mets are tied for the MLB lead with 65 home runs, meaning there are plenty of other guys that can bring Granderson in on his own, so he should be focusing more on getting on base and using his speed on the bases. Granderson's batting average has fallen almost .100 points in May, as he's hitting just .155 on the month. While this may just be Granderson in the midst of a May slump, perhaps manager Terry Collins should put someone with a slightly higher on-base percentage in the leadoff hole while Granderson tries to work out whatever funk he's currently going through.
Now we'll look at the Nats.
Bryce Harper (Slump)
Harper's batting average was at a season-low .246 after Tuesday's win against the Mets, so manager Dusty Baker decided to give him a day off to try and refocus. After a blazing hot start to 2016, Harper has cooled off significantly in his past 30 games. After hitting .327 with seven homers and 21 RBIs in the initial 14 games of the year, Harper has hit just .207 with three homers and nine RBIs.
To be fair, this tremendous drop in batting average has not been entirely Harper's fault. After the Cubs walked him 13 times in their four game series at the start of May, teams have adopted the idea of walking Harper to get to statistically weaker hitters behind him. While he's hitting almost .150 points behind his MLB leading teammate, Daniel Murphy, in batting average (Murphy: .394, Harper: .245), Harper actually has a higher on-base percentage than Murphy (.430 vs. .426).These walks now seem to have thrown Harper out of rhythm when he is getting hittable pitches, as the stats demonstrate. With that said, hitters are defined by how well they can battle against slumps, and Harper is no different; many people see him as one of the greats of this generation of baseball, and he has an opportunity to prove it in the coming months.
Daniel Murphy, Wilson Ramos (Bump)
Daniel Murphy caught a lot of attention for his performance in last year's postseason with the Mets, and a lot of people wondered if he'd be able to carry over that momentum into 2016, especially after joining a division rival. Murphy currently leads all MLB hitters in batting average at .394, .030 points higher than Ryan Braun, the next closest qualified hitter. While Harper still leads the team in just about every other major hitting category, Murphy is hot on his heels in a majority of them. His 30 RBIs sits just one behind the current team lead, his seven homers also ranks second on the team. Giving Murphy the nod from the five-spot in the lineup to the cleanup spot, directly behind Harper, has worked very well for the team's efficiency at the plate. While Murphy may not be the guy you'd expect to see at the cleanup position in the lineup, you'd be hard pressed to find an argument that he's been less efficient than a lot of other guys at his position at boosting the lineup's efficiency.
Wilson Ramos is making a loud rebound after a career-low 2015 season. Ramos is currently hitting .333 in 2016, has five homers, and is tied for third on the team with 21 RBIs. All of these coming off of the worst season of his career in 2015. He's improved his approach at the plate significantly. In 2015, Ramos struck out 101 times in 475 ABs. He has just 17 in 129 ABs this year, and has already walked nine times (he had just 21 in all of 2015). He's been a strong hitter at the bottom of the lineup, and is on his way to a career season with the Nats if he's able to continue performing at this rate.