Offensive superstar movement has highlighted the NFL Offseason, but defensive superstars have been moved to Super Bowl-caliber NFL teams. TGH provides a first look at defensive superstars on new NFL teams in Madden 22.
NFL Offseason Movement
"Defense wins championships" – Coach Paul "Bear" Bryant
Coach Bryant's philosophy rang true in the Los Angeles Rams' 23-20 win over the Cincinnati Bengals in Super Bowl LVI. With multiple players rated 99-overall (Aaron Donald, Jalen Ramsey), the Rams field one of the best defenses in Madden 22. Following the Rams' blueprint for success, multiple teams have traded for NFL defensive superstars this offseason in hopes of similar results. TGH previews the top defensive superstars to change teams in Madden 22 this offseason.
[Related: First Look at Offensive Superstars on New Teams in Madden 22]
J.C. Jackson(89)
Key Ratings: 92 speed acceleration, 91 man coverage, 80 catching
Superstar X-Factor: None
Season Stats: 44 tackles, 8 interceptions, 23 passes defended
First 👀 of @FiftyDeuce and @MR_INT in a @chargers uni from @EAMaddenNFL! pic.twitter.com/9lYMxSHHJ6

— NFL (@NFL) March 20, 2022
It doesn't take long to see why JC Jackson made the decision to join the Los Angeles Chargers, as the former New England Patriot will be teaming up with All-Pro Linebacker Khalil Mack. Previously undrafted, Jackson leads the NFL in interceptions (25 total) over the past four seasons; recording 8 interceptions last season. For a Chargers defense ranked in the top 10 in multiple categories (passing yards allowed, rushing yards allowed, turnovers), the addition of Jackson will provide an elite boost to one of the best units in the NFL. With two of the highest-rated safeties (Derwin James Jr., 92 overall) and linebackers (Joey Bosa, 92 overall), Jackson creates one of the tougher defenses in recent Madden history.
Von Miller (93)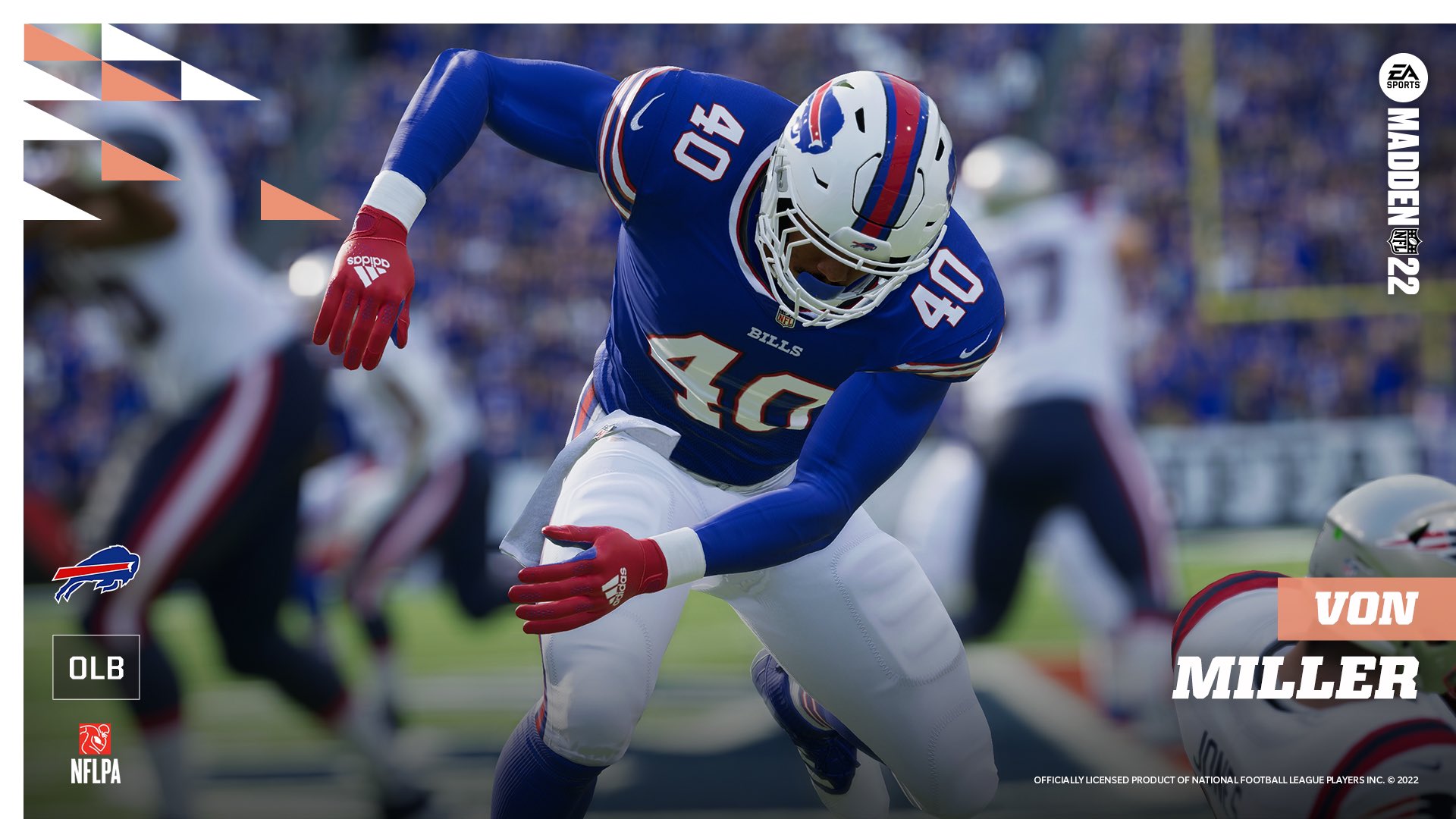 Key Ratings: 92 block shed, 90 tackling, 86 speed
Superstar X-Factor: Fearmonger (applies pressure on quarterback while engaged with blockers)
Season Stats: 33 tackles, 9.5 sacks, 1 forced fumble
Von Miller has bounced around the past few seasons, recently finding a home with the Super Bowl Champion Los Angeles Rams. Traded for second round (2022) and third-round (2023) picks, Miller made good on the trade recording 9.5 sacks during the season. His presence was particularly felt in the postseason, where his elite production upfront (14 tackles, 4 sacks, 1 forced fumble/recovery) led to a championship. After recording two sacks in Super Bowl LVI, Miller flashed his talent on the national stage and now joins a Buffalo Bills defense featuring the top secondary in Madden (Tre'Davious White-94, Micah Hyde-89, Jordan Poyer-88) since the Legion of Boom.
Khalil Mack (94)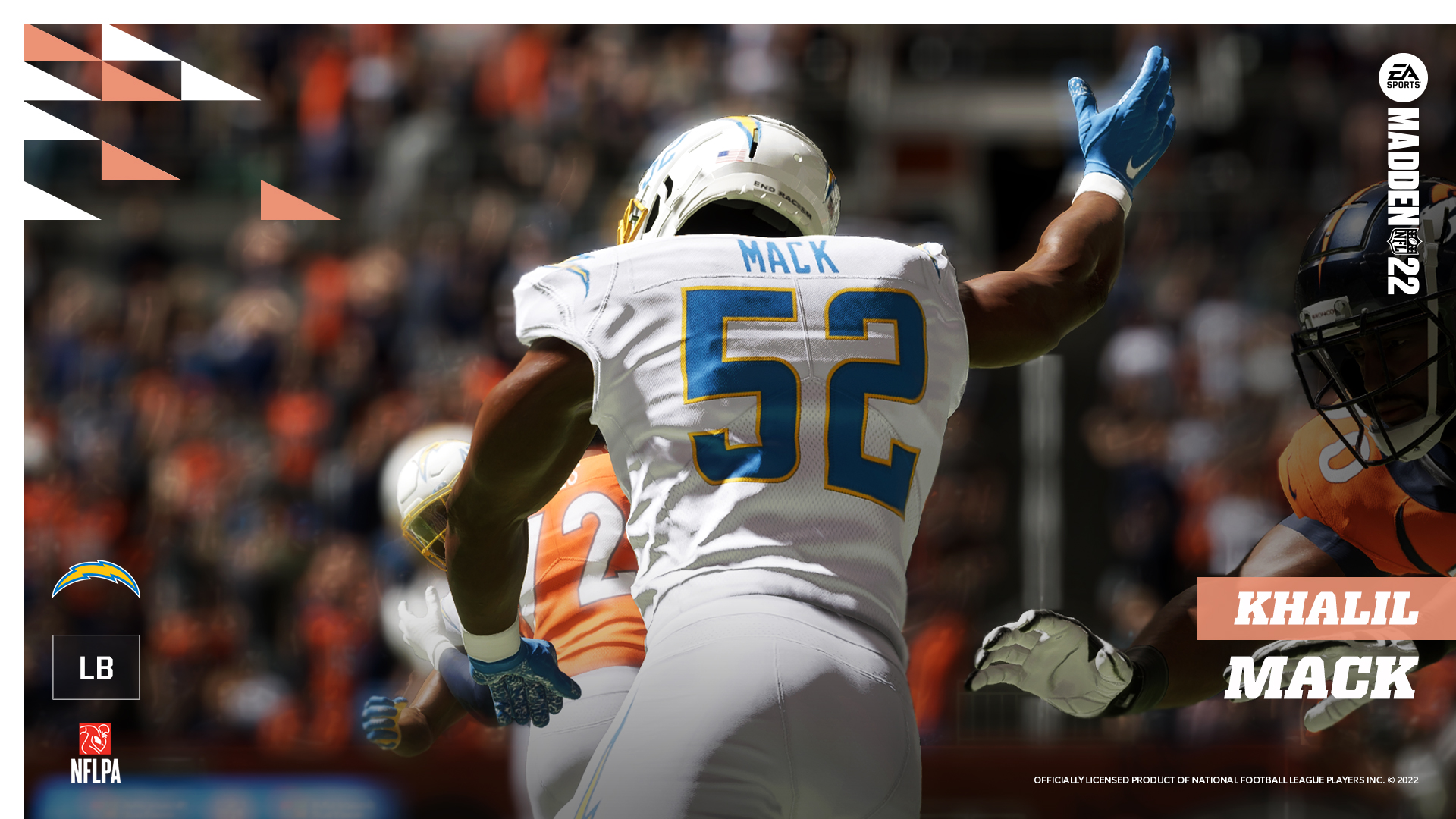 Key Ratings: 94 tackling, 89 block shed, 86 speed
Superstar X-Factor: Unstoppable Force (increased win rate/block shed versus one-on-one pass blocks)
Season Stats: 15 tackles, 6 sacks, 1 fumble recovery
The Chargers Defense will be elite in Madden 22, aided by the addition of Khalil Mack upfront. Used as both a linebacker and defensive end, Mack recorded only 8 sacks in a season shortened by injury. Sent from the Chicago Bears in exchange for second (2022) and sixth (2023) round picks, the Chargers hope Mack can return to his previous All-Pro form. After being ranked as high as 99 overall in Madden 20, Mack continues to be one of the top defensive players to use in the game despite a ratings drop over the past few years.
With the NFL Offseason inching closer to the NFL Draft, expect more previews of top defensive players on new teams in Madden 22 as Tyrann Mathieu and Jadeveon Clowney still wait to be signed.
---
You can "Like" The Game Haus on Facebook and "Follow" us on Twitter for more sports and esports articles from great TGH writers like Rashan Isaac.
Featured image courtesy of EA Sports